More pet peeves with CBS' Dogs In The City
05/29/12 12:23 PM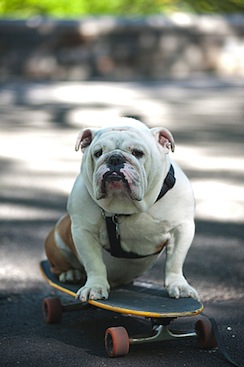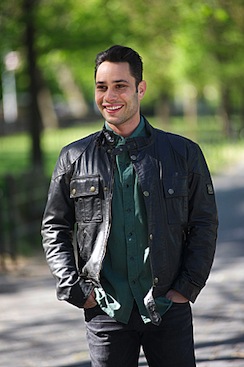 R-r-ruff. It's Beefy the Bulldog vs. Justin the "dog guru." CBS photos
Premiering:
Wednesday, May 30th at 7 p.m. (central) on CBS
Starring:
Justin Silver and a variety of canines and their owners
Produced by:
Julie Weitz, Carol Mendelsohn, Jen O'Connell, Nick Emmerson
By ED BARK
@unclebarkycom
My surname perhaps should be enough to give CBS' new
Dogs In The City
a leg up. Except that our two house pets are cats who've had it with all the attention those publicly pooping, noise-makers keep getting.
Airing in the Wednesday night
Survivor
slot this summer, this is a basically harmless walk in the park that unfortunately is fronted by a hunky but too talky New York City therapist named Justin Silver.
"They call me the 'Dog Guru,' " he says a little too self-importantly. "If there's one language I can speak fluently, it's canine."
Well, bow freakin' wow. And it's not as if there's not a lot of youse guys goin' around these days.
Silver says he also must train the owners, three of whom present themselves for his disapproval on the one-hour premiere episode.
The signature patient is Beefy the skateboarding bulldog, who's racked up a few thousand views on
youtube
. His owner, Patrick Clemens, is newly married to Erin, who feels like a third wheel in Beefy's presence. The dog won't go for walks with her and is jealous of any attention given to others. So Justin is brought in to deduce, "I think Erin needs a sense of empowerment with this dog."
Dogs In The City
bounces to and fro among Beefy and two other problematic dogs. Charlotte is prone to attacking people who walk into her owner's business office. And Rosie appears to have a weight problem.
Wednesday's opener also for some reason includes a brief meeting between Justin and his former girlfriend, who's now engaged to another while remaining a dog owner. Yeah, so? They chit-chat for a bit before he veers back to Charlotte, Rosie and Beefy again.
"I'm not so much teaching Beefy as I'm teaching Erin how to teach Beefy," Justin again lets us know. He also had an earlier heart-to-heart with Charlotte, who looks as though she's listening because, after all, Justin is supposed to have an inherent gift that others don't.
At least it's not another stupid game show or dating/mating concoction.
Dogs In The City
is pet-able but also kind of annoying and redundant. Does this guy really know all that much? Or are dog owners simply dumb enough to pay him for what seem to be some very basic common sense solutions?
Our cats automatically are giving
Dogs In The City
two paws down. Their co-owner will be a bit less biting because CBS at least is trying to put a better foot forward with its hot weather reality show menu while rival networks resort to more stupid human tricks.
GRADE:
C