The Crown is another jewel for Netflix
11/02/16 08:38 AM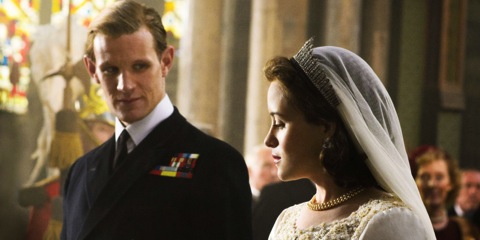 Before her reign: Elizabeth & Philip unite in The Crown Netflix photo
Premiering:
Streaming all 10 Season 1 episodes Friday, Nov. 4th on Netflix
Starring:
Claire Foy, Matt Smith, Vanessa Kirby, Jared Harris, John Lithgow, Victoria Hamilton, Jeremy Northam, Alex Jennings, Eileen Atkins, Ben Miles, Harriet Walter, Pip Torrens, Harry Madden-Paton, Joseph Kloska, Stephen Dillane, Greg Wise
Produced by:
Peter Morgan, Stephen Daldry, Suzanne Mackie, Robert Fox, Andy Harries, Philip Martin, Matthew Byam Shaw, Tanya Seghatchian
By ED BARK
@unclebarkycom on Twitter
"Humanizing" upper-crust Britishers, let alone The Royals, remains a considerable challenge in any day or age.
After all, what are they but absurdly rich, pampered and proper? Good Gawd, they even dress for dinner.
Still, the appetite among commoners of a certain age seemingly is insatiable.
Downton Abbey
became a bounteous feast during its six highly successful seasons on PBS. The downstairs rabble faithfully served their upstairs masters and mistresses, who proved to be "relatable" if recurrently condescending. Their fictional loves, marriages and mishaps superceded the basic pomposity of it all. British blue bloods bleed just like the rest of us.
Netflix's
The Crown
, for which six seasons are planned, if anything is even more accomplished in chronicling the real-life trials and travails of its royal subjects. At center court is Queen Elizabeth II (Claire Foy), whose reign has endured well beyond the ages of most current-day earthlings. One must be at least 63 to have lived from the outset of her official 1953 coronation. She's 90 now, and presumably has no interest in watching herself being dramatized as the relative child bride of the now 95-year-old Philip, Duke of Edinburgh (Matt Smith). She married him in 1947 against the wishes of her parents, King George VI and Queen Elizabeth (Jared Harris, Victoria Hamilton), who initially looked down upon him as a common bloke.
The first of Season One's 10 episodes, all available for streaming on Friday, Nov. 4th, begins with King George coughing up a bloody storm on the wedding day of his oldest of two daughters. He's in the not so early stages of lung cancer, but still very much puffing away. So no, he's not very long for this world. But in the first two episodes, the second of which is simply magnificent, Harris registers fully as a kingly father who dearly loves both Elizabeth and her far more coltish sister, Margaret (Vanessa Kirby).
"She is the essence of your duty -- loving her, protecting her," the king tells Philip shortly after he's married Elizabeth. It's deemed the ultimate act of patriotism.
Netflix made the entire first season available for review, and its high points are too numerous to detail. Peter Morgan (
The Queen, The Audience
) is the creator and writer of all 10 episodes, with Stephen Daldry (
Billy Elliot, The Hours
) serving as principal director. It's a combination that merits its own coronation throughout a sumptuous undertaking that reportedly has a price tag of more than $100 million for Season One alone. Portraying The Royals has never come cheap.
Season One spans from 1947 to 1954, although there are flashbacks to earlier formative times. This proved to be a mere speck of Elizabeth II's reign, but it's time enough to see the hardening process. As queen, Elizabeth II is regularly told that being Her Majesty means never having to say you've compromised the "way things are done." By Episode 9, she's telling the freewheeling Margaret, "You showed individuality. And that made people panic. They don't want individuality."
Reinforcing this dictum time and again are Prime Minister Winston Churchill (John Lithgow), Grandma Queen Mary (Eileen Atkins) and principal aide Tommy Lascelles (Pip Torrens), the veteran, hidebound Snidely Whiplash in residence. He's very, very boo-able.
Lithgow's Churchill is vainglorious to be sure, but also touching in both his devotion to wife Clemmie (Harriet Walter) and his penchant for painting. He pretty much owns Episode 9, in which Churchill's 80th birthday is cause for both an official portrait and parliamentary recognition. It's a rousing and heart-tugging hour tinged with both denial and resignation. And Lithgow is superb throughout it.
Kirby's performance as Margaret is likewise an eye-catcher. The self-proclaimed daddy's "favorite" falls madly and very improperly in love with the divorced Peter Townsend (Ben Miles), a war hero who went on to be one of her father's key confidantes. The restrictions placed on their relationship drive a wedge between Margaret and Elizabeth, with the queen resentful of both the predicament she's been put in and the limelight that's being stolen by her appreciably more colorful sister.
Philip likewise chafes at his wife's growing devotion to her royal duties. He increasingly opts for nights on the town with his chums while Elizabeth bristles and eventually even throws a few things at him other than remonstrances.
Also memorable is David, Duke of Windsor (Alex Jennings), who abdicated as King and left the throne to his brother after falling in love with the multi-divorced Wallis "Peaches" Simpson (Lia Williams). He's since been scorned, with his wife unwelcome at any and all royal gatherings, even the deaths of his father and mother. Jennings has some delectable lines in letters back home to Wallis, including "What a bunch of ice-veined monsters my family are." David can be a bit of an ass himself, but
The Crown
is mostly on his side as a man who chose love over pomp, ceremony and privilege.
Episode 4 is mostly built around "The Great Smog" of 1952, which lasted from Dec. 5-9 of that year and plunged London into darkness and deaths from the sulfur dioxide polluting the air. Churchill again stirs the pot, cannily fortifying his shaky foundation as prime minister in ways that are both duplicitous and ingenious.
Although the queen grows increasingly unbending, she is not without her reasons. Nor is she entirely unsympathetic as a dutiful daughter who strives to work things out before invariably giving in.
The Crown
also makes it clear that Elizabeth quickly becomes rather taken with the ornate trappings and adoring subjects during trips abroad to the Crown's "dominions."
"You can't bare to be eclipsed . . . You reap what you sow, sister," Margaret angrily tells her in Episode 6 after again feeling deeply betrayed.
Philip is along for the ride at first, doggedly walking the proscribed several steps behind his wife and very reluctantly kneeling before her at her coronation. He also insists on spreading his wings by getting his wings as a pilot faster than anyone in aviation history.
"What am I supposed to do -- sit around and wait for you while you're 'queening?' " he asks. At first Elizabeth is somewhat bemused. Later, not so much. Nor is she ever seen playing with the couple's two children, Charles and Anne. That's left up to Philip, and he does so joyously while also fretting that Charles is a bit too much of a "girl."
It's all quite enthralling and majestic, with Netflix again stepping up and unveiling an intendedly long-running drama series that's likely to be rich in Emmy nominations next summer. Foy's performance is sturdy, as it must be, as Elizabeth II. Lithgow, Kirby and Jennings get recurring chances to figuratively somersault in their appreciably more colorful roles as Churchill, Margaret and the Duke of Windsor.
As
The Crown
goes on, though, its throne-bearer will be challenged to portray the Queen in ways that offset her further congealing. Elizabeth II will never be the life of the party. But she's the overriding reason for doing this in the first place. Long live the Queen --but not to the point of being deathly boring -- in a so far richly satisfying story that's barely just begun.
GRADE:
A
Email comments or questions to:
unclebarky@verizon.net