NBC's Believe quickly prompts serious doubts (about how it ever got on the air)
03/07/14 02:04 PM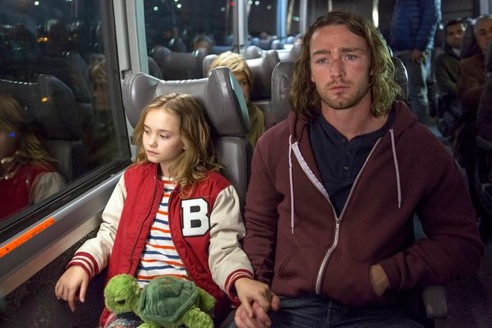 Thrust together: Bo and Tate of the new drama Believe. NBC photo
Premiering:
Monday, March 10th at 9 p.m. (central) on NBC before moving to regular Sunday, 8 p.m. (central) slot on March 16th
Starring:
Johnny Sequoyah, Jake McLaughlin, Delroy Lindo, Kyle MacLachlan, Jamie Chung, Arian Moayed
Produced by:
Alfonso Cuaron, J.J. Abrams, Bryan Burk, Jonas Pate, Hans Tobeason
By ED BARK
@unclebarkycom on Twitter
NBC's midseason parade of precocious pre-teens continues with the saga of a 10-year-old girl whose gifts include summoning a swirl of birds to temporarily ward off those who would do her harm.
The Peacock's new Tuesday night comedies,
About A Boy
and
Growing Up Fisher
, both are built around 11-year-olds of the male species. This is from a post-
Cosby Show
network that came to believe kids went against the grain of "smart" shows intended to lure "upscale" viewers. Shows such as
Seinfeld, Frasier, Friends, Will & Grace, Miami Vice
and the
Law & Order
franchise. And I'm not making that up. NBC used to avoid kids like a plague of pitches for a new Mickey Rooney series.
Judging from the thoroughly lackluster first episode, the network definitely should have avoid
Believe
. This is doubly disappointing because its executive producers include Alfonso Cuaron, who just won the best director Oscar for
Gravity
, and J.J. Abrams (
Lost, Fringe
, etc. Neither could have been paying all that much attention.
Previewing Monday after
The Voice
before moving to its regular Sunday 8 p.m. (central) slot,
Believe
rapidly congeals into a ponderously paced tale of a little girl named Bo (Johnny Sequoyah), her mysterious group of protectors and sinister forces who would use her assortment of powers for their own undisclosed gains.
For some reason, "The Believers," headed by a solemn guy named Milton Winter (Delroy Lindo), decide that Bo's latest protector and running mate should be a death row inmate named Tate (Jake McLaughlin). He's been wrongly imprisoned, of course. And he has a surly attitude, of course. Whatever skills he brings to keeping Bo safe are neither readily nor remotely apparent. He's fairly easily beaten up by some sort of dragon lady. Plus, "I don't like kids."
But Lindo's Winter assures Tate that being constantly on the lam with Bo will be "the best years of your life." He soon adds, "We're not superheroes. But we are dedicated and hard-working people. We can protect you." A satchel of cash is then dropped at Tate's feet before the sinister forces break in and prompt another series of chase and fight scenes.
Series regular Kyle MacLachlan is briefly seen as an apparently evil manipulator named Skouras. And Rami Malek (so impressive as cynical "Snafu" Shelton in HBO's
The Pacific
) guest stars to little avail as a doctor with a bed-ridden, near-death father who did a lousy job of nurturing him.
Bo and Tate are fated to hop on a bus at episode's end, beginning some sort of journey together that will be constantly impeded by bad people. But "It's going to be OK," she assures him.
No, it's not. Darkly shot and dimly plotted, the premiere episode never comes close to firming its grip. It instead plods and meanders, inviting viewers to invest elsewhere rather than buy into this poorly put-together jumble of something or other.
GRADE:
D
Email comments or questions to:
unclebarky@verizon.net