FXX's bizarro Man Seeking Woman both loses its way and finds some funny
01/14/15 01:10 PM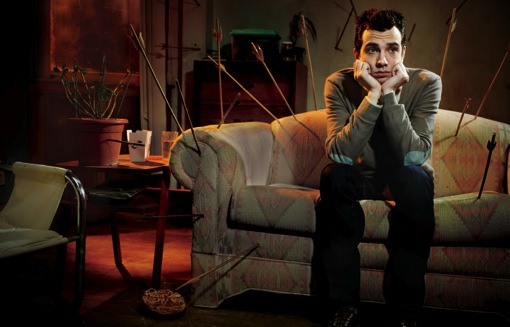 Jay Baruchel plays a sad sack dater in Man Seeking Woman. FX photo
Premiering:
Wednesday, Jan. 14th at 9:30 p.m. (central) on FXX
Starring:
Josh Greenberg, Eric Andre, Britt Lower, Maya Erskine
Produced by:
Lorne Michaels, Simon Rich, Andrew Singer, Jonathan Krisel
By ED BARK
@unclebarkycom on Twitter
Sublimely ridiculous or supremely offensive?
The jury's still out -- for me at least -- after watching the opening two episodes of FXX's
Man Seeking Woman
.
Billed as a "sweet and surreal look at the life-and-death stakes of dating," here's a series that in fact goes more for shock value in Wednesday's premiere. Viewers will know it when they see it, even if Bill Hader is completely unrecognizable as a white-haired, ornery Adolf Hitler getting around in a motorized wheel chair.
In the fantastical eyes of Josh Greenberg (Jay Baruchel), Hitler is the new boyfriend of his ex-girlfriend, Maggie Lee (Maya Erskine), for whom he still pines after their breakup.
"I'm better than Hitler!" he finally exclaims at a party that's gone very wrong for him. As did an earlier blind date set up by his sister, Liz (Britt Lower). This is the one where a blonde Swedish beauty instead turns out to be an "ugly, slimy troll" who bites and attacks him.
Man Seeking Woman
, which continues its acid trip motif in Episode 2, is yet another venture by Lorne Michaels, who already presides over NBC's entire late night lineup in addition to IFC's
Portlandia
. So besides
Saturday Night Live
alum Hader, also look for guest shots by fellow
SNL
era Fred Armisen (star of
Portlandia
) and Vanessa Bayer, who in Episodes 1 and 2 plays a sweet Chicago marketing liaison named Laura Ferber.
A badly frayed Josh meets her on a subway train at the close of Episode 1 and somehow musters the gumption to ask her out to dinner. Much of Episode 2 is then built around what kind of text message invite he should send. Josh's best friend, Mike Bunk (Eric Andre), keeps suggesting a "dick pic" during a summit meeting for the Center For Important Emergencies. Whether and how Laura will respond then becomes local, national and international news.
Some if not a majority of
Man Seeking Woman
is forced and juvenile. And the closing Hitler-Maggie scene in Episode 1 might well repulse those viewers who have stuck around for that long.
But one viewer's bad taste is another's comedy gold. And
Man Seeking Woman
arguably has just enough going for it to merit a further investment in its remaining eight episodes. In the annals of crazed/cartwheeling TV comedy, it both pounds away at sensibilities while also racking up its share of sick laughs.
GRADE:
C+
Email comments or questions to:
unclebarky@verizon.net