New season: CBS' Three Rivers is decidedly watery medical drama
10/02/09 09:22 AM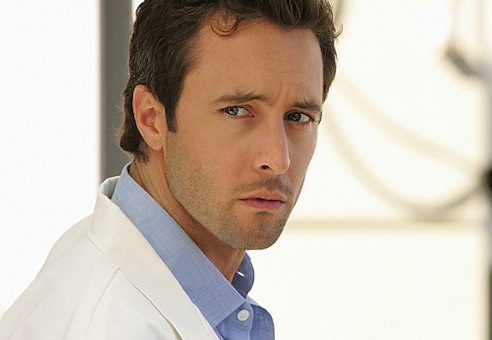 Picturesque Alex O'Loughlin stars in Three Rivers. CBS photo
Premiering:
Sunday, Oct. 4th at 8 p.m. (central) on CBS
Starring:
Alex O'Loughlin, Katherine Moennig, Daniel Henney, Christopher J. Hanke, Alfre Woodard, Justina Machado, Lisa Reed
Produced by:
Carol Barbee
By ED BARK
All forms of TV programming require a strong pulse, but none more so than a medical drama.
CBS' new
Three Rivers
, whose title just as easily could mean a fishing show, has faint vital signs at best. The network scrapped its original pilot episode to come up with this bland, by-the-book look at organ transplant specialists operating out of a Pittsburgh horse pistol.
At center stage is Dr. Andy Yablonski, played by former vampire Alex O'Loughlin of CBS' short-lived but perhaps ahead-of-its-time
Moonlight
series. O'Loughlin is cute enough to make a few hearts throb, but his character has no discernible edge other than a sweet tooth and a proclivity to be late for staff meetings.
He also says things like, "I can't make any promises, but I'll do my best." Fox's Dr. Gregory House would find him about as scintillating as a patient's meal of congealed, cold oatmeal and dry toast.
Three Rivers
attempts to create hard-driving excitement via a series of quick crises. A construction boss plunges several stories. A young Sudan man shows up in need of a quick heart transplant. A pregnant woman collapses while watching her husband's head being sewn up. A kid has a panic attack at a Spelling B and then vomits blood after correctly navigating the word "antediluvian."
All of these predicaments are re-assembled anew before each commercial break via a collage that's supposed to connote heart-pounding urgency. There's also ample whisk/whoosh editing, but to little avail. The entire enterprise needs a pacemaker, even if its overall message -- be sure to be an organ donor -- is undeniably well-intended.
Other denizens include quick-tempered Dr. Miranda Foster (Katherine Moennig), whose late father was an esteemed surgeon; "womanizing" Dr. David Lee (Daniel Henney); wide-eyed rookie transplant coordinator Ryan Abbott (Christopher J. Hanke); saucy operating assistant Pam Acosta (Justina Machado) and overseer Sophia Jordan (Alfre Woodard).
It all ends up being quite predictable and at times decidedly maudlin as Yablonski and his mates await a heart whose delivery has been stalled. In real-life, perhaps we'd all prefer a doctor who always says just the right thing and then benevolently smiles along with you after your life's been saved.
In a TV drama, though, a much sharper scalpel is needed.
Three Rivers
instead uses a butter knife, rendering
House
all the more invigorating.
GRADE:
C-minus