CSI: Cyber -- no awards this time but a likely nice nest egg for Oscar-winner Patricia Arquette
03/02/15 03:26 PM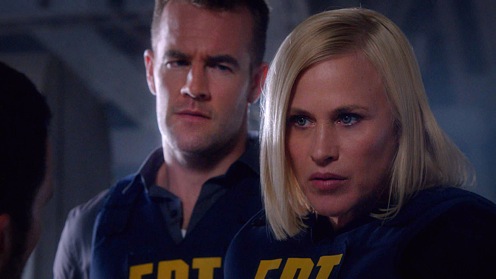 James Van Der Beek, Patricia Arquette in CSI: Cyber. CBS photo
Premiering:
Wednesday, March 4th at 9 p.m. (central) on CBS
Starring:
Patricia Arquette, James Van Der Beek, Peter MacNicol, Shad Moss, Charley Koontz, Hayley Kiyoko
Produced by:
Carol Mendelsohn, Ann Donahue, Anthony Zuiker, Pam Veasey, Jerry Bruckheimer, Jonathan Littman
By ED BARK
@unclebarkycom on Twitter
There's no need to feel unduly sorry for Patricia Arquette.
Yes, she's the newly crowned Best Supporting Actress Oscar-winner for
Boyhood
after also winning every other major award for the role. And now, just when all these new doors are opening, she's tied to a previous commitment to another formulaic CBS crime series.
It's a nice "problem" to have, though. Arquette gets the lead role in
CSI: Cyber
, which premieres on Wednesday, March 4th behind CBS' long-running
Criminal Minds
. Virtually without a doubt, more people will see Episode 1 of her new show than will
ever
see
Boyhood
.
Besides that, this fourth
CSI
iteration is almost guaranteed to provide long-term employment at a very nice rate of pay. CBS is the network, after all, that has made hits this season of its
NCIS: New Orleans
spinoff and the third TV version of
The Odd Couple
, which was critically panned to apparently no avail.
So Arquette will be just fine, even if
CSI: Cyber
for the most part tends to be head-hurting on a number of fronts. Not the least of which are its far-fetched leaps from one high-tech deduction to another.
Arquette plays Washington, D.C.-based FBI special agent Avery Ryan, who of course has a tragic back story. This fuels her single-minded efforts to chase down conscience-less cyber criminals who in the first two episodes kidnap infants and fatally derail a roller coaster. The latter case, which fills next week's Episode 2, turns out to be a cut-and-dried case of "gore porn."
"Faceless. Nameless. Lurking inside our devices, just a keystroke away," Arquette's Ryan says in the weekly set-up to episodes. Her voice then drops to a whisper: "It can happen to you." But please, viewers, don't get any ideas. We already have enough trouble combatting the Internet's escalating number of pop-up ads.
Ryan gets very much involved in the tire-squealing, physical pursuits of various vermin. Her action-craving right-hand man otherwise is Agent Elijah Mundo (James Van Der Beek returning to the drama fold after sitcom fails with
Don't Trust the B -- In Apartment 23
and
Friends With Better Lives
).
Another familiar TV face, Dallas native Peter MacNicol (
Chicago Hope, Ally McBeal
), co-stars as Cyber Crime Division supervisor Simon Sifter. He mulls options, cuts through bureaucratic barriers and in Episode 1, says things like, "My guess is he's feeling desperate."
To which Ryan replies, "And desperate people do desperate things." Oh please.
The team is rounded out by the requisite tubby bearded guy (Charley Koontz as Daniel "Krummy" Krumitz); the requisite trouble-plagued young newcomer getting a make-or-break second chance (Shad Moss as Brody Nelson); and someone his age for Brody to hang out with (Hayley Kiyoko as Raven Ramirez).
There's also the requisite
CSI
theme song by The Who. In this case it's the very welcome "I Can See For Miles." Ring the royalties cash register again for its writer, Pete Townsend, who probably wouldn't mind at all seeing
CSI: Outer Space
and
CSI: Underground
at some point in the near future.
On
CSI: Cyber
, Ryan and her team act very swiftly, oftentimes preposterously so. Computer graphics whiz and buzz. And then, just like that, another suspect is chased down and vetted by Ryan, who seemingly needs nothing more than a burp or a twitch to determine who the bad guys are and who they are not.
Arquette's character supposedly is drawn from real-life
Cyber Psychologist Mary Aiken
, whose official bio says she's a faculty member at the Dr. Steve Chan Center for Sensemaking as well as a fellow at the IBM Swansea University Network Science Research Center. She also works with various police departments in efforts to thwart cyber crime. But Aiken likely has never said "Let's roll" (as her TV counterpart does in Episode 3 before hopping into the ready-for-action Cyber Crime Division van and eventually getting involved in a shootout).
None of
CSI: Cyber
's excesses or contrivances are likely to matter in the least. Arquette, who previously starred to much better effect in NBC's
Medium
, has a pre-sold vehicle that seems sure to take her for at least a five-season ride. It's not worthy of her talents, but that's perhaps beside the point. With an Oscar now on her mantle and no further validation required, this is as good a time as any to make some real money again.
GRADE:
C
Email comments or questions to:
unclebarky@verizon.net