Take a number: AMC's The Prisoner strives to be six hours that count
11/13/09 06:40 AM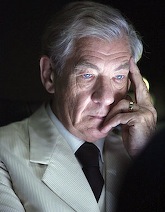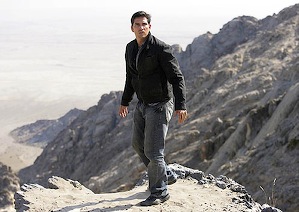 "Two" plus "Six" equals AMC's three-night re-do of The Prisoner.
Premiering:
Sunday, Nov. 15th at 7 p.m. (central) on AMC and continuing at the same time Monday and Tuesday
Starring;
Ian McKellen, Jim Caviezel, Hayley Atwell, Ruth Wilson, Lennie James, Rachael Blake, Jamie Campbell Bower
Produced by:
Bill Gallagher, Michele Buck, Damien Timmer, Rebecca Keane
By ED BARK
The only cells deployed in
The Prisoner
are your brain's. And they'll be taxed to the max.
AMC's "reinterpretation" of the fabled
1967 original
-- "reimagining" is for sissies -- fittingly supplants
Mad Men
with the complex tale of a man who fears being driven mad.
Six, as ordained by his seeming captors, is played by Jim (Jesus) Cavaziel, who could use a reinvention after all that exposure in
The Passion of the Christ
. Ian McKellen, splendid in anything he takes on, is the white-clad overseer of The Village. He goes by the name of Two, and should not be confused with
Fantasy Island
's Mr. Roarke.
The original
Prisoner
series, with the late Patrick McGoohan as Six and multiple actors playing Two, ended open-ended without any resolution. AMC's six-hour version, spread out over three consecutive nights, ties up the story without gift-wrapping it. In late 1960s vernacular, it's a mindbender. And having seen it all, I don't pretend to entirely grasp everything or maybe even much of anything. But that's what multiple viewings and Internet chat rooms are for.
Lost
, anybody?
Sunday's opener finds Six in a desert, where he sees an old, bearded man being chased and shot at. "Go to 554," says the dying man, who turns out to be 93. As for 554, she's a waitress who's afraid to say much.
Six, who despises his numerical designation, has frequent flashbacks to New York, where he worked for a data gathering monolith known as Summakor.
The Prisoner
slowly unveils layers of his one-night relationship with Lucy (Hayley Atwell), a fellow employee who now distrusts Summakor while Six likewise has doubts about her.
"I want to get back to New York," Six demands in his first meeting with Two.
"That's not possible," he's told. "There is no New York. There's only The Village."
Other key players are Two's pill-fed, oft-comatose wife, M2 (Rachael Blake); their rebellious teen or twentysomething son 11-12 (Jamie Campbell Bower); and a doctor known as 313 (Ruth Wilson). Like Six, she's a "Dreamer" who's highly discouraged from doing that.
Six regularly returns to the desert, hoping to find a way out. But desolation stretches on and on while The Village has cute little triangular abodes of a uniform look.
"There is no out. There is only in," Two assures Six, who only once spouts the original
Prisoner
's trademark tagline -- "I am not a number! I am a free man!"
Following along seems impossible at times. But
The Prisoner
has the power to yank your chain while also pulling you in. Its urgent theme music sling-shots the pulse, or at least ups it a few ticks. And McKellen is ever-fascinating in his role as benevolent dictator, despotic overlord or something else entirely.
Near the end, in Hour 5, Two opines that "the mind is capable of anything because everything is in it."
Well said, old chap.
The Prisoner
, written by co-executive producer Bill Gallagher, is proof that the mind can wander as well. It's a challenge to stay fixated on words, nuances, metaphors, pieces of the puzzle, etc. Six longs to escape, but this isn't escapist fare.
Hang in there, though, and you'll be treated to three Beach Boys tunes cast in different lights. Playing
The Prisoner
off is "I Know There's An Answer," from the classic
Pet Sounds
album. As the final credits roll, viewers are left to ponder the significance of, "I know so many people who think they can do it alone. They isolate their heads and stay in their safety zones."
"God Only Knows" -- a Beach Boys selection in Hour 5 -- exactly what that all means. But devotees of the original
Prisoner
have spent decades trying to decipher it. So welcome to the club -- which is a bit more inclusive this time.
GRADE:
B+