Shocking upset: ABC's The Mayor elects an entertainer with no previous training, but there the resemblances stop
10/03/17 01:31 PM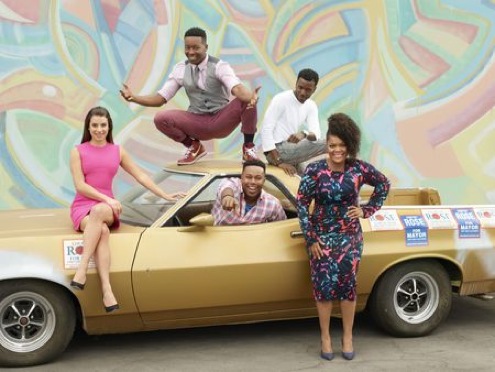 There'll be some new platforms in The Mayor. ABC photo
Premiering:
Tuesday, Oct. 3rd at 8:30 p.m. (central) on ABC
Starring:
Brandon Michael Hall, Lea Michele, Yvette Nicole Brown, Marcel Spears, Jermaine Hardaway
Produced by:
Daveed Diggs, Jeremy Bronson, Jamie Tarses
By ED BARK
@unclebarkycom on Twitter
An aspiring rapper with no political experience throws his name into the ring as a publicity stunt and stunningly gets elected.
Naw, that could never happen.
Fictional Courtney Rose (Brandon Michael Hall) and the all-too-real Donald Trump otherwise have nothing in common.
In the new ABC comedy series
The Mayor
, Courtney is a 27-year-old African-American whose recording studio is his bedroom closet. He wasn't born to wealth and relies on his hard-working single mother, Dina (Yvette Nicole Brown from
Community
), to keep him in line. Their home base is a humble apartment in fictional Fort Grey, CA. Running for mayor and getting into a televised debate with hack politician Ed Gunt (guest star David Spade) is seen by Courtney as a way to be "blowing up on the charts."
"Why does anyone in my generation do anything? Attention," he tells his disapproving mom.
The Mayor
wastes very little time in getting him elected after he lectures and belittles Gunt about the latter's campaign pledge to clean up the garbage-strewn Fort Grey Commons, where Courtney used to play as a kid.
"Don't tell us about our reality, Mr. Gunt," he says to cheers. "Because we live our reality every day."
Segue immediately to election night, with Courtney winning and wondering what he's gotten himself into. A sitcom "Moment," complete with piano tinkles, then kicks in when mom takes her son out on the balcony for a heart-to-heart about the sanctity of both ballots and elections.
"You know what, ma. I think I got this," Courtney assures her.
Gunt's former campaign manager, Valentina Barella (Lea Michele), is instantly on the prowl, hiring herself to be Courtney's top advisor while his two homies, Jermaine and TK (Bernard David Jones, Marcel Spears), remain by his side. The rest of the episode is built around their intention to make a first big splash by cleaning up Fort Grey Commons while offering a companion party as a community enticement.
Things go awry, of course, when Courtney gets an offer that could prove to be a big jump starter for his rap career. It's later left to mom to deliver another pro forma lecture: "Your actions have consequences for a lot of people. Our people."
The Mayor
can be preachy and predictable, but is also spirited and reasonably amusing in this opening scene-setter. Hall brings considerable charisma to the lead role and Brown supplies the needed anchoring presence. Michele, the former
Glee
star, still seems to be finding her way, though, in a role that at the moment doesn't really fit her.
ABC has made just the pilot episode available, and it's OK for starters on a network where "diversity" rules while the messaging can sometimes get in the way. For now, the Rose administration is off and running in directions unknown.
GRADE:
B-minus
Email comments or questions to:
unclebarky@verizon.net