CBS' The Neighborhood is too black and white for its own good
10/01/18 03:37 PM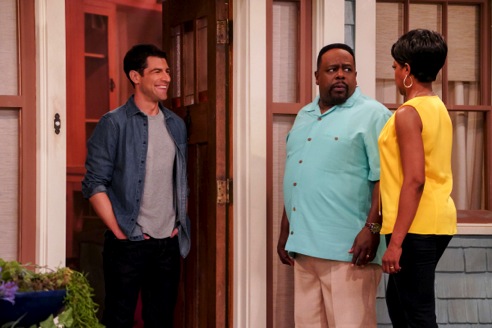 Max Greenfield & Cedric the Entertainer clash in The Neighborhood.
CBS photo
Premiering:
Monday, Oct. 1st at 7 p.m. (central) on CBS
Starring:
Cedric the Entertainer, Max Greenfield, Tichina Arnold, Sheaun McKinney, Marcel Spears, Beth Behrs, Hank Greenspan
Produced by:
Jim Reynolds, Aaron Kaplan, Dana Honor, Wendi Trilling, Cedric the Entertainer, Eric Rhone
By ED BARK
@unclebarkycom on Twitter
From white flight to white blight, cantankerous Calvin Butler thinks he has it all figured out.
Constantly disparaging an unemployed son had been his favorite pastime. Now he's got a fallback harangue when the almost impossibly Caucasian Johnson family moves in next door on CBS'
The Neighborhood
. How dare they try to be so nice to him while also imposing on his block's hard-won "culture?"
Cedric the Entertainer plays the entrenched naysayer while Max Greenfield (fresh from Fox's
New Girl
) co-stars as the painfully well-meaning Dave Johnson in a comedy that mostly plunges headlong into its punchlines while also dispensing an assortment of life's lessons. CBS offered the first four episodes for review. They show marginal improvement, but it's still a very slow build.
Calvin is first seen tending to his smoker for an upcoming "Yardecue Day" in his Pasadena neighborhood while his live-in oldest son, Malcolm (Sheaun McKinney), absorbs the old man's guff.
Meanwhile, the Johnsons are driving in from Kalamazoo, Michigan, with their pre-teen son, Grover (Hank Greenspan), noting that his grandma wishes they weren't moving to a black neighborhood. Then he begins counting the blacks he sees while dad and mom, Gemma (Beth Behrs of CBS'
2 Broke Girls
), tell him how great it's all going to be.
Gemma has a new job as principal of a "progressive school" while Dave is a "professional conflict mediator," rendering him super-sensitive to others' needs, none more so than his own.
Calvin, who owns an auto repair shop, is married to the comparatively refined Tina (Tichina Arnold). Besides Malcolm, they have a younger son named Marty (Marcel Spears), who lives outside the house, has a job of some sort and is described as "chipper" in CBS publicity materials. Everyone appears to have a lot of spare time on their hands, even though Calvin talks as though he doesn't. "When I get up, I go to work," he jabs at Malcolm. "When you get up, you go pee."
In Episode 2, Malcolm in turns calls his father a "big ol' stubborn ass-asaurus" while Gemma and Tina quickly bond and have some amusing scenes tied to the latter's wig collection. The prize one is named "Lola."
The third half-hour finds Dave offering Calvin a key to the Johnsons' house in a gesture of neighborliness. But Calvin has no interest in reciprocating. Nor is he a fan of Dave's short running shorts. "The last time I saw that much white meat, it was fried and in a bucket," he cracks while the laugh track almost goes into cardiac arrest.
Episode 4 is built around a housewarming party at the Johnsons, with Calvin begging off because it's dart night at Ernie's bar. He later harrumphs, "I don't want to be a part of your white folk nonsense."
CBS has taken major steps to make its new fall series considerably more diverse than last time.
The Neighborhood
hits that mark, but also marches to the same-old/same-old sitcom beats. It's the kind of show that tries to wring laughs out an old former babysitter of Malcolm's who's now hitting on him while getting around with a walker.
"Ya know, she used to change my diaper. Now she wants me to get in hers," Malcolm says in one of the fall season's bigger groaners. There goes -- and so goes --
The Neighborhood
.
GRADE:
C
Email comments or questions to:
unclebarky@verizon.net