Fox's surprise renewal of Fringe is business as (un)usual
04/27/12 09:08 AM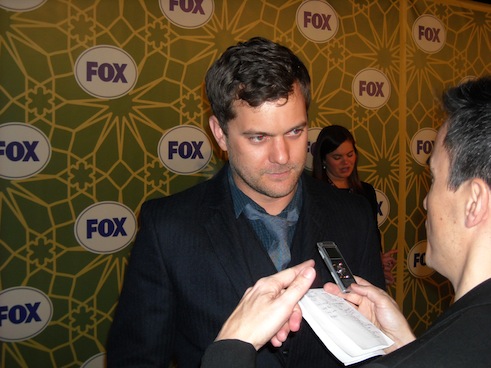 Fringe star Joshua Jackson on the red carpet at January Fox party.
Photo: Ed Bark
By ED BARK
Fox's renewal of
Fringe
, announced Thursday evening by the network, is both a pleasant surprise for fans and a heartening detour from business as usual.
The pickup is half a loaf -- a fifth and final 13-episode season. But few thought that was possible, including one of the series' principal stars, after Fox entertainment president Kevin Reilly told TV critics in January, "We lose a lot of money on the show. We're not in the business of losing money. So we really have to sit down with (the producers). I do not want to drop the ball at the end and let the fans down."
At a Fox star party that same night,
Fringe
star Joshua Jackson seemed to be reconciled to a spring series finale.
"This is not a charitable foundation they're running here at Fox," he told a small group of TV writers at the end of a red carpet walk. "So if we really aren't making them any money, I would say our chances are zero. The important thing for me is not whether we get canceled or renewed. It's that if the show has to go, that our writers are given a chance to finish the story. It would just be a horrible thing to do to the audience to just leave them in the lurch."
In Thursday's Fox publicity release, Reilly hailed
Fringe
as a "remarkably creative series that has set the bar as one of television's most imaginative dramas. Bringing it back for a final 13 episodes allows us to provide the climactic conclusion that its passionate and loyal fans deserve."
The sci-fi's drama's principal producer, J.J. Abrams, praised Fox for having "made the impossible possible." He promised a "wild and thrilling" conclusion.
Fringe
, exiled to Fox's longtime forlorn Friday lineup this season, has averaged just 2.9 million viewers per episode, with 2.1 million of them in the advertiser-prized 18-to-49 age range. That ranks it in the bottom realm of all prime-time series shown this season on the Big Four broadcast networks.
Fox's renewal of
Fringe
comes after earlier decisions on the fates of
House
and
Terra Nova
. All three were on the bubble when Reilly addressed TV writers in January.
Terra Nova
, which made money for Fox according to Reilly, has nonetheless been canceled. And
House
will have its series finale with a two-hour episode on May 21st.
Producer Abrams (
Lost, Alias
) also has
Alcatraz
on Fox. The series wrapped Season 1 earlier this spring and is considered a long shot for renewal despite averaging significantly more viewers (6.7 million) and 18-to-49-year-olds (4.3 million) than
Fringe
.
But
Alcatraz
airs on higher profile Monday nights, and its ratings lagged as the season wore on, even if its creativity didn't. If it doesn't return, fans will be left with an unresolved cliffhanger. After the
Fringe
pickup, though, anything's possible. Still, a renewal of
Alcatraz
remains improbable at this point.
One more thing. The Fox renewal of
Fringe
was announced in tandem with the release of a new trailer for next season, although Season 4 won't end until a two-parter airs on May 4th and 11th. Meanwhile, here's the hype for Season 5.