FALL TV PREVIEW: New series -- Samantha Who? (ABC)
10/12/07 04:38 PM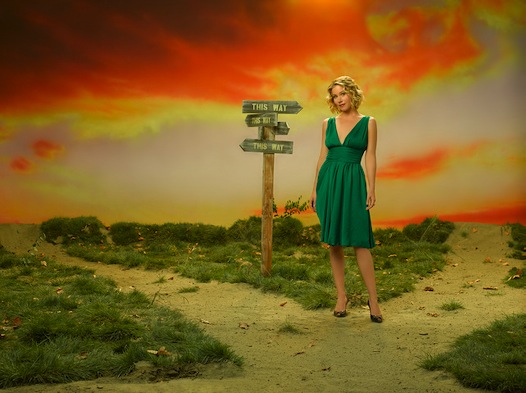 Premiering:
Monday, Oct. 15, at 8:30 p.m. (central) on ABC
Starring:
Christina Applegate, Jean Smart, Jennifer Esposito, Melissa McCarthy, Kevin Dunn, Barry Watson, Tim Russ
Created by:
Cecelia Ahern, Donald Todd
By ED BARK
That's a pretty ABC picture above, isn't it? Innovative, alluring and . . . no, the next words aren't going to be "better than the show itself."
It's tempting, though.
Samantha Who?
is unquestionably Christina Applegate's finest work. She comes to full bloom as a lead comedic actress after breaking in as the bratty teen tease of Fox's
Married . . . with Children
before slogging through NBC's very forgettable
Jesse
. Her new vehicle otherwise doesn't deserve her just yet, although next Monday's second episode makes some progress. Both half-hours are occupying prime real estate following
Dancing with the Stars
performance shows.
Applegate plays a previously insufferable, cutthroat businesswoman who gets hit by a car, bangs her head and has "retrograde amnesia" after awakening from an eight-day coma. This means that Samantha Newly can't remember what a crummy person she's been. Or that her best friend, Andrea (Jennifer Esposito), is more self-absorbed than an off-brand paper towel tackling a drink spill. Or that she hasn't spoken to her domineering mother, Regina (Jean Smart), in two years.
Mom is at her bedside, though, videotaping a woe-is-me sob story in hopes of landing on
Extreme Makeover: Home Edition
. Also visiting daily is chubby Dena (Melissa McCarthy), who became decreasingly popular after last seeing and befriending Samantha when they were seventh-graders.
ABC is taking the same well-worn road here. Can't a heavyset woman character ever be happy, well-liked and fulfilled? No, that's seldom in the prime-time TV cards, although tubby, loutish men of the
According to Jim
variety never seem to have any trouble thinking the world of themselves.
Samantha tolerates Dena's determined clinging while Andrea keeps insulting the poor thing. The post-coma revelations keep coming, though. Samantha gradually learns that she's an alcoholic, has $30,000 in credit card debt and broke up with her boyfriend, Todd (Barry Watson), who's now trying to re-extricate himself. She resolves to be a do-gooder after deducing in Episode 2, "Old me really screwed new me over, didn't she?"
Applegate has enough shining moments to make this all tolerable. In Monday's premiere, she's terrific during an extended riff at an Alcoholics Anonymous meeting. Next week she nails a scene with an imperious boss.
Smart also makes the best of her latest neurotic character, giving spark and substance to the show's mother and child reunions.
Samantha Who?
just might have the wherewithal to last for many seasons to come. It already has the perfect star.
Grade:
B for now