NEW SEASON: The Whole Truth comes courting on ABC
09/22/10 03:50 PM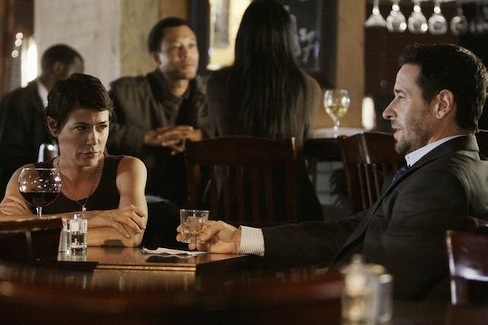 Competing lawyers played by Maura (ER) Tierney and Rob (Numb3rs Morrow unwind after another long day of trial and error. ABC photo
Premiering:
Wednesday, Sept. 22nd at 9 p.m. (central) on ABC
Starring:
Rob Morrow, Maura Tierney, Eamonn Walker, Christine Adams, Sean Wing, Anthony Ruivivar
Produced by:
Jerry Bruckheimer, Jonathan Littman, Tom Donaghy
By ED BARK
Maybe there oughta be a law against scheduling three new legal dramas against each other in the last hour of prime-time.
NBC likely has a leg up with
Law & Order: Los Angeles
, which will wait a week before launching on Wednesday., Sept. 29th. The other two, ABC's
The Whole Truth
and CBS'
The Defenders
(
previously reviewed in these spaces
), will square off in the ongoing official first week of the fall season.
Whole Truth
is from the increasingly tiresome Jerry Bruckheimer, who already has built a crime series empire on CBS with the three
CSI
series and has the new police series
Chase
on NBC this fall.
It's tough to root for Bruckheimer, who's also made untold sums of money in theaters with the
Pirates of the Caribbean
blockbusters. In interview sessions with TV critics -- those at which he deigns to show up -- Bruckheimer is seldom quotable and always smug-looking. He obviously can afford to be both, but it doesn't exactly endear him to the lumpen masses, let alone the TV critics reviewing another of his assembly line dramas. Pulling for Bruckheimer is akin to hoping that Donald Trump will make another million dollars today. But at least "The Donald" is a colorful full-of-himself quote machine.
Whole Truth
's overriding gimmick is to let viewers in on who really did it at episode's end. Its courtroom combatants are always the same -- swaggering, loud-talking criminal attorney Jimmy Brogan (Rob Morrow) vs. the quieter but feisty Kathryn Peale (Maura Tierney).
They once were classmates at Yale Law School, with Peale still ruefully recalling that Brogan completed his bar exam an hour earlier than she did and was waiting outside with Jell-O shots. It's made her feel a bit inferior to him, but not enough to curb her enthusiasm for getting in a little dig when she thinks she has the upper hand. And vice-versa. These two talk a lot on the phone when amassing evidence for an impending trial. Gotcha. Aha, gotcha back.
Joely Richardson of
Nip/Tuck
and
The Tudors
played Peale in the pilot episode of
Whole Truth
, but decided to drop out for personal reasons. All of her scenes have been re-shot. It's a shame because she made a stronger first impression than Tierney.
Previously cast as a regular character in NBC's
Parenthood
, Tierney had to bow out after contracting breast cancer. Her hair is notably short-cropped for
Whole Truth
, but she's fine health-wise, Tierney has said in interviews.
Wednesday's first episode finds the two lead characters on opposite ends of a case involving a school teacher accused of murdering one of his students. It's dubbed the "Ave Maria case" because the deceased supposedly was preparing to enter the convent.
Brogan barks out orders to his legal team -- "Done, done and doner!" -- while Peale prefers to quietly quote legal axioms.
"Justice is truth in action," she tells her right-hand man, Terrence "Edge" Edgecomb (Eamonn Walker).
"Clarence Darrow," he says.
"No, Benjamin Disraeli," she corrects him. "But you're getting better."
Edgecomb is black, and Brogan has two minorities on his staff -- Alejo Salazar (Anthony Ruivivar) and Lena Boudreaux (Christine Adams). But as usual, white actors top the marquee and get most of the action in a drama that seems too calculated with its twists, turns, frowns of concern and small smiles of triumph.
Bruckheimer invariably seems to prefer going at least a little over the top rather than depend on audiences to grasp anything resembling subtlety.
Whole Truth
even includes video snippets of testimony during the attorneys' closing arguments, lest any of the dummies out there forget what they've seen just minutes earlier.
Whole Truth
ends with Peale and Brogan meeting in a bar to compare notes, congratulate each other on jobs well done and flirt just a little. Then comes "the reveal," which lasts just a few seconds. Bruckheimer may have another long distance runner if a good number of viewers are invested enough to animatedly discuss amongst themselves. But if they yawn, he's in trouble.
GRADE:
C+