Go ahead, laugh: TV Land's The Exes entertainingly colors within the network's established lines
11/29/11 11:24 AM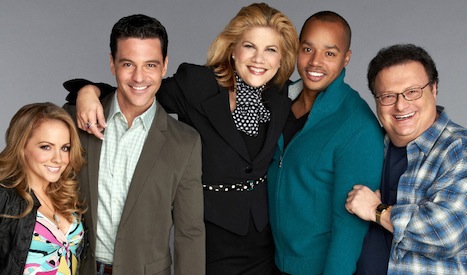 The cast of The Exes is centered by Kristen Johnston. TV Land photo
Premiering:
Wednesday, Nov. 30th at 9:30 p.m. (central) on TV Land
Starring:
Kristen Johnston, Donald Faison, Wayne Knight, David Alan Basche, Kelly Stables
Produced by:
Mark Reisman, Michael Hanel, Mindy Schultheis
By ED BARK
Energy, people. Energy.
The proven cast members of another typically broad TV Land sitcom, this one called
The Exes
, cannot be faulted for under-delivering their lines. Nor are they grossly overplayed during the course of a half-hour romp with more appeal than anticipated.
Paired with Wednesday's Season 3 return of
Hot In Cleveland
, this is TV Land's fourth original comedy series. Original in that it's not a rerun. But derivative in its network's dedication to the multi-camera, "live before a studio audience," laugh track-sweetened tenets of that old-school comedy religion.
Most viewers will recognize at least three of the stars. Towering Kristen Johnston is back in play after her Emmy-winning stint on
3rd Rock From the Sun
. Wayne Knight carved out a name for himself as the obnoxious "Newman" on
Seinfeld
. And Donald Faison is making a rather startling turn to this format after co-starring on the smart, sight gag-driven
Scrubs
, which was
not
filmed before a studio audience, had no laugh track, etc.
Johnston's character, attorney/counselor Holly Brooks, is first seen with the newly divorced Stuart Gardner (David Alan Basche from
The Starter Wife
). He pines for his ex- and is prissy and mannered in a manner that would make him a great roommate for Felix Unger.
But Holly, who very conveniently lives across the hall and is also divorced, has plotted to make Stuart mesh with two disparate, apartment-dwelling bachelors. Phil Chase (Faison) is an on-the-prowl sports agent and Haskell Watts (Knight) mostly sits around buying and selling on the Internet. Neither is much for communicating. Or as Phil puts it, "Just think of me as a guy at the urinal" who just wants to do his business and move on.
Their initial resistance is futile, of course. In that vein,
The Exes
is similar to Fox's
New Girl
, in which Zooey Deschanel plays the "adorkable" new roomie in an apartment otherwise stocked with three set-in-their-ways guys.
The Exes
has nowhere near the hip quotient of
New Girl
. Its hip replacement is a cast that's been around the block and knows how to act accordingly. Not that you can do all that much with some of this stuff. As when Holly and her teeny, tarty assistant Eden (Kelly Stables) begin next week's Episode 2 by walking into the guys' apartment with a large, heavy box.
"Don't get up," Holly sarcastically tells the over-stuffed Haskell.
"Don't worry, I wasn't," he rejoins. "I was just shifting cheeks."
Cringe. But the writing can be pretty sharp, too. As when the couch-bound Haskell notes that he comes from a long line of "sedentary people . . . I was nine before I saw my grandfather stand."
Or when Holly says she's "flattered in a
Gulliver's Travels
kind of way" by a diminutive jockey's interest in her. Phil, who's trying to land the jockey as a client, encourages her to keep him happy. A predictable denouement ensues, but it's kinda fun getting there.
Wednesday's premiere also has its moments during the course of setting the show's premise. There's an amusing matchup with Stuart and a recently divorced woman who shares his weepy regrets that their first marriages went asunder. And Haskell chips in with a line about "the beauty" of ordering styrofoam peanuts online. Namely, you don't need packing materials.
Faison makes a surprisingly deft transition to this brand of comedy while Johnston shows she still knows the ropes. Basche likewise has a knack for selling his lines and Knight makes the best of another mostly one-note character.
In the end, I guess a TV critic is supposed to feel guilty about pretty much liking
The Exes
. Whether that's a capital offense or just a misdemeanor is yet to be judged. TV Land will go merrily along anyway. It knows what it likes -- and keeps having the loud last laughs.
GRADE:
B-minus