R.I.P. Mike Wallace: May 9, 1918 to April 7, 2012
04/09/12 10:41 AM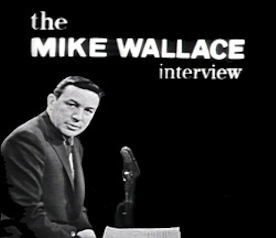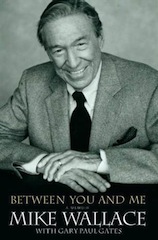 By ED BARK
Even his own CBS network called him a "pit-bull reporter" in the first sentence of its tribute to the late, inimitable Mike Wallace, who died on the day before Easter at age 93 after a lengthy illness.
My most vivid recollection of him is as a father who talked openly of reconnecting with his likewise famous son, Chris Wallace.
The two of them had never appeared on television together until Nov. 6, 2005, when Chris, 58 at the time, welcomed Mike, 87 to his
Fox News Sunday
program. A bit of business was at hand. Mike would be talking up his last book,
Between You and Me
, a trip through a half-century of TV interviews with the likes of Eleanor Roosevelt, Frank Lloyd Wright, Dr. Martin Luther King, Johnny Carson, Nancy Reagan, Richard Nixon, Malcolm X, Norman Mailer and Barbra Streisand.
The earlier encounters, on
Night Beat
and
The Mike Wallace Interview
, were conducted through thick clouds of cigarette smoke coming from the host and sometimes his guest as well.
During those vintage years Mike had little time for his second son, Chris, who was born the year before the marriage of his father and the then Norma Kaplan ended in a 1948 divorce. She soon married CBS News president Bill Leonard, to whom Chris felt far closer in his formative years.
Until he was 15, "I'd not had much of a relationship at all with my father," Chris said in a 2005 telephone interview.
The elder Wallace agreed in a separate interview.
" I hoped that he would follow in my footsteps," Mike said. "But his stepdad had more to do with teaching Chris than I did. They had a wonderful life growing up. They told me that they used to do sports play-by-play when they drove into New York City along the Hudson River together. They loved each other."
The 1962 death of Peter Wallace -- Chris' older brother and Mike's only other son -- had a pronounced effect on both survivors.
"He fell off a mountain in Greece at the age of 19," Mike remembered matter-of-factly. "I was much closer to him in those years than I was to Chris."
Mike had been taking just about anything that came along, including game shows and commercials for Golden Fluffo Shortening. After Peter's death, he steeled himself.
"I decided I was going to do something that would make Peter proud," Mike said. "I said to hell with all this other stuff. I was going to find out if I could do it the way I wanted to, which was to do news and nothing but."
He also re-connnected with Chris.
"We both felt an interest in this other person in our lives that we didn't know much about," Chris said. "One thing he did know was that I was a huge sports fan, so he started taking me to Toots Shor's restaurant in New York, where I could see Frank Gifford and people like that. I wasn't excited about seeing my dad, but I was very excited about seeing sports stars. That was sort of the way we made our way back to each other."
Mike and the late Harry Reasoner were the first anchors of
60 Minutes
when the program premiered on the night of Sept. 24, 1968. It bounced around the CBS schedule for seven years before settling in on Sundays at 6 p.m. (central) in 1975. It's been entrenched ever since, with Wallace enduring all the way to Jan. 6, 2008, when his final
60 Minutes
interview was with accused steroids user Roger Clemens.
"What I try to do, honestly, is to read everything that's been written about or by the person I'm talking to," Wallace said in our 2005 interview, which preceded his last visit to Dallas on Wednesday, Nov. 9th of that same year. "We have no subpoena powers, obviously. We have to persuade them that we'll be fair."
"When it becomes apparent that you've done a lot of homework and you know a lot about them, they respect it and they become, in effect, co-conspirators," he added. "The chemistry of confidentiality develops in that way. But where else my interviewing skills come from, I don't have a clue. Maybe it's just because I've been doing it for such a long time."
Wallace closed his 2005
Between You and Me
memoir with what he called "a final word from the old geezer." He noted that he'd "never gotten a chance to interview the current president of the United States (George W. Bush). Karl Rove wouldn't let me talk to him when he was merely governor of Texas. So I've interviewed just about every president since Abe Lincoln, including Bush the elder, number 41, but never George W., number 43.
So how about it, Mr. President, isn't it time you gave this old man a break?"
That never came to pass, but Wallace gamely played along when I asked him what his first question would be. He said it would go something like this: "How does a man prepare to be president of a superpower of the world?"
For a 40-year span on
60 Minutes
, Mike Wallace was his own superpower. He remained in play almost until his 90s, making a name for himself that very few have equalled or surpassed in the annals of TV journalism.
I saw him for the last time in fall 2005, just before he went onstage at Highland Park Methodist Church to talk about his new book and his many old adventures within its covers. He insisted on signing a copy, and writing a warm, personal inscription as well.
But we'll close with his words about son, Chris. Because they're the ones that many dads never get around to saying.
"I gotta tell you, it's a joy to watch him. He's so damn good," the once estranged father said of his son. We love each other a lot. He's a good fella."
60 Minutes
will remember its Grand Inquisitor next Sunday in a one-hour tribute. I'll always remember him this other way, too.