Year in review: Top 10 prime-time series
12/27/07 11:12 AM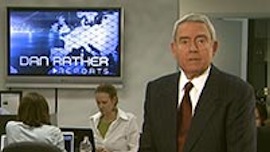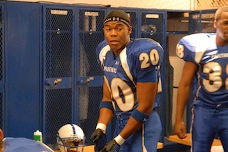 A warhorse shows some giddyup; Friday Night Lights still brings it.
By ED BARK
Few if any will entirely agree with this year-end list of prime-time's best weekly series. That's as it should be, and your comments are welcome. Links are included to all of the shows' official web sites.
10. Life
(NBC) -- It's a familiar premise: wrongly convicted cop is sent to the slammer and emerges as a flawed, free man. But Damian Lewis' quirky lead performance is multi-layered and thoroughly compelling. His new partner, played by former Dallas Cowboys cheerleader Sarah Shahi, adds both sharp byplay and considerable eye appeal.
9. Dan Rather Reports
(HDNet) -- His oddly belated lawsuit against CBS has rightly been ridiculed. At age 76, though, Rather is still going strong at what he does best -- reporting from the field. Substantive, one-hour dispatches on topics of genuine worth are no longer welcome at the big broadcast networks. But HDNet owner Mark Cuban has given Rather a redemptive opportunity to shine in his sunset years. Those who urged him to hang it up -- myself included -- misjudged Rather's resiliency and resolve. Against all odds, his best work is in the here and now.
8. Mad Men
(AMC) -- Set in 1960, here's a series that blows smoke figuratively and literally. Former
Sopranos
writer/producer Matthew Weiner had this premise in mind for a decade, but couldn't find a buyer. Thankfully he finally sold AMC on the cigartettes-and-booze-fueled exploits of cocksure Madison Avenue advertisers. Jon Hamm leads the pack as adman Don Draper, a dapper womanizer who's always eager to set sale. Sold.
7. 30 Rock
(NBC) -- Tina Fey never spares herself in this daft, deft look at the innards of a high-maintenance network TV show. Her Liz Lemon is constantly at the belittling mercy of swaggering, scene-stealing Jack Donaghy (Alec Baldwin) The ensemble cast, which also includes Tracy Morgan and Jane Krakowski, is more than good enough to keep this ball rolling. But guest shots by the likes of Jerry Seinfeld, Edie Falco and David Schwimmer make
Rock
all the more merrier.
6. The Office
(NBC) -- The British original seemed impossible to replicate, but NBC has made
The Office
its own and then some. Steve Carell continues to excel as noxious bossman Michael Scott. His bane is also his boon -- a many-splendored collection of underlings. Whether sucking up or saving face, they're the indispensable rock, paper, scissors of dysfunctional Dunder Mifflin.
5. Curb Your Enthusiasm
(HBO) -- Larry David separated from wife Cheryl while embracing the hurricane-displaced Black family in an eventful, energetic and very funny Season 6. This show definitely hasn't lost its
Curb
appeal, even though David now will agonize off-camera for months on end before deciding whether to re-up for another 10 episodes. For faithful viewers it's an easy response. More, more!
4. Dexter
(Showtime) -- Season 2 remained on the cutting edge, with Dexter Morgan (Michael C. Hall) caught between the advances of both special agent Frank Lundy (Keith Carradine) and dragon lady Lila (Jaime Murray). Will the real Bay City Butcher sign in please? Dexter gave that possibility some serious thought before opting to stay at large as a serial killer with a code. This gripping drama isn't for everyone, but it definitely slices through conventionality in its portrayal of an anti-hero unlike any other. Whatever you think of his character, Hall is sensationally good.
3. The Sopranos
(HBO) -- Didn't like the ending, and upon further review, still don't. Let's not forget what
The Sopranos
brought to the table, though. Its final season mostly crackled, with the usual superior performances and writing from actors James Gandolfini and Edie Falco, and creator David Chase. I'd still like to see a big-screen movie someday, and no one should discount that possibility at some point down the road. For now it's curtains on an extraordinary achievement that deserves this end-of-the-year curtain call.
2. Friday Night LIghts
(NBC) -- Still struggling in the ratings, this made-in-Austin drama otherwise soars on the strength of its emotional storylines and superb ensemble cast. It has it both ways. Coach Eric Taylor (Kyle Chandler) and his wife, Tami (Connie Britton), are prime-time's most consistently interesting married couple. And the high schoolers in small-town Dillon, TX are more real by far than any other teen grouping on broadcast or cable TV. Football action is in much shorter supply in this second season as NBC strives to recruit larger audiences. Alas, it may be too late for that, but
Lights
still has enough pre-strike new episodes in the can to fill all of January (beginning on the 4th) and at least the first Friday in February.
1. Damages
(FX) -- Glenn Close drove the drama on a freshman series that never loosened its grip. Her heart-of-darkness litigator, Patty Hewes, laid steel traps for both Enron-ian CEO Arthur Frobisher (Ted Danson) and members of her own law firm. An overriding, season-long murder mystery had new recruit Ellen Parsons (Rose Byrne) at its epicenter. Her life unraveled and regrouped in a series of flashbacks while the shrewish Hewes kept tightening screws.
Damages
also had the year's best supporting performance by Zeljko Ivanek as Frobisher's many-shaded attorney, Ray Fiske. It all ended with the resolution of one mystery and the launching of more dark intrigue for planned Seasons 2 and 3. A stellar achievement in acting, directing, cinematography and story continuity,
Damages
clearly belongs at the head of the 2007 class.