Stay in the womb! ABC's In the Motherhood is coming
03/25/09 12:39 PM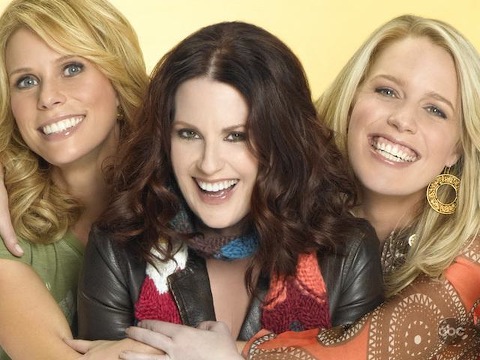 Cheryl Hines, Megan Mullally, Jessica St. Clair of In the Motherhood
Premiering:
Thursday, March 26th at 7 p.m. (central) on ABC
Starring:
Cheryl Hines, Megan Mullally, Jessica St. Clair, Horatio Sanz, RonReaco Lee
Produced by:
Jennifer Konner, Alexandra Rushfield, Stuart Bloomberg, David Lang
By ED BARK
Shrill harpies unite. Here's the show for you.
Unrelentingly loud and leaden, ABC's
In the Motherhood
is a wail of a tale that fails as both a sitcom and a mommy tract. Network press materials say the show represents "mothers we all know." Perish the thought, but maybe they really meant to say "loathe." Whatever the case, this thing manages to make NBC's much reviled
Kath & Kim
seem like a pastoral Monet painting.
Two familiar TV faces tote much of the load in a show drawn from webisodes of the same name.
Megan Mullally (
Will & Grace
) shouts her way through the role of Rosemary, a multi-divorced, self-absorbed mother of a son who goes entirely unseen in the first two episodes available for review.
Cheryl Hines (
Curb Your Enthusiasm
) is only marginally more bearable as high-strung Jane, recently divorced mom of pre-teen and baby girls.
Jessica St. Clair, who played a recurring character in CBS' apparently doomed
Worst Week
, makes it a threesome as the easily manipulated Emily. Her ongoing interracial marriage to milquetoast Jason (RonReaco Lee) has produced a boy and a girl so far.
Also caught in the pincers of
Motherhood
is
Saturday Night Live
alum Horatio Sanz, who's notably trimmer and in a beard (perhaps he didn't want to be recognized?) as Jane's dedicated nanny, Horatio.
In Thursday's basically awful opener (
7 p.m. central
), Rosemary fakes being pregnant in order to cut in line and otherwise be treated like a "goddess." Instead you'd like to strangle her.
Meanwhile, Emily impulsively tells her kids there's no Santa Claus in the belief she should never lie to them. This prompts a day care center riot when son Bill tells the whole class. "It was the death of innocence, and your son was the lone gunman," the teacher delicately informs mommie dreariest.
Also, Jane is determined to have sex with her latest date because, well, "Nobody has seen this in a very long time," she says, hand-circling her nether land.
It all ends -- wah, wah, wah -- with the hapless Horatio impersonating Santa but falling off the roof. Emily's kids accuse mommy of killing the Jolly Old Soul, but Rosemary knows better. "That's not blood. It's Christmas juice," she says before the closing credits mercifully kick in. Yes, she actually says that.
Next week's outing -- "Spring break has begun, bitches!" proclaims Jane -- is equally ill-plotted and executed. The dialogue remains at a decibel level approaching an air raid siren, particularly when grating Rosemary organizes a nanny strike after ridiculing a Latina follower with bad teeth.
Utterly without style or any relatability,
In the Motherhood
is about as funny as bleeding gums. Worse yet, it's a braying insult to the real-life moms it supposedly depicts. Cripes, even Norman Bates had it better than this.
GRADE:
D-minus