The Revolution Was Televised is an instant classic book while The Top 100 American Situation Comedies: An Objective Ranking has its moments
02/04/16 11:47 AM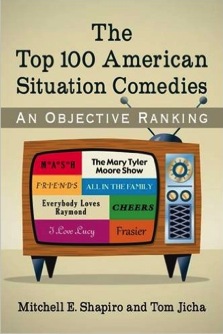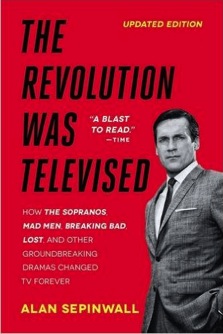 By ED BARK
@unclebarkycom on Twitter
People either keep asking me -- "When are you going to write a book?" -- or telling me, "You need to write a book."
Maybe someday.
In the here and now, though, two standout TV critic colleagues, one now retired, have put their names to volumes that are well worth owning.
Alan Sepinwall's updated edition of
The Revolution Was Televised
is the thoroughbred of the two. The trailblazing king of the re-cappers, who basically invented that domain with his weekly dissections of
NYPD Blue
episodes, has authored a tome that will stand the test of time. In short, it's a landmark book.
Tom Jicha, former longtime TV critic of the
Fort Lauderdale Sun Sentinel
, has combined forces with University of Miami communications professor Mitchell E. Shapiro on
The Top 100 American Situations Comedies: An Objective Ranking
. Shapiro ranked the shows based on a four-pronged mathematical formula. Jicha then did the heavy lifting by writing concise and entertaining multi-page synopses of all 100 qualifiers.
Revolution Was Televised
originated in 2012, when Sepinwall (currently writing for HitFix.com) came up with a list of 12 turn-of-the-century TV series that, in his view, "fundamentally altered the way TV dramas were both made and viewed." But two series that made the cut,
Mad Men
and
Breaking Bad
, hadn't yet completed their runs. So the updated version includes much more on those two shows in addition to "a bonus epilogue to discuss all the changes that have swept the TV business in the three years since this book was originally published."
Besides the aforementioned, Sepinwall's dynamic dozen range from HBO's
Oz
to FX's
The Shield
to The WB/UPN's
Buffy the Vampire Slayer
to ABC's
Lost
to NBC's
Friday Night Lights
. He also pays homage to earlier pathfinders, including NBC's
Hill Street Blues
(still the all-time game-changer in my view), CBS'
Wiseguy
, ABC's
Twin Peaks
and of course, that network's
NYPD Blue
.
Sepinwall also has talked at length to the mostly men behind his Top 12, with only
Buffy
executive producer Joss Whedon declining to do a fresh interview for the book because of "an overwhelming schedule." One of the principal takeaways is how hurly burly all of this could be. More often than not, the creators of these series improvised as they went along, without any pre-determined "bible" of how things would progress and end. Particularly in the case of
Lost
, tell us about it.
Many of these signature series also went through numerous rejections before a network finally adopted them.
Mad Men
ended up on a network (AMC) that mostly was known for screwing up its presentations of feature films by pockmarking them with commercials while rival TCM remains ad-free to this day.
Mad Men
maestro Matthew Weiner, because of his ties to HBO's
The Sopranos
, initially offered the series to that network. HBO executives now either deny passing on the series or cite the network's full plate of other commitments.
Breaking Bad
got turned down by HBO, TNT and FX before AMC again stepped in.
The behind-the-scenes machinations, both before and during these pathfinding series, make Sepinwall's book a valuable record of what really happened before time, self-serving egos and fading memories begin constructing alternative realities.
Breaking Bad
creator Vince Gilligan and his team are especially forthcoming, allowing the author to dig deep into the show's creative cavities.
If
Revolution Was Televised
has a fault, it's Sepinwall's recurring wordiness. Brevity of sentence is not his strong suit. As with this rambling discourse on
The Sopranos
: "Whatever his motivations, whether at the start or in later seasons, Tony keeps going, and those sessions with Melfi -- along with other Soprano relatives (and Dr. Melfi herself) seeing their own therapists, Tony having increasingly strange and elaborate (and, among the fans, divisive) dreams, or Tony at times using other friends and relatives as surrogate shrinks -- helped add enormous depth, pathos, and at times comedy to what could have easily been a conventional, straightforward mob drama."
But the prose also crackles, as with this notably briefer and better observation on
24
: "The series consumed plot ideas like Pringles, and the best the writers could do was develop a sixth sense for when a story was about to exhaust itself, then quickly move on to the next thing."
Not including the closing Acknowledgements, this is a 447-page book of considerable heft. It takes its place among some of the all-time great looks at how television works, playing in the same league as Les Brown's 1971
Television: The Business Behind the Box
; Bill Carter's 1994
The Late Shift
; and Tom Shales/James Andrew Miller's 2002
Live From New York: An Uncensored History of Saturday Night Live
.
The Top 100 American Situation Comedies
is also a page-turner, although more conducive to one-show-at-a-time bathroom reading.
Prof. Shapiro has deployed four criteria to compile his list: ratings, longevity, Emmy nominations/wins and spinoffs.
Not surprisingly, the clear No. 1 sitcom is CBS'
All In the Family
, an awards-laden ratings juggernaut that ran for nine seasons before morphing into
Archie Bunker's Place
. It also spun off
The Jeffersons, Maude
and
Good Times
, which respectively rank 40th, 42nd and 116th (in an expanded Appendix of 377 "Qualifying" comedies).
Where this Top 100 list gets into trouble is the ratings criteria. For the most part, cable comedies simply do not stack up to most long-running broadcast network shows, although they've been gaining in recent years as venues multiply and divide audiences. The highest-ranked cable show is HBO's
Sex and the City
in the 30th spot. Only nine other cable comedies make the top 100, the majority of them from HBO. Just one of those shows, Nickelodeon's No. 94-ranked
iCarly
, has had a spinoff.
It would be better if the professor had kept longevity in the mix but dropped the ratings qualifier. It also would be better if
The Danny Thomas Show
, also known as
Make Room For Daddy
, didn't end up in 14th place. True, it was a highly popular show (six times ranking in prime-time's Top 10) with a surprising number of major Emmy nominations (20) and wins (5). But placing ahead of the likes of
The Dick Van Dyke Show, The Andy Griffith Show, Taxi, Barney Miller
and
Roseanne
just doesn't seem to compute.
In this case, Jicha does the best with what he has, writing, "
The Danny Thomas Show
endured for 12 seasons (from 1953 to 1965) on two networks (ABC/CBS). One simple explanation -- it was good during a lot of seasons when most of television wasn't very good."
Jicha weaves both context and a show's content into his summations. He notes that while NBC's
Seinfeld
(No. 10) didn't have any spinoffs, it did help to launch the careers of female guest stars such as Teri Hatcher (
Desperate Housewives
); Courteney Cox (
Friends
); Jane Leeves (
Frasier
); Anna Gunn (
Breaking Bad
; Debra Messing (
Will & Grace
); Kristin Davis (
Sex and the City
); and Jamie Gertz (
Still Standing
).
Of ABC's
Family Matters
(which clings to the No. 100 spot ahead of
Leave It to Beaver
), Jicha writes: "No comedy series in the history of television was more re-imagined from its original blueprint because of a late-arriving, fringe character who was supposed to appear only once." That would be Jaleel White's show-stealing Steve Urkel.
Both
The Revolution Was Televised
and
The Top 100 American Situation Comedies
are paperback originals that for the most part aren't readily available in stores.
Retailing for $16.99, you can order Sepinwall's instant classic at a lower price
here
.
The Jicha/Shapiro compendium retails for (yikes) $39.95. That asking price is still holding firm on Amazon, but
go here
if you're willing to buy in. It's considerably cheaper on Kindle, though.
Email comments or questions to:
unclebarky@verizon.net