NBC spills beans on part of its new season, promises a second helping in 15 days
05/04/09 10:30 AM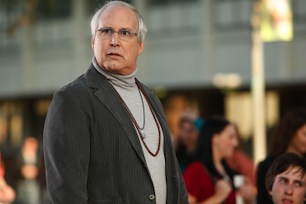 Former SNL mainstay Chevy Chase and Maura Tierney from ER.
By ED BARK
Fourth-place NBC went roughly halfway toward unveiling its 2009-10 season plans Monday, promising to get back with more details on May 19th.
It's an odd way to do business, but perhaps preferable to last May's unveiling of an elongated 18-month schedule that quickly went by the wayside.
Among the Peacock's six announced newcomers are an adaptation of the 1989 film
Parenthood
featuring a trio of familiar TV faces and the new comedy series
Community
, starring graybeard Chevy Chase and Joel McHale of
The Soup
.
NBC also announced the renewals of two spring series --
Southland
and
Parks and Recreation
-- plus six new half-hours of
Saturday Night Live Weekend Update Thursday
, which debuted last fall down the homestretch of the presidential campaign.
As expected,
Heroes
and
Law & Order: Special Victims Unit
also were picked up. But the fates of series such as
My Name Is Earl, Law & Order, Chuck
and
Medium
still hang in the balance, with the latter the likeliest survivor.
Also absent from Monday's announcement were nights and times for any of NBC's new and returning series, save for Jay Leno's previously announced entrenchment at 9 p.m. (central) with a new Monday-Friday talk/comedy hour. The official title is
The Jay Leno Show
.
As previously announced, the network also has committed to new seasons of
Friday Night Lights, 30 Rock, The Office, The Biggest Loser
and
Celebrity Apprentice
.
Ben Silverman, co-chairman of NBC Entertainment, said in a clunkily composed statement that the Peacock "will strive to make viewers feel and our shows represent the full range of human emotion from laughter to tears."
Here are the six newcomers announced Monday:
Parenthood
(drama) -- A "contemporary re-imagining" of the Ron Howard-directed 1989 hit film is built around the "colorful and imperfect" Braverman family. Fronting the cast are TV venerables Peter Krause (
Six Feet Under/Dirty Sexy Money
), Craig T. Nelson (
Coach
) and Maura Tierney (
ER
.)
Point of fact: NBC tried and failed earlier with
Parenthood
in a 1990 drama series starring Ed Begley, Jr., and two little knowns at the time -- Leonardo DiCaprio and David Arquette.
Community
(comedy) -- Chevy Chase returns to NBC for the first time since leaving
SNL
after its inaugural 1975-76 season. Depicting the "higher education and lower expectations" at fictional Greendale Community College, the ensemble sitcom is centered on Joel McHale (
The Soup
) as a fast-talking, conniving lawyer whose degree has been revoked.
Trauma
(drama) -- Peter Berg, executive producer of
Friday Night Lights
, orchestrates what NBC bills as "the first high-octane medical series to live exclusively in the field where the real action is." Included in the cast is
FNL
alum Kevin Rankin, who played the partially paralyzed Herc.
Mercy
(drama) -- More medical adventures, with the emphasis on the dedicated nurses of Mercy Hospital. There are no big names in the cast.
Day One
(drama) -- Earth is staggered by a global catastrophe, forcing an "eclectic band of survivors" to cope in a series scheduled to launch after the 2010 Winter Olympics on NBC. Another no-name cast will be in play.
100 Questions
(comedy) -- A young woman named Charlotte (Sophie Winkleman of
Peep Show
) learns about life, love and the high-larious implications of same while taking a 100-question "compatibility test" put together by her dating counselor.