Celebs at play on NBC's Hollywood Game Night
07/11/13 10:00 AM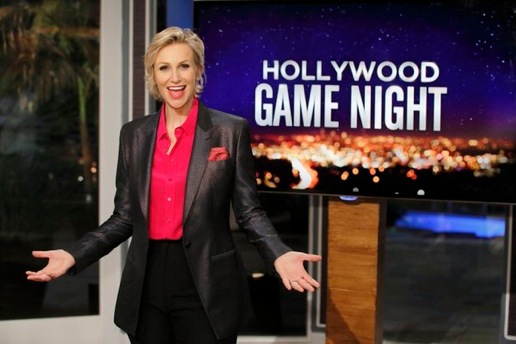 Jane Lynch hosts a gaggle of game-playing celebs. NBC photo
Premiering:
Thursday, July 11th at 9 p.m. (central) on NBC
Hosted by:
Jane Lynch
Produced by:
Sean Hayes, Todd Milliner, Michael Agbabian, Dwight D. Smith
By ED BARK
@unclebarkycom
It's the summer sensation that's sweeping the nation!
You'll laugh, you'll cry, you'll kiss your brains goodbye!
More fun than
The Marriage Ref
! (But what wasn't.)
In all seriousness, though -- hah! -- NBC's
Hollywood Game Night
had me pretty early in the game. All it took was contestant Martin Short gushily telling host Jane Lynch, "You are an icon and I adore you." He then tells her to get out of the way of the TeleprompTer he's reading from. Now that's entertainment.
The idea of "celebrities hanging out and living it up in a cocktail party atmosphere" -- as NBC publicity materials describe it -- dates to the likes of
Hollywood Squares, Playboy After Dark
and
Pantomime Quiz
, the ancient summer replacement series in which host Mike Stokey presided over the likes of Vincent Price, Elaine Stritch, Carol Burnett, Dick Van Dyke, Rose Marie and Stubby Kaye.
There's nothing inherently wrong with these shows, and much that can be inherently right. And the Thursday, July 11th premiere of
HGN
has enough going for it -- particularly Lynch, Short and a disheveled looking but game Matthew Perry -- to prompt a return visit next week. Added bonus: At some point you'll also get to see future guest Jason Alexander in his latest ill-chosen toupee. But will Lynch dare kid him about it?
HGT
's lead executive producer is Sean Hayes, who supposedly based it on the real-life game nights he regularly hosts in his home. Hayes also will have a new sitcom on NBC this fall, so maybe this was something of a barter deal.
Lynch is overly amped up in the early going. This can happen when your house band is Dean Butterworth and the Scorekeepers. But she begins hitting her stride by telling Perry, "Your hair's not lookin' so great tonight." There's sure lots of it, though.
Perry plays along, amiably making himself a hapless fall guy throughout the night. His teammates are Daniel Dae Kim, Kristen Bell and civilian Amy Argyle (originally from Dallas).
Short, one of the world's greatest hams, is joined by Lisa Kudrow, Allyson Hannigan and a shoe salesman named Kevin. During a climactic final round, the commoner on the winning team plays for $25,000 while a chosen celebrity partner can win up to $10 grand for a designated charity.
The first two games, "Crunch Time" and "Take the Hint," are pretty much groaners. One facilitates an array of product placement ads for various "crunchy snacks" while the other is identical to
Password
. "You guys are terrible at this game," Lynch tells a losing team. Wink Martindale she's not. And bravo for that.
Things pick up considerably with "Lil' Picassos," in which kids draw pictures of various celebrities and contestants try to guess their identities. The "Timeline" game likewise is fun. Six photos each of Johnny Depp and Brad Pitt are displayed on easels. Teams must correctly rank them in chronological order.
As the score tightens, Lynch heightens the drama. "The tension in the air is so thick you can smell it," she declares after a commercial break. "Or it might be that lobster I lost track of at my last party." A rim shot from the band effectively underscores the lameness of the joke. Then it's on to the pulse-pounding "I Love a Charade," in which team members must act out movies starring Tom Hanks and Tom Cruise.
None of this is meant to be brain surgery -- or even a Botox injection. But as a silly summertime lark,
HGN
pretty much hits it out of the park on opening night. Lynch brings some of her Sue Sylvester sass to the proceedings, Kudrow has an infectious laugh, Perry knows how to take a punch and Short is always a consummate mirth maker.
In fact, no show of this sort should ever go on without Short somewhere in its mix. But next week's edition will, with an announced celebrity contingent of Valerie Harper, Matthew Morrison, Cheryl Hines, Rob Riggle, Sarah Chalke and Yvette Nicole Brown. Let's see how it all plays out.
GRADE:
B-minus (for starters at least)
Email comments or questions to:
unclebarky@verizon.net