Too little monkey business in NBC's human-infested Animal Practice
08/08/12 10:36 AM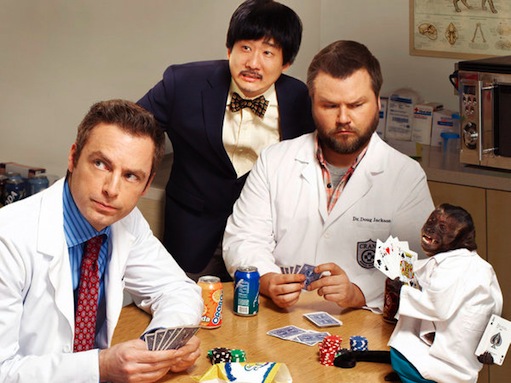 Which of the above stars of Animal Practice gets paid in bananas?
NBC photo
Premiering:
Sunday, Aug. 12th following Olympic closing ceremonies on NBC
Starring:
Justin Kirk, JoAnna Garcia Swisher, Tyler Labine, Bobby Lee, Kym Whitley, Betsy Sodaro, Crystal the monkey
Produced by:
Scott Armstrong, Ravi Nandan, Joe and Anthony Russo, Gail Lerner
By ED BARK
@unclebarkycom
Yes, this is the one with the monkey. And no, he (played by a she) doesn't get enough screen time.
NBC's
Animal Practice
, being sneak-previewed on Sunday (Aug. 12) after the Olympic closing ceremonies, instead is too messy with oft-clunky human interaction. The Elephant in the Room is the tiny Capuchin monkey known as Dr. Rizzo. Like many a critter, he's a scene-stealer. But in its first episode,
Animal Practice
steals too much from him. His signature scene has Rizzo riding on a toy ambulance through the halls of Manhattan's Crane Animal Hospital ("He's doin' his rounds"). But in just a few seconds he's out of the picture. For the most part so is the funny.
NBC has a quartet of new needy male sitcoms on its fall schedule, U-turning from the female-centric activities on returnees
30 Rock, Parks and Recreation
and
Whitney
.
The
previously reviewed Go On
(sneak-previewing Wed., Aug. 8th) stars Matt Perry as a grieving widower ordered to undergo group therapy. Coming this fall are
The New Normal
(gay male partners yearn to have a baby) and
Guys With Kids
(a trio of thirtysomething first-time fathers desperately try to "remain dudes").
In
Animal Practice
, head veterinarian George Coleman (Justin Kirk after several mile high seasons on
Weeds
) relates to his patients but doesn't much care for two-leggers. That's because his heart was broken two years ago when the girl of his dreams left him.
Wouldn't you know it, though, Dorothy Crane (JoAnna Garcia Swisher) is now back in his life. She's inherited Crane Animal Hospital from her grandma, and intends to run it efficiently. So George wants out. Cue the very standard issue, emptying-out-the-office/cardboard box routine until the inevitable second thoughts kick in.
Coleman's co-workers also are the usual menagerie of misfits. Dr. Doug Jackson (Tyler Labine from Fox's dreadful
Sons of Tucson
) just doesn't seem to have any luck with the ladies. Tart nurse Angela (newcomer Betsy Sodaro) talks bluntly about everything, but mostly about sex. Dr. Yamamoto (Bobby Lee of
Harold & Kumar
) is the resident over-reacting, easily fooled goofball Asian, a growing stereotype likewise evident in CBS'
2 Broke Girls
and NBC's
Community
.
Crystal the female Capuchin monkey, who plays Dr. Rizzo, has better credits than any of these supporting humans. Namely
The Hangover Part II, We Bought A Zoo
, both
Night At the Museum
movies and
Community
. Most of her limited number of scenes in Episode 1 also include Kirk's Dr. Coleman. Which is unfortunate because Kirk just doesn't click in the lead role. Nor do most of the words he's given, particularly during this odd verbal product placement exchange:
Coleman -- "People are incapable of reason. Why do you think they keep eating at Arby's?"
Dorothy Crane: "Only you eat at Arby's."
Coleman: "You still won't admit that Arby's is delicious!"
Garcia Swisher as Dorothy is an improvement over the actress who played this part in the pilot, proving that "notes" from network "suits" sometimes can be a good thing. Her character also gets to kiss off Coleman in a decidedly different way when he softens and asks her out for a drink. In the original
Animal Practice
, she told him of her impending marriage before getting into a cab. That's been changed to "No, it's never just a drink with us."
Nurse Angela still has the same coarse kicker, though, telling her boss, "She wants you to put your bread into her basket."
The first episode also includes snippets of a pregnant Bengal tiger; a python wrapped around hapless Dr. Yamamato; a suicidal cat; a sick Yorkie with a bad habit of eating strip club coasters; and turtle races with mice jockeys (Rizzo gets to hold the money). But no NBC peacock yet.
In recent remarks to TV writers, co-executive producer Anthony Russo went into the usual human shell in saying, "This show is definitely like a smart, fast-paced, character-driven comedy that happens to have a monkey in it. You know, it's not the other way around."
Although no doubt a giving actor, Crystal would prefer to see it the other way around -- as a riotous, monkey-driven comedy that just happens to have humans in it.
The crowd cries out for more -- of her/him. Or at least suckers for monkeys do. But so far Crystal is on the losing end. As is
Animal Practice
, where the extended human byplay so far is no match for the minimal monkey business.
GRADE:
C-minus