Merv Griffin: singer, talker, gamer (1925-2007)
08/13/07 11:05 AM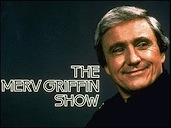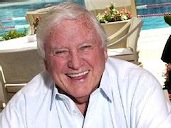 By ED BARK
Merv Griffin laughed last a lot -- often all the way to the bank.
He couldn't conquer Johnny Carson when they went head-to-head in late night. But his daytime talk show ran for 21 years in syndication. And his crown jewel game shows --
Wheel of Fortune
and
Jeopardy!
-- show no signs of going away now that Merv has checked out at age 82.
"Of course I'm surprised it's still on," Griffin said of
Wheel
in a 1991 telephone interview. "The legs are extraordinary, and the public has almost adopted them (Pat Sajak and Vanna White) as institutions. If they've done anything for America, they've taught a generation to spell."
Wheel
, which debuted in 1975 with Chuck Woolery as host, is a junior partner of Griffin's
Jeopardy!
, which he launched in 1964. But
Jeopardy!
was canceled in the same year that
Wheel
was birthed. It then returned briefly in 1978 but didn't catch on anew until Alex Trebek began hosting a third incarnation in 1984. Griffin has another game show,
Crosswords
, set to premiere this fall.
Back in 1991, Griffin said the climate for launching new quizzes had gone from fertile to "terrible."
"There's such a plethora of talk shows," he lamented. "They're just smothering us all. My biggest laugh in the morning is when I look to see who all the talk show hosts have on. And it makes me fall out of bed laughing. All these freak-o people sitting around discussing how they had their front teeth removed so they could kiss better."
Griffin made his first mark in show biz as a big band singer who had one chart topper in 1950's "I've Got a Lovely Bunch of Coconuts." He hosted a game show himself --
Play Your Hunch
-- from 1958 to '62. Seven years later, he went head-to-head with Johnny Carson, lasting three years in the late night arena.
"We had all of Andy Warhol's movie stars," Griffin recalled in the 1991 interview before letting loose with his trademark, head-thrown-back mega-laugh. "We had --- what was her name? -- Ultra Violet. We would turn some things down, though. We weren't going to sit there and listen to albino hopefuls for president. But these people are all putting them on their talk shows today."
Griffin's daytime talker resumed after Carson knocked him off. It lasted until 1986, with few if any big names of that era bypassing a chance to sit down with chatty Merv and, in the early years, his droll British sidekick, Arthur Treacher. A 2006 three-disc DVD set contained highlights from interviews with the likes of Richard Burton, Jane Fonda (with her then husband, Roger Vadim), Ingrid Bergman, Martin Luther King Jr., Grace Kelly, Orson Welles, Richard Pryor (whom he discovered), Tom Hanks, Jerry Seinfeld and Sophia Loren.
The host's ooh-ah style prompted a string of hilarious parodies on the old
SCTV
sketch show. "Oooh!" went Merv in the person of Rick Moranis. Still, he often came away with the goods.
The interview with Burton, on the set of the 1974 film
The Klansman
, found the hard-living Welshman taking pot shots at America's astronauts after Griffin cooed about "landing men on the moon, romping around up there in the dust."
"The least important thing we've done . . . in the last 100 years is to get a man on the moon," Burton sniffed. "The idiots who went up there had no knowledge or no idea or no purpose. They were just simply automatons."
Griffin's interview with Welles was taped just two hours before the legendary actor/director died on Oct. 10, 1985 at age 70.
"Old age is a shipwreck," Welles told Griffin.
"But you feel wonderful, don't you?" the host replied.
"Oh sure," Welles rejoined, rolling his eyes.
All three parties smoked during Griffin's sit-down with Vadim and a starkly deferential Fonda, who later would star in the director's
Barbarella
.
"Does she cook, Vadim?" Griffin asked.
"Oh yes."
"Good?"
"Very good, but it's a disaster."
"For the stomach?"
"No, no, for the relax in the house."
In
Merv Griffin's Book of People
, published in 1982, the author describes his interviewing technique as "organized improvisation. Every guest who appears on my show is researched by my staff, pre-interviewed for pertinent facts about his or her current activities, and then just prior to show time the talent coordinator responsible for a particular guest's appearance gives me a quick briefing."
It worked for him. So did a lot of other things during a show biz career that just couldn't be stopped -- and that few have topped.