ABC's The Goldbergs makes them want to shout (ceaselessly)
09/20/13 02:58 PM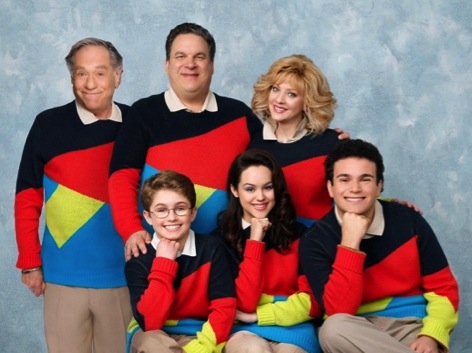 Jeff Garlin (top, center) also is at the center of a very loud family.
ABC photo
Premiering:
Tuesday, Sept. 24th at 8 p.m. (central) on ABC
Starring:
Jeff Garlin, Wendi McLendon-Covey, George Segal, Sean Giambrone, Troy Gentile, Hayley Orrantia
Produced by:
Adam F. Goldberg, Doug Robinson
By ED BARK
@unclebarkycom on Twitter
Brace your eardrums. Paced by Jeff Garlin as an extremely easy to anger dad, ABC's
The Goldbergs
is one big sonic boom of a sitcom.
It's otherwise reminiscent of
The Wonder Years
, revisiting the 1980s rather than the 1960s via the adult narrative voice of its centerpiece kid.
Adam F. Goldberg, the show's creator, writer and co-executive producer, draws these memories from the home videos he shot of his actual family. And in a nice touch during the closing credits, some of his footage from those times is matched up with scenes from the TV version.
The '80s purportedly were a simpler time, but so were all of our youthful years no matter what decade housed them. In this case, the adult Adam (voiced by comedian Patton Oswalt) fondly recalls a pre-Facebook/Twitter era in which "your friends lived on your street and your family were the people at your dinner table."
Add copious yelling, at least in Tuesday's scene-setting premiere episode. Garlin, better known for now as Larry David's manager on HBO's
Curb Your Enthusiasm
, favors the word "moron" during his frequent tirades as tempestuous Murray Goldberg. The character is said to be bouncing back from a heart attack. Apparently he's aiming for lung perforation as an encore.
"Who the hell told you life is fair, you moron?" he informs oldest son Barry (Troy Gentile), who's just turned 16, wants a car and yells right back.
Mom's name is Beverly (Wendi McLendon-Covey), who specializes in further aggravation of everyone. Even pre-teen Adam (Sean Giambrone) finally blows up at her after she ruins his efforts to impress a young waitress at a diner he regularly visits with his loving but randy grandfather (George Segal) as "Pops"). The old man dubs it "Operation Waffle Girl," with young Adam hoping to step up the pace by ordering two adult Monte Cristo sandwiches.
"All that fried meat and cheese? You're gonna be on the bowl for hours," says his spying mom from an adjoining booth. No wonder the kid blows a gasket.
The other Goldberg is teen daughter Erica (Hayley Orrantia), who doesn't get all that much to do on opening night. Perhaps her vocal cords aren't yet up to the challenge.
The Goldbergs
is amusing in fits and spurts before ending on several sweet notes -- including REO Speedwagon's "Can't Fight This Feeling."
In future episodes, though, there's presumably no way Garlin can rise to the same relentless decibel level. For the record, I counted six uses of the word "moron" in addition to a pair of "dummys." Maybe this is all very endearing in retrospect to the adult Adam Goldberg. But this series, which does have promise, would be better off tamping it down for the long haul.
An average of one Murray blowup per episode -- a la Jackie Gleason's Ralph Kramden in
The Honeymooners
-- will be quite enough, thank you. More than a few of today's adults carry scars from their fathers' constant tirades and insults, even if Goldberg now prefers to go the misty, water-colored memory route.
"Yeah, we were the family that loved and cursed," he says. "But we still love each other." Oh shaddup.
GRADE:
B-minus
Email comments or questions to:
unclebarky@verizon.net