Yep, it's her again. Beyonce tells her story her way in HBO's Life Is But A Dream
02/13/13 11:27 AM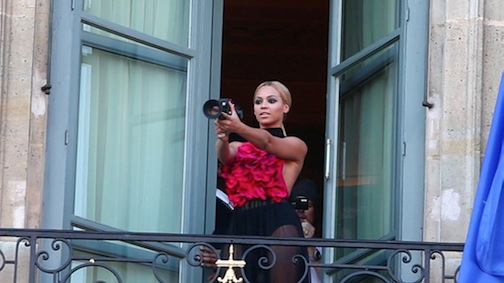 Beyonce is ready for more closeups -- on her terms. HBO photo
By ED BARK
@unclebarkycom
Coming soon to a home screen near you: the 24/7 Beyonce channel.
Actually it only seems that way. After her much-critiqued presidential inauguration and Super Bowl halftime performances, here she is again with a self-directed and produced 90-minute documentary film about herself.
HBO is the carrier, and the premium cable network in recent years has ceded editorial control to a wide range of public figures. Gloria Steinem, Harry Belafonte, George H.W. Bush, Rory Kennedy (for a recent film about her mother, Ethel). Plus family-authorized "In Their Own Words" looks at the late, John, Robert and Teddy Kennedy.
It's not an ideal way to dissect a subject. In contrast, PBS' two-part
American Experience
biography on Bill Clinton (shown last year), intentionally avoided interviewing either the former president or his wife, Hillary.
"We don't want the film to tip into autobiography," said Mark Samuels, executive producer of the
American Experience
series. The Clintons also weren't shown the film before it aired, he said.
Beyonce's film,
Life Is But A Dream
(premiering Saturday, Feb. 16th and repeated throughout the month)
, tips into a star-controlled autobiography from start to finish. But she occasionally appears without much if any makeup. And Beyonce also talks fleetingly about her decision, in March 2011, to dismiss her father, Mathew, as the manager of her career.
"I'm feeling very empty because of my relationship with my dad," she says. "Um, so fragile at this point. And I feel like my soul has been tarnished . . . I needed boundaries. And I think my dad needed boundaries."
Intercut with some typically showy stage performances in addition to powerful off-stage vocals, the film portrays Beyonce as a willful yet vulnerable artist who lets the world know that "I'm a human being. I cry. I'm extremely sensitive."
She's also very outwardly devoted to her husband Jay-Z and motherhood. The film charts Beyonce's road to having their first child together and her uncertainty on how and when to reveal her pregnancy. She finally chose a performance at the 2011 MTV Music Video Awards, rubbing her still small baby bump while Jay-Z is shown reacting delightedly backstage. Blue Ivy Carter, a girl, was born in January 2012.
Beyonce also talks about the importance of being a woman in full control of her career, noting at one point, "Business and being polite. It doesn't match."
Many of her thoughts are expressed to an un-billed male interviewer, with Beyonce in full glamorous glow in a beehive 'do and impeccable makeup. Other times she's in grainy black-and-white -- and in extreme close-up.
Beyonce and her father reportedly reconciled to a degree after the birth of Blue Ivy. And the film has brief footage near the end of Mathew holding the baby, although no words are exchanged between father and daughter. Beyonce's mother, Tina, is much more a part of the overall picture, both at rehearsals and during a Billboard awards show.
The star of the film, basically a Valentine to her airing two days after Valentine's Day, spouts the standard cliche a bit before the closing credits roll. Everything happens in life "for a reason," Beyonce says before again taking the stage in a red, skin-tight, revealingly cut costume.
"I'm gonna give you everything I have. I promise," she tells an ecstatic crowd with her final words.
Life Is But A Dream
in reality doesn't give all that much. Still, it's a watchable film for those who just can't get enough of a pop music jewel to behold who's still just 31 and likely not even in her prime yet.
Take it from Beyonce, who will then take it to the bank: "If I'm scared, be scared. Allow it. Release it. Move on."
GRADE:
B
unclebarky@verizon.net