The CW cancels comedies and Sundays, shrinks Fridays, adds a vampire show
05/21/09 11:26 AM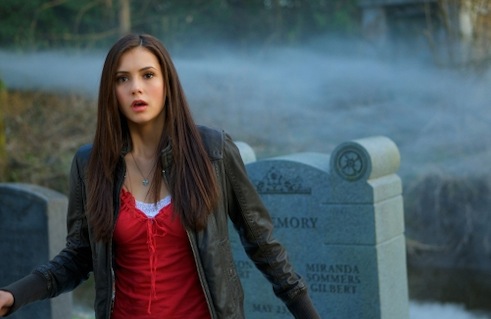 Nina Dobrev as Elena in The Vampire Diaries CW photo
By ED BARK
The CW will go into battle this fall with three new shows, one-and-a-half fewer nights and no comedies.
Sundays, disastrously outsourced last fall to Media Rights Capital, are being given back to affiliate stations. CW also has subtracted an hour from its Friday night schedule, leaving the returning
Smallville
alone on an island this September.
Canceled as anticipated is
Everybody Hates Chris
after a four-season run. CW now has gotten entirely out of the predominantly black "urban" comedy business, at least for the near future.
The network's three new series include the previously announced re-do of
Melrose Place
, which will be paired with
90210
on Tuesdays. Evicted is
Privileged
after one season.
CW also is seeking program compatibility on two other fronts. It's teaming the returning
Supernatural
with a newcomer,
The Vampire Diaries
, on Thursdays. And the Wednesday night schedule has another installment of
America's Next Top Model
and
The Beautiful Life
, a scripted series about models.
Here are further details on CW's three new fall series:
Melrose Place
(drama) -- Original series star Laura Leighton returns as "still beautiful" landlady Sydney Andrews. She's basically messed up all of her tenants' lives, including the "handsome and rebellious" David Breck (Shaun Sipos), with whom she's had an affair after first shacking up with the kid's father. And so on.
The Vampire Diaries
(drama) -- Two orphaned teens whose parents were killed in a car wreck try to keep their chins up in the small town of Mystic Falls, Virginia. But the still grieving Elena Gilbert (Nina Dobrev) is fated to hook up at high school with two clandestine vampire brothers who wage a war for her soul. One's a nice guy while the other (played by Ian Somerhalder of
Lost
) is "the embodiment of vampire violence and brutality." He probably should be on the wrestling team.
The Beautiful Life
(drama) -- Slinky Mischa Barton from
The O.C.
fronts an Ashton Kutcher-produced series about sexy, cutthroat high fashion models.
Here's CW's night-by-night fall lineup, with all times central:
MONDAY
7 p.m. --
Gossip Girl
8 p.m.
One Tree Hill
TUESDAY
7 p.m. --
90210
8 p.m. --
Melrose Place
WEDNESDAY
7 p.m. --
America's Next Top Model
8 p.m. --
The Beautiful Life
THURSDAY
7 p.m. --
The Vampire Diaries
8 p.m. --
Supernatural
FRIDAY
7 p.m. --
Smallville
CW also has a midseason series in mind.
Parental Discretion Advised
is about a 15-year-old girl named Lux (Britt Robertson from
Swingtown
) whose quest to became an emancipated minor leads to her bar-owning, infantile father, Nate "Baze" Bazile (Kristoffer Polaha,
Mad Men
). Lux also learns that her biological mother hosts the
Morning Madness
radio show, which she's been listening to for most of her life. And that's all, folks.