Selleck again hits the mark in his seventh Jesse Stone film
05/20/11 10:51 AM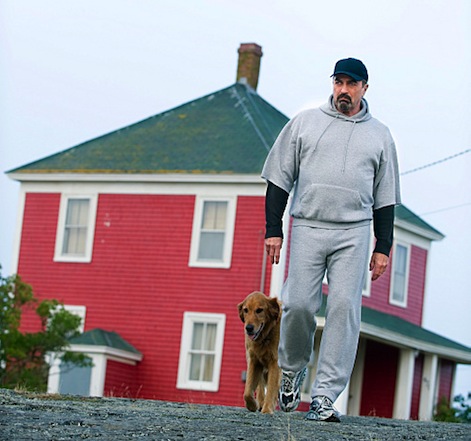 Tom Selleck's Jesse Stone with faithful companion Reggie. CBS photo
By ED BARK
It's been a pretty good week for Tom Selleck and his staying power.
His
Blue Bloods
police series officially got a second season pickup Wednesday. And on Sunday night, he'll be playing throwback wrong-righter Jesse Stone in the seventh movie drawn from the late Robert B. Parker's novels.
Both the series and the film are on CBS, which first put Selleck on the map in 1980 as the quintessentially hunky star of
Magnum, P.I.
. It's the one broadcast network that will still accommodate starring roles for a now 66-year-old TV icon whose loyal followers tend to be in roughly the same age bracket. "Skewing old" isn't something even CBS is thrilled about. But there are exceptions. Or at least there's one -- Tom Selleck.
Jesse Stone: Innocents Lost
(
8 p.m. central on Sunday, May 22nd
) again finds him in optimum minimalist form as a character that fits him beautifully.
Still living remotely with his trusty Golden Retriever Reggie (played by Joe the dog), Jesse lately has been stripped of his police chief duties by the backward town council of Paradise, Mass. He's not quite morose yet, but is in a "dead zone," as he tells his longtime psychiatrist Dr. Dix (William Devane). Jesse actually is referring to his cell phone reception, but we get the point.
The film unfolds slowly, and in a manner completely out of sync with the attention span of your basic Spike TV watcher. But viewers who appreciate a finely woven yarn won't be put off in the least. The mood-setting cinematography is first-rate, and the early abundant scenes of Jesse and Reggie are effective enough to make one wish they'd just make an entire movie of the two of them together. I don't think think I've ever seen a man and his dog put to better use on screen. Or maybe it should be a dog and his man. Joe's performance -- and it really qualifies as such -- is pretty special, whether he's trying to cheer Jesse up or staring him down to the point of the inevitable, "What're you lookin' at?"
They also watch old movies together while Jesse drains his minimum quota of two generously poured straight liquor drinks. So look for symbolic and fairly extended clips from both
The Bridge on the River Kwai
and
Mr. Smith Goes to Washington
.
There also are two cases to resolve, even though Jesse is no longer part of anyone's permanent police force. In
Innocents Lost
he investigates the reasons behind the apparent drug overdose death of a young woman, Cindy Van Alden, whom he tried to mentor a few movies back. A liquor store robbery and attendant murder are also thrown in. But did the young black man being held for the crimes really commit them? In the end there's a palpable sense of dead-of-the-night jeopardy tied to Jesse's discovery of what led to Cindy's demise.
It helps to have watched all or some of the previous six Jesse Stone films in order to better know his friends, associates and entanglements. They're all back for
Innocents Lost
, which means more economy-of-word exchanges with Dr. Dix plus Paradise deputies Rose Gammon and Luther "Suitcase" Simpson (Kathy Baker, Kohl Sudduth); Boston-based State Homicide Commander Healy (Stephen McHattie); mobster/fight manager Gino Fish (William Sadler) and car dealership owner Hasty Hathaway (Saul Rubinek). There's also time for a little extra-curricular liaison with dealership employee Thelma Gleffey (Gloria Reuben).
The crispy, straight-from-the-shoulder dialogue is a hallmark of all seven movies.
"I'm not a good basket to put all your eggs in," Jesse tells Thelma. And later: "I'd rather regret the things I've done than the things I haven't done."
But the hard-boiled Fish still doesn't like what he hears. "You're off your game. Your banter isn't up to standard," he tells Jesse, who indeed is a bit at sea while playing blame games with himself. Only Reggie the dog has truly witnessed some of his master's deeper struggles. And he's not about to bail on him.
Selleck received an Emmy nomination for the fourth film in this series,
Jesse Stone: Sea Change
. And it would be gratifying to see him get another one for this latest sturdy yet vulnerable performance in what amounts to a near-extinct breed -- the made-for-TV movie. CBS recently ended its longtime partnership with Hallmark, which puts an end to those sporadic, feel-good films shown every 15 Sundays or so. And at present there are no new Jesse Stone films firmly in the works, although Selleck has said that a script is being written for No. 8.
Magnum P.I.
and those Hawaiian shirts will always be his principal calling card and claim to fame. But Selleck's best screen work in a long and estimable career resumes on Sunday night in another terrific outing for a man's man -- and a dog's dog.
GRADE:
A