Fox goes topless, er, headless, in new Sleepy Hollow
09/11/13 10:50 AM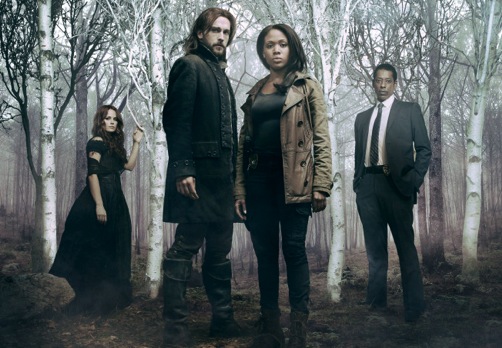 Their heads are still intact on the new Sleepy Hollow. Fox photo
Premiering:
Monday, Sept. 16th at 8 p.m. (central) on Fox
Starring:
Tom Mison, Nicole Beharie, Orlando Jones, Katia Winter
Produced by:
Alex Kurtzman, Roberto Orci, Len Wiseman, Heather Kadin
By ED BARK
@unclebarkycom on Twitter
Hey kids, remember the
original Ichabod Crane
?
No, not the 1999 Johnny Depp knockoff, but the milquetoast cartoon schoolmaster with a prominent proboscis who met a bad end after falling head over heels for beauteous Katrina Van Tassel.
Fox, as you might imagine, has a different idea with its re-imagined
Sleepy Hollow
, first of the new fall series to roll off the Big Four networks' assembly lines. Its Ichabod is a handsome, self-assured man-of-action Brit who fought on the colonists' side during the Revolutionary War.
In a vivid opening battle scene Monday night, Ichabod (Tom Mison) squares off against an imposing iron-masked foe who slashes him before he manages to lop the despot's head off. Both men fall to the ground before a muddied Ichabod suddenly finds himself digging out of a grave and staggering onto a two-lane highway to barely avoid being squashed by a semi-truck.
Ichabod, you see, isn't in Hudson Valley, NY, circa 1781 anymore. He's in present-day Sleepy Hollow, population 144,000. And as The Rolling Stones' "Sympathy For The Devil" kicks in (Fox has sprung for the actual Mick Jagger vocal), our hero is in for a wild ride in the company of his new ad hoc sidekick, detective Abbie Mills (Nicole Beharie). Will two heads be better than none when "Headless" re-emerges to wreak havoc with his silver ax while seeking the lost skull he needs to inflict some really heavy damage? After all, he's just the first of the dreaded Four Horsemen of the Apocalypse, none of whom would make for good dinner guests.
It's a pretty impressive start to what Fox hopes will be a long, drawn-out affair. The lately struggling network badly needs a new Monday night hit after bombing last fall with
The Mob Doctor
. But can
Sleepy Hollow
attract enough week-to-week interest in its twisty-turny "mythology?" Or will viewers with their heads still attached start scratching them -- and moving on?
Mison and Beharie work well together as Ichabod and Abbie. She appealingly parries his thrusts while he marvels at his new surroundings, including a Starbucks where a livery stable used to be. Ichabod also is shocked to his see his old commander's face on a dollar bill and a woman wearing pants.
On the down side, Orlando Jones so far is stuck in the muck of a prototypically officious police captain named Frank Irving. It's his lot to threaten Abbie with various disciplinary measures before she finally convinces him that "we're just scratching the surface here."
The fourth member of the regular cast is Ichabod's wife, Katrina (Heather Kadin), who appears to him in visions and also is seen in flashbacks. She never seems to have good news.
Abbie likewise has a haunted past while her ill-fated initial boss -- guest star Clancy Brown as Sheriff August Corbin -- strongly suspects that the stakes at hand could well be the end of the world as we know it.
Whatever befalls its denizens,
Sleepy Hollow
gets off to a better and more "believable" start than anticipated. But perhaps the biggest open question is the identity of the actor playing "Headless." He commands every scene he's in, whether swinging that aforementioned ax or spraying automatic weapons fire in the night's climactic action sequence.
If a tree falls in the woods and no one hears it, is it a sound? If an actor plays a part without a head or any speaking lines, is it a credited role? Ah, mysteries.
GRADE:
B-minus
Email comments or questions to:
unclebarky@verizon.net