King of all late night: in key audience demographics, it's Jon Stewart across the board
06/08/11 04:18 PM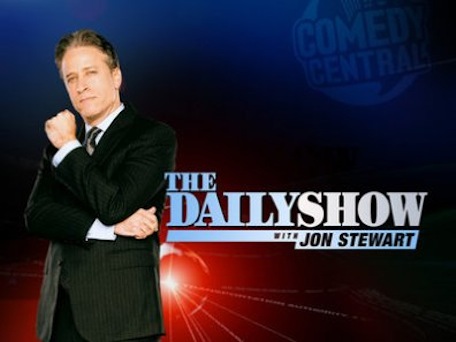 By ED BARK
Who's the undisputed king of late night TV among audiences that "matter?"
In May it was Jon Stewart, whose
The Daily Show
beat all broadcast and cable rivals in three key demographic food groups, including 18-to-49-year-olds.
Comedy Central distributed Nielsen numbers for the month of May in handy chart form. They show Stewart to be a Colossus in the realm of cable's late nighters and a bit ahead of both Jay Leno and David Letterman among 18-to-49-year-olds, still the most sought after target audience for advertisers.
But where's Conan O'Brien and his TBS
Conan
show?
Let's take a few looks.
In the 18-to-49 demographic,
Daily Show
averaged 1.344 million viewers in May, barely ahead of NBC's
The Tonight Show with Jay Leno
(1.340 million) and with a bit more breathing room between CBS' No. 3
Late Show with David Letterman
(an average of 1.124 million).
Comedy Central's
The Colbert Report
, which follows Stewart, ranked fourth with 978,000 viewers in this measurement while
Conan
placed eighth overall with 701,000.
Conan
moved up to third place, though, among 18-to-34-year-olds and with male viewers in that age group.
Overall with 18-to-34-year-olds, Stewart averaged 754,000 viewers, followed by
Colbert
(585,000) and
Conan
(467,000).
In the race for 18-to-34-year-old males, Stewart had 499,000 in establishing a healthy lead over second place
Colbert
(398,000) and
Conan
(278,000).
Comedy Central piled on by noting that Stewart's
Daily Show
also has the richest viewers of any late night show. Their median household income is $78,000, with
Colbert
again second ($73,000) and
Conan
sliding to a fifth place tie ($53,000) with Letterman, Leno, NBC's
Late Night with Jimmy Fallon
and ABC's
Jimmy Kimmel Live
.
All of this adds up to higher prices for commercials on
The Daily Show
, which otherwise trailed both Leno and Letterman in total viewers while still ranking No. 1 in the cable universe with an average of 2.337 million in May.
Conan
ranked third among cable entries, with its 975,000 viewers edging the E! network's
Chelsea Lately
(942,000).