Great expectations fulfilled in Sundance Channel's Rectify
04/22/13 08:02 AM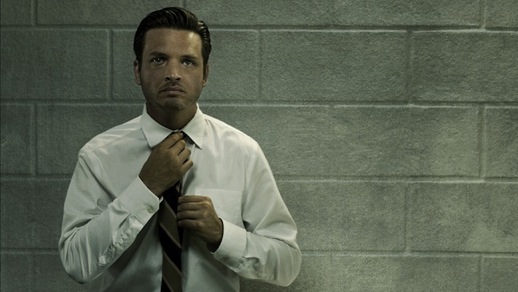 Land of his "freedom": Aden Young stars in Rectify. Sundance photo
Premiering:
Monday, April 22nd at 8 p.m. (central) on Sundance Channel, with subsequent episodes at 9 p.m.
Starring:
Aden Young, Abigail Spencer, Luke Kirby, J. Smith Cameron, Clayne Crawford, Adelaide Clemens, Bruce McKinnon, Jake Austin Walker, Michael O'Neill, Hal Holbrook
Produced by:
Ray McKinnon, Mark Johnson, Melissa Bernstein
By ED BARK
@unclebarkycom
It's been a bountiful TV season for freshmen dramas, again with scant assistance from the traditional big broadcast networks.
On Monday night, Sundance Channel's
Rectify
joins a short list of potentially all-time great newcomers, with FX's
The Americans
already solidly entrenched and Netflix's
House of Cards
also in the conversation.
That may not seem like much. Still, it's a bumper crop. Most TV seasons yield only one or at best two extraordinary achievers. Dramas on the order of
Mad Men, Homeland, Breaking Bad
and
Justified
.
Rectify
, whose executive producers include two key members of the
Breaking Bad
team, has just six episodes in its first season. Sundance Channel has sent all of them for review, with the first two airing back-to-back. And the final scenes of Episode 6 are more than enough to make your jaw drop. Surely it can't end this way. And of course Sundance is very hopeful that audience interest will generate at least several more seasons to come for what's billed as the network's "first wholly owned original scripted series."
Aden Young (
The Starter Wife
) stars as Daniel Holden, who's been locked in solitary confinement for almost 20 years for the rape and murder of a teenage girl. He's maintained a semblance of equilibrium by hungrily reading books, communicating with a next door cellmate and walling off any expectations that he'll ever be freed from his window-less six by nine foot box.
But contradictory DNA evidence eventually speaks louder than Daniel's (coerced?) confession. And so he steps out into the sunlight, a stranger in a strange land otherwise known as his hometown of Paulie, Georgia.
"I'm not sure what to make of this drastic change of course in my life. I'm certainly not against it," Daniel says at a news conference held just outside prison walls. He's accompanied by family members and the young Atlanta attorney who fought to get him freed.
The principal force behind
Rectify
, creator/writer/producer/director Ray McKinnon, has gone behind the camera after a long list of acting credits that include
Sons of Anarchy
(as Linc Potter) and
Deadwood
(Rev. H.W. Smith). He succinctly lays out his objectives in Sundance publicity materials: "I wanted to explore his (Daniel's) oft times surreal return to 'the living' on a moment to moment, experiential basis. How would he adjust? Could he adjust? Would he dare to try? And could those around him also adjust or even accept this dead man walking among them again?"
Daniel finds himself in both a lion's den of doubters and amid nurturers who want to make him whole again.
His sister, Amantha (standout work by Abigail Spencer), is a vigilant protector while their mother, Janet (J. Smith Cameron) struggles to cope with the resurrection of a son she had given up for dead. Janet's second husband, Ted Talbot Sr. (Bruce McKinnon), is sturdy and kind, but his son, Ted Jr. (Clayne Crawford), is not.
Junior's wife, Tawney (Adelaide Clemens), is a lithesome, devout Christian with an eye toward "saving" Daniel. But their scenes together are neither condescending nor played for comic relief. Instead they're affecting and at times almost heartbreaking, particularly in Episodes 2, 4 and 5.
Luke Kirby plays Daniel's attorney, Jon Stern, who still has much work to do on behalf of his client. His arch foe is state senator Roland Foulkes (Michael O'Neill), a small-time powerbroker who took credit for Daniel's conviction and yearns to have him re-incarcerated. Hal Holbrook drops in briefly, during Episode 3, as Daniel's former lawyer.
There's also a teenage half-brother named Jared (Jake Austin Walker), who reaches out in his own way by setting up a DVD player for Daniel and offering to help guide him through all the movies he's missed. He recommends
Dazed and Confused
for starters. "I like the title," says Daniel. Understated little moments and scenes like this are very much a part of what makes this series special.
Rectify
also occasionally flashes back to Daniel's incarceration and his dialogues with fellow death row inmate Kerwin Whitman (Johnny Ray Gill). These scenes likewise resonate, never more so than in Episode 6.
There remains at least a slightly open question as to whether Daniel actually committed the heinous crime for which he was convicted. But the series seems to be moving steadily away from that possibility while not entirely closing the door.
Although its principal supporting players are first-rate,
Rectify
would be lost in transition without Young's stellar work in the lead role. It's a fearless, fully immersed, Emmy caliber performance tinged with sadness, searching, primitive pleasures and even a little comedy.
But all the while, the figurative noose is tightening. The small-town front page newspaper headline, "Holden Set Free," is in fact little more than a taunt in a starkly different series with the potential to be a classic.
GRADE:
A
Email comments or questions to:
unclebarky@verizon.net