Larry the Cable Guy's Only in America further exemplifies History in the remaking
02/08/11 09:24 AM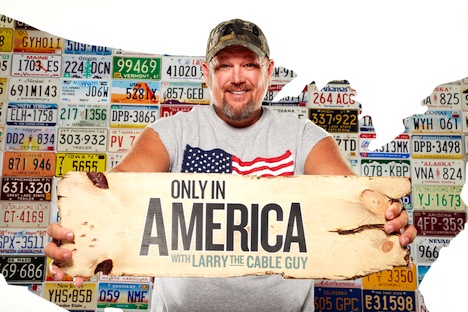 Larry the Cable Guy criss-crosses in new series. History photo
Premiering:
Tuesday, Feb. 8th at 8 p.m. (central) on History
Starring:
Larry the Cable Guy
Produced by:
Craig Piligian, Eddie Rohwedder, Larry the Cable Guy, J.P. Williams
By ED BARK
It's now History instead of History Channel. And History's old programming regimen is pretty much history, too.
The latest Exhibit A is
Only in America with Larry the Cable Guy
, which begins a 13-episode run Tuesday night. Publicity materials describe it as an "informative and quirky approach to history." So what can you learn?
"If you go to a fancy restaurant, always try to hold your farts in for the whole meal," Larry (real name Daniel Lawrence Whitney) counsels before meeting Peter Post, director of Burlington, Vermont's etiquette-spouting Emily Post Institute. He then asks, "You got a crapper?"
Larry hasn't gone broke estimating the audience for his basic outhouse approach. Clad in his trademark camouflaged shorts, matching ball cap and plaid, sleeveless shirts, he made
Forbes
magazine's "Top 100 Celebrity Money-Makers" list back in 2007. So the people have spoken, and History accordingly is taking another step beyond its former battleships 'n' brigadier generals motif with a series starring a pathfinder who's perfectly willing to both don a "Bootlegger Bonnet" and jump around with a bullfrog. Among other things.
Tuesday's premiere episode begins with Larry in Dawsonville, Georgia for a history lesson on how moonshiners racing through the backwoods during the Prohibition Era led to the birth of NASCAR. After more or less cleaning up for dinner with descendants of Emily Post, he caps the first hour with a visit to Calaveras County, CA for its annual frog-jumping competition.
Given the general direction things are headed,
Only in America
might soon qualify as college level material in a History 101 course. In future lessons, students also could watch Larry participate in other slices of Americana, including a soap box derby, a Civil War reenactment and corny dog-eating at the Texas State Fair. Those particular adventures are still coming, according to History.
The moonshine segment fits Larry like a tool belt. Dawsonville has both a Hillbilly Drive, a greeter with a ZZ Top-length beard ("Naw, it don't itch") and NASCAR driver Bill Elliott, a k a "Awesome Bill from Dawsonville." He does a few donuts with Larry in tow. "I don't even know what I'm sayin', I'm so damned dizzy," the host says before having a swig of moonshine to sedate himself.
The Posts and their friends likely see Larry as positively prehistoric. But they play along, giving him a bit of a fashion makeover after he tells an image consultant, "I should have shaved my back before I come in here."
At dinner, Larry learns how to set a proper table but is none too pleased with parts of the menu. "The Hollandaise looks good. Too bad they had to waste it on that green stuff," he says. And the cold pea soup "doesn't count as a soup" in his view.
He does remove his hat for dinner. And his toast to guests is certainly instructive: "Remember, it's OK to crack your knuckles. Please don't knuckle your crack."
Amusing? Kinda. And Larry's visit to Calaveras County is a crackup at times, particularly when he yells "Jump!" to a frog before it pivots to directly face him instead. Later his pants fall down during a county fair competition.
None of this will cure cancer -- or even hemorrhoids.
Only in America
might qualify as a guilty pleasure, though, with the star of the show agreeably and likably throwing himself into a wide range of activities. History's programming menu now includes
Pawn Stars, Storage Wars, Swamp People
and its biggest hit to date --
Ice Road Truckers
. So they're not interested in making you eat your spinach anymore.
Larry the Cable Guy's new show further underscores the ongoing makeover. And the guess here is that he'll break ratings records for History by just being himself.
GRADE:
C+