Perfect Couples: Wow, what a bad show
01/19/11 03:08 PM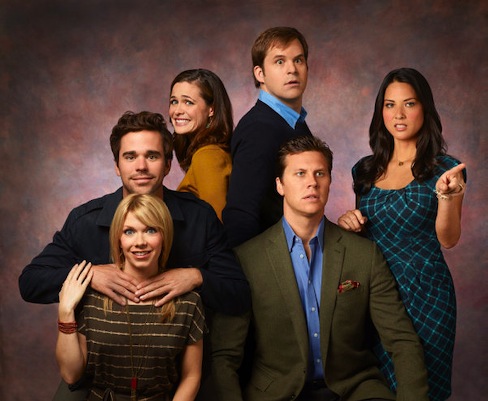 Hey, we're the cast of Perfect Couples. You'll hate us. NBC photo
Premiering:
Thursday, Jan. 20th at 7:30 p.m. (central) on NBC
Starring:
Kyle Bornheimer, Christine Woods, David Walton, Mary Elizabeth Ellis, Hayes MacArthur, Olivia Munn
Produced by:
Jon Pollack, Scott Silveri, Andy Ackerman
By ED BARK
Nothing clicks during NBC's
Perfect Couples
. Except perhaps millions of hand-held remotes searching for something -- anything -- to relieve the tedium.
Sneak-previewed to disastrous ratings on Dec. 20th,
Perfect Couples
makes its official debut Thursday as part of an all-night Peacock comedy bloc that also includes the return of
Parks and Recreation
and new episodes of
Community, The Office, 30 Rock
and
Outsourced
.
Let's put it this way. It's a good thing that Comcast has finalized its takeover of NBC. Because a close look at
Perfect Couples
otherwise might have driven the cable giant toward a panicky give-back at a penny on the dollar.
The shows' six whiny whiteys have less appeal than a rafting trip deep within the bowels of a waste treatment plant.
Friends
this isn't. In fact this is enough to incite a Facebook campaign for NBC to bring back any un-aired episodes of
Conrad Bloom
.
Let's briefly outline the painful particulars.
Dave and Julia (Kyle Bornheimer, Christine Woods) are the marginally well-adjusted married couple of the group.
Friends Vance and Amy (David Walton, Mary Elizabeth Ellis) are constantly blowing up at one another -- "You jerk, you bastard, you giant baby monster!" -- before sometimes immediately making up and having hot sex.
Fellow friends Rex and Leigh (Hayes MacArthur, Olivia Munn) call each other "cherished partner" in the interests of keeping their relationship rolling.
None of this resonates. In fact, with pals like this you'd be better off alone on a desert island dragging a pair of bloody stumps.
OK, perhaps one line might induce a bit of a grin. During the otherwise wretched excess known as "Game Night," Vance says, "You Seacrest-ed me" after being made to believe he won't be on the same team as one of his friends.
Actually the whole show is almost certain to be Seacrest-ed Thursday night by a little competing show called
American Idol
. Perhaps Fox should be nominated for a humanitarian award.
Unfocused, unfunny and all together unbearable,
Perfect Couples
at least affords NBC a chance to hit rock bottom before the new owners begin their massive cleanup effort. Sometimes that's the best way to fully recover.
GRADE:
F