Season 4 of HBO's True Blood is still more than a false positive
06/22/11 03:53 PM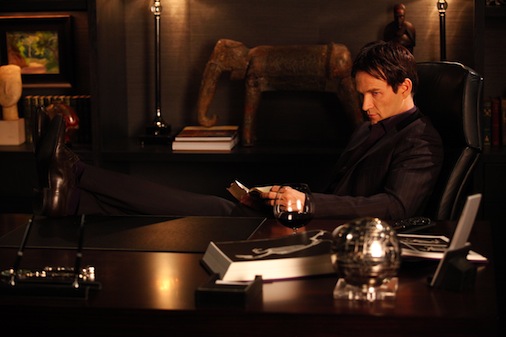 Vampire Bill Compton has a new post on True Blood. HBO photo
By ED BARK
It's getting a little long in the tooth now, but new blood is still capable of energizing
True Blood
.
So as HBO's latter day most popular series enters its fourth season, look for a fresh coven of witches to bedevil the Bayou State's ever-vexed vampire population. It all re-starts on
Sunday, June 26th at 8 p.m. (central).
TV critics are being asked to assume the usual position -- namely bending over backwards to refrain from putting out any "spoilers." Creator/executive producer Alan Ball specifically asks that no one reveal "where Sookie has gone" (at the end of Season 3); "how long she is there before returning to Bon Temps; and Bill's new position in the vampire hierarchy."
OK, got it. So let's just say that Sookie Stackhouse (Anna Paquin) returns quickly but has been gone for much longer than she thought. And that her broken relationship with 173-year-old vampire Bill Compton (real-life husband Stephen Moyer) is going to remain unhealed for a while if not forever more.
The first three episodes available for review introduce a new and increasingly powerful middle-aged witch named Marnie (Fiona Shaw), who ends up greatly spooking the usually impervious Eric Northman (Alexander Skarsgard). This enables Ball, who wrote the third episode, to indulge in a little word play that wouldn't have been possible in the early stages of
True Blood
.
That's because MTV's
Jersey Shore
didn't exist back then. Now unfortunately it does. So an obviously dazed and confused Eric can get away with saying, "I know I'm a vampire, Snooki."
"It's Sookie," she retorts.
All of the other principal characters are back in Bons Temps for more macabre goings-on, although Sookie's best friend, Tara Thornton (Rutina Wesley), has been away for a while. She's also lately inclined to swing the same way sexually as her gay brother, Lafayette (Nelsan Ellis).
Lafayette still cooks at the bar and grill establishment of Sam Merlotte (Sam Trammell), who finds himself entranced with a fellow shape-shifter named Luna (new cast member Janina Gavankar). But Sookie's trouble-prone brother, Jason (Ryan Kwanten), is fated to get into a life-threatening, grisly predicament with "werepanther" Crystal (Lindsay Pulsipher) and her hillbilly batch.
The thrill of discovery is long gone for
True Blood
. But the thrill of a new season is still very much in play. The first three episode of Season 4 had just enough pulling power to keep me in the fold. But as with Ball's
Six Feet Under
, the series also is starting to sag somewhat in its mid-section. A dozen new episodes will bring the grand total to 48.
That's only about two seasons worth in a broadcast television environment. But in vampire years, one or two more after this one likely will be more than enough.
True Blood
hasn't been sucked dry just yet. But it's getting close to having one foot in the coffin.
GRADE:
B+