Superior Donuts: another sitcom fit only for CBS
01/31/17 11:54 AM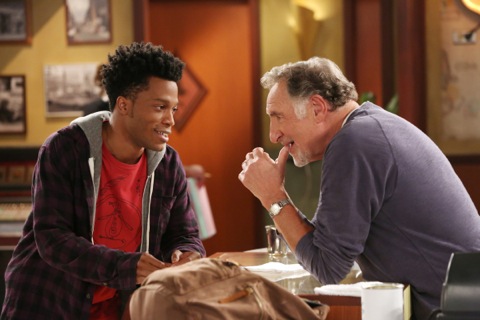 Newcomer Jermaine Fowler and old-timer Judd Hirsch get both sweet and sour with each another in Chicago-set Superior Donuts. CBS photo
Premiering:
Thursday, Feb. 2nd at 7:30 p.m. before moving to regular Monday, 8 p.m. slot
Starring:
Judd Hirsch, Jermaine Fowler, Katey Sagal, David Koechner, Maz Jobrani, Anna Baryshnikov, Darien Sills-Evans, Rell Battle
Produced by:
Neil Goldman, Garrett Donovan, Mark Teitelbaum, John R. Montgomery, Michael Rotenberg, Josh Lieberman, Jermaine Fowler
By ED BARK
@unclebarkycom on Twitter
CBS remains more set in its ways than a Bill Belichick press conference.
The great majority of its drama series are crime-driven and it's still the only Big Four broadcast network clinging to laugh tracks -- with the lone exception of
Life In Pieces
.
The new sitcom
Superior Donuts
, sneak-previewing on Thursday, Feb. 2nd before going to its regular Monday slot, is a bit different in one respect, though. It has a black character in a featured rather than tacked-on role after CBS took some heat on the diversity front at the start of this season.
Superior Donuts
otherwise is built on the same foundation of punch lines and piped-in guffaws. CBS knows what it wants and what its aging audience still likes, based on the network's still solid Nielsen ratings. In a myriad of TV and streaming network choices, it manages to stand out merely by standing pat.
Judd Hirsch does another gruff turn as Arthur Przybyszewski (only gonna type that once), owner and founder of a donut shop in a "quickly gentrifying" Chicago neighborhood. He hasn't changed a thing since opening the place in 1969. But a new Starbucks has opened across the street and Arthur's business has slowed from a crawl to basically comatose. So he's tempted to finally give in to Fawz (Maz Jobrani), a neighborhood dry cleaner who wants to buy Superior Donuts and turn it into something else.
This is averted when street smart Franco Wicks (Jermaine Fowler) strides in and tries to sell the old man on new ideas to revive the place. Arthur of course kvetches but hires the kid -- only to fire him. Only to hire him again. By Episode 2, one of three made available for review, Franco has fired the place up with brisk sales of his new sriracha donuts, which everybody for some reason keeps calling "sriracho." Then comes the even hotter El Diablo donut, whose hole is filled with a jalapeño.
"It feels like I'm eating the sun," says hanger-on Carl "Tush" Tushinski (David Koechner). Next is a "Wall of Flame" honoring those who have eaten just one of 'em.
The cast also includes Katey Sagal as beat cop Randy DeLuca, whose partner, James Jordan (Darien Sills-Evans) is a little dense. Anna Baryshnikov, daughter of ballet legend Mikhail, plays a naive student customer named Maya, who equates donut holes to vaginas. And Franco's best pal is the clownish Sweatpants (Rell Battle), a character who unfortunately would have been equally at home in
Amos 'n' Andy
.
Sagal co-starred in two violent FX drama series, the long-running
Sons of Anarchy
and the short-lived
The Bastard Executioner
, before reverting to the broad confines of
Superior Donuts
. And Baryshnikov is fresh from a supporting role in the Oscar-nominated
Manchester By the Sea
. Career turns like these are perplexing if not confounding. But everyone's gotta eat, and there sure are a lot of donuts on the set.
There also are a few grins to be had. Koechner, a veteran of both
The Office
and the
Anchorman
films, gets the utmost out of the lines given to him while Jobrani's high-strung Fawz manages to safely land the line "You two are like Cagney and Lazy" in a future episode. The two principal stars, Hirsch and Fowler, have a fairly smooth repartee with one another, even if the main thread episodic story lines tend to be frayed to the point where even TV Land might throw them back. The third episode, built around a neighborhood crime wave and the dangers of gun ownership, is wholly tedious and preachy.
Superior Donuts
may well get stale in a hurry. But it's on a network that somehow has kept the idiotic and likewise eatery-themed
2 Broke Girls
on the air for an astonishing six seasons. And this one is better than that.
GRADE:
C+
Email comments or questions to:
unclebarky@verizon.net