IFC's Maron: morose without remorse -- and quite funny, too
05/02/13 02:25 PM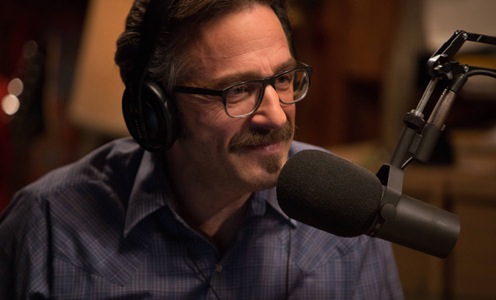 Marc Maron in his element -- a garage-based podcast. IFC photo
Premiering;
Friday, May 3rd at 9 p.m. (central) on IFC
Starring:
Marc Maron
Produced by:
Marc Maron, Denis Leary, Jim Serpico, Olivia Wingate, Dunan Birmingham
By ED BARK
@unclebarkycom
Here's a man who's accomplished the seemingly impossible -- making Lewis Black seem upbeat and Larry David positively cheery.
He's
Marc Maron
, real-life host of the podcast
WTF with Marc Maron
and star sour ball of IFC's darkly amusing
Maron
. Its 10-episode Season One launches Friday, May 3rd, with the network describing it as a "fictionalized version of Marc's life." Probably not
that
fictionalized, though.
The first three half-hour episodes were made available for review, and each has a prominent male guest star. It's Dave Foley in Episode 1 (subtitled "Internet Troll"), Denis Leary in "Dead Possum" and Judd Hirsch in "Marc's Dad," which also features appearances by Jeff Garlin and Andy Kindler as themselves.
Maron, who logged more than 40 appearances on NBC's old
Late Night with Conan O'Brien
, remains a living room, bedroom and guest bathroom shy of becoming a household name. But he does have a gloomily lit garage, from where his podcasts originate.
Maron
otherwise chronicles his misadventures, which in Friday's premiere include a defecating cat with a stomach virus and an embarrassing in-person confrontation with a tweeter dubbed Dragonmaster, who delights in ridiculing him with slayers such as "Marc Maron is sad and draining with his soul-sucking jokes."
Foley, who plays himself, is always game for just about anything. In "Internet Troll," he's A-OK with peeing behind a Glendale, CA dumpster. Even Maron is disgusted.
Leary, a co-executive producer of the show, drops in near the start of Episode 2 to ask Maron on his podcast, "How's your self-esteem?"
"It's OK. I hate myself," Leary's told before warning Maron he's courting a "massive heart attack from pent-up anger." The two of them then discover a bad smell afflicting Maron's house. It turns out to be a dead possum in a crawl space. Will Maron, assisted by a kid named Kyle (Josh Brener) who idolizes him, find the fortitude to get in there and remove it? Hah!
Maron's divorced parents, Larry and Toni, are played by Hirsch and Sally Kellerman. She's briefly seen making him miserable in Episode 2 and he's a much bigger part of Episode 3 after pulling up unannounced in an RV in hopes of persuading his estranged son to invest in a new vitamin line called "Maron's Mix."
Hirsch is in terrific form here, whether belittling Marc's visions of podcast glory or hearing his son tell him how rotten their family vacations were. That's because dad was manic in planning them but depressive while taking them. ("Going whitewater rafting with a crying man is no fun for a kid.")
Maron, 49, seems to be effortlessly gliding through his angst, laughing only rarely while giving viewers far more reason to do so. One of the show's beauties is its namesake saying matter-of-factly, "It's easy to maintain your integrity when no one else is offering to buy it out."
Marc Maron may not have that problem for too much longer. He'll probably never be wildly famous, which likely wouldn't please him anyway. But
Maron
should put him more firmly on the map as a seriously funny guy who takes in stray cats but swears off dogs because they're "too needy."
Take it from him, "If there's gonna be somebody crying and panting in my house, it's gonna be me." Meow to all that.
GRADE:
A-minus
Email comments or questions to:
unclebarky@verizon.net