Sexy women of substance populate BBC America's Mistresses
02/20/09 09:03 AM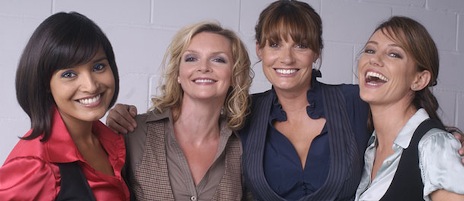 Sexual beings Jessica, Trudi, Katie, Siobhan in Mistresses
Premiering:
Friday, Feb. 20th at 7 p.m. (central) on BBC America. Subsequent episodes air on Fridays at 8 p.m.
Starring:
Sarah Parish, Sharon Small, Orla Brady, Shelley Conn
Produced by:
Douglas Rae, Lucy Bedford, Matt Arlidge
By ED BARK
Desperate Housewives
has gotten Wisteria lame and the second
Sex and the City
movie won't hit big screens for another year or more.
So maybe it's time to invest in a new soapy yet seriously sexual drama about four thirtysomething gal pals whose lives are both intertwined and at loose ends.
BBC America's 12-episode
Mistresses
, premiering Friday, Feb. 20th (
7 p.m. central
), is graced by four of the UK's finest, sturdiest actresses. Only one of their characters is married, although fitfully. They meet regularly to discuss their various transgressions, beginning with Katie's (Sarah Parish) birthday get-together in the premiere episode's opening scene.
Square-shouldered Katie pretty much carries this first hour. She's a doctor who's been having an affair with a terminally ill married man. He begs her to help him "when it's time." And so she does, leading to a funeral and then persistent questioning from the deceased's son, Sam (Max Brown), who's also been Katie's patient. What if he finds out? She could be ruined, both professionally and emotionally.
Meanwhile, attorney Siobhan (Orla Brady) is almost desperately striving to have a baby with her husband, Hari (Raza Jaffrey). But all of this programmatic "shagging" can be quite a chore. So how about a little intrigue with workplace colleague Dominic (Adam Rayner), who's eager for a peek at her "knickers" -- and thensome.
Trudi (Sharon Small), outwardly the most straitlaced of the foursome, is a 9/11 widow struggling to accept the death of her husband, whose body was never found. She also has two daughters and a budding interest in a single dad named Richard (Patrick Baladi).
There's also Jessica (Shelley Conn), a sexually adventuresome single who sleeps with her boss, Simon (Adam Astill), but is open to other assignations. So expect the not so unexpected when she plans a wedding for a lesbian couple.
Mistresses
of course will be deepening its plots and sub-plots. A look at the synopses of future episodes reveals much, much more, but spilling any of it would be a disservice. Friday's opener deftly baits the hook while also making it clear that these are four women of substance.
Reckless abandon is always in the cards, of course. Refreshingly, though, there's nary a cartoonish floozy in the bunch. Nor a compulsive shopper.
GRADE:
B+