CBS' new fall colors include a quartet of high-profile show shifts, new Hawaii Five-O and the returns of Shatner, Selleck
05/19/10 10:02 AM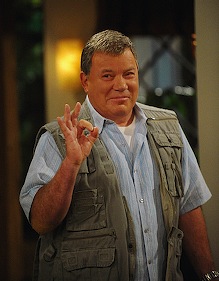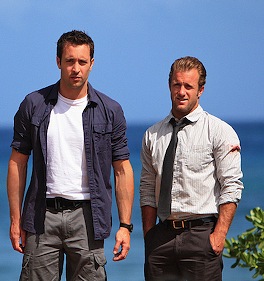 William Shatner in the new sitcom $#*! My Dad Says and Alex O'Loughlin and Scott Caan in a Hawaii Five-O remake. CBS photos
By ED BARK
Rampant show-shifting and an influx of familiar recycled TV stars characterize CBS' new fall lineup.
No. 1 in total viewers during this past season, CBS nonetheless has engineered a big shakeup for next fall. Just five new series are being added, but four veteran returnees are getting new nights and times, including two of the three
CSI
series.
Cancellations include
Ghost Whisperer, Cold Case, Numb3rs, The New Adventures of Old Christine, Gary Unmarried, Accidentally On Purpose
and
Miami Medical
. New series are fronted by the likes of Tom Selleck, William Shatner, Jim Belushi and Australian Alex O'Loughlin, who's getting a third shot after his previous CBS series,
Moonlight
and
Three Rivers
, came up empty.
CBS also has announced a midseason spinoff of
Criminals Minds
starring Forest Whitaker.
Here are the five new CBS series:
Hawaii Five-O
(drama) -- A spinoff of the old Jack Lord crook-catcher stars O'Louglin as taciturn Steve McGarrett. James Caan's son, Scott Caan, plays his right-hand man, Danny "Danno" Williams.
Blue Bloods
(drama) -- Selleck, who once trod the sands of Hawaii in CBS'
Magnum, P.I.
, is back on duty as New York City police chief Frank Reagan, whose oldest son, Danny (Donnie Wahlberg) is also a cop. Len Cariou, who plays the Selleck character's "unapologetically bold" pop, likewise used to be NYC's top cop. There's also a daughter who's an assistant D.A. and a "golden boy" son who's new to the police force after coughing up a lucrative law career.
The Defenders
(drama) -- This will be nothing like the taut-jawed evergreen original series. Belushi and Jerry O'Connell star as colorful Vegas defense attorneys named Nick Morelli and Pete Kacamarek. In out-of-court activities, Nick's trying to re-stitch his unraveling marriage while playboy Pete cruises the Strip.
$#*! My Dad Says
(comedy) -- Adapted from a Twitter feed by Justin Halpern, it stars Shatner as "a forthright and opinionated dad who relishes expressing his unsolicited and often wildly politically incorrect observations to anyone within earshot." Shatner should be good at this. A pair of TV sons absorb much of his guff.
Mike & Molly
(comedy) -- CBS sitcom potentate Chuck Lorre (
Two and a Half Men, The Big Bang Theory
) notches another one with this saga of a working class Chicago couple whose eyes for each other turn out to be bigger than their stomachs when they first meet at an Overeaters Anonymous session. The stars are newcomers Billy Gardell and Melissa McCarthy, with TV vet Swoosie Kurtz chipping in as Molly's mother.
Now to the high-profile time-shifting.
***
The new version of
Hawaii Five-O
will supplant
CSI: Miami
on Monday nights at 9 (central). Its new night and time will be on
Sundays at 9 p.m., following
Undercover Boss
.
***
CSI: NY
also gets a new night. It shifts from Wednesdays at 9 p.m. to Fridays at 8 p.m., with
The Defenders
getting its old slot.
***
Survivor
, a staple on Thursdays at 7 p.m., will move to Wednesdays at the same hour.
***
The Big Bang Theory
, which had been safely nestled behind
Two and a Half Men
on Mondays, will have to fend for itself as Thursday night's new leadoff hitter, with the Shatner comedy following. Lorre's
Mike & Molly
supplants
Big Bang
on Mondays.
Here is CBS' night-by-night fall lineup, which always is subject to change:
(New shows are marked by an asterisk.)
MONDAY
How I Met Your Mother
Rules of Engagement
Two and a Half Men
Mike & Molly*
Hawaii Five-O*
TUESDAY
NCIS
NCIS: Los Angeles
The Good Wife
WEDNESDAY
Survivor
Criminal Minds
The Defenders*
THURSDAY
The Big Bang Theory
$#*! My Dad*
CSI: Crime Scene Investigation
The Mentalist
FRIDAY
Medium
CSI: NY
Blue Bloods*
SATURDAY
Crimetime Saturday
Crimetime Saturday
48 Hour Mystery
SUNDAY
60 Minutes
The Amazing Race
Undercover Boss
CSI: Miami