TNT's The Hero puts "The Rock" in a crock
06/05/13 01:37 PM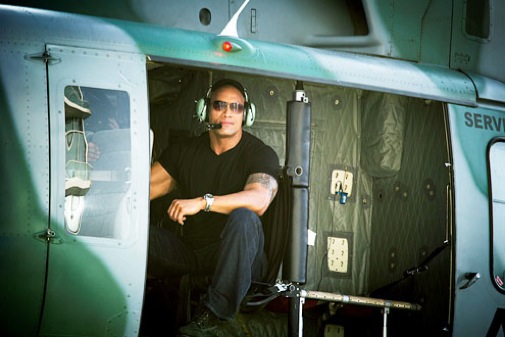 Dwayne "The Rock" Johnson presides over The Hero. TNT photo
Premiering:
Thursday, June 6th at 7 p.m. (central) on TNT
Starring:
Dwayne "The Rock" Johnson and 9 supplicants
Produced by:
Dwayne "The Rock" Johnson and Dany Garcia
By ED BARK
@unclebarkycom
Only in the ever-ridiculous realm of "reality" TV could a weepy salon assistant who dubs herself "a crier" be proclaimed a hero -- or
HEE
-ro as local TV news anchors like to say -- for climbing two flights of stairs near the top of a skyscraper while chanting "I'm not gonna fail."
Patty is afraid of heights, you see. Or at least she claims to be. But by that low standard, your friendly content provider pronounces himself a hero/
HEE
-ro for daring to brave the entire first episode of TNT's
The Hero
.
Dwayne "The Rock" Johnson has taken time out from his many activities to front this far-fetched hour of heavily edited challenges and constant bickering among the nine hopefuls. He retains a winning smile plus that trademark head tilt. And a continuous loop of both would make for a better show. I'd also include the magic moment where The Rock barks "Walkie" before being tossed one from somewhere off-camera.
Incessantly promoted during TNT's coverage of NBA playoff games,
The Hero
begins with The Rock grandly atop a Panama high-rise. He's not one for under-selling.
"This will be the site of the greatest adventure-competition you'll ever get to experience from your couch," viewers are informed. "Get ready, America. 'Cause we're lookin' for a hero."
Whoever wins this thing won't be moving on to the Twelve Labors of Hercules or even a stint as a crossing guard. Instead they'll pocket whatever cash has been built up in the "Grand Prize Pot."
The country at large is supposed to help select the victor, although the review DVD of Thursday's Episode 1 doesn't explain how this will happen. But TNT publicity materials say that "through the series' unique and interactive digital platform, viewers will be able to engage with the show and one another, ultimately playing an important part in the outcome and helping to define what it means to be a true hero." Yeah, sure.
Much work needs to be done on this front. Because none of these nine contestants stand particularly tall. Besides the histrionic Patty, they include snide professional wrestler Shaun; cocky construction worker Marty; a New England Patriots cheerleader named Athena and Beaumont, TX trauma surgeon David, a well-chiseled, youthful-looking 50-year-old on the rebound from an unfaithful wife. Or so he says in the introductions.
David later seems to want it both ways, though. Vying to be the first designated participant in the weekly climactic "Hero's Challenge" (which originates from a bug-infested "Noriega's Bunker"), David boldly confides to the camera, "I'm not that great a guy. In my personal life, have I ever cheated on someone? Yes."
The Hero
turns out to be lots of talk and relatively little action. Too much time is spent either in the "Hero Penthouse" or "The War Room," where the trash talk flows like honey.
There's a fairly picturesque segment in which six selected contestants gather at the top of Panama's Tower Bank for a "swinging hand to hand" challenge involving six selectees. But more footage is spent, it seems, on The Rock's one-on-one tutorial with skittish Patty, who's offered $25 grand to blow this popsicle stand rather than somehow try to emerge as the last-standing hero.
The Rock first descends upon his nine supplicants in a chopper after Patty exclaims "Oh my God!" a half-dozen or so times. "Attention, heroes. You're about to dive head-first into a life-changing adventure," he assures them.
It's all cut and spliced to the point where any real "jeopardy" involved is anyone's guess. The weekly competitions on
Survivor
are far more convincingly presented. On
The Hero
, viewers instead are likely to laugh out loud when The Rock asks "Do they have the raw courage to go off that building? Are they a hero? You tell me, America."
I'll tell you this. America just isn't likely to give a damn.
GRADE:
D
Email comments or questions to:
unclebarky@verizon.net