Pitch perfect? Fox's new baseball series comes pretty close
09/22/16 08:24 AM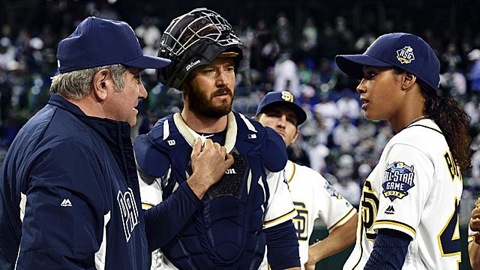 Ginny Baker's first start prompts a summit meeting. Fox photo
Premiering:
Thursday, Sept. 22nd at 8 p.m. (central) on Fox
Starring:
Kylie Bunbury, Mark-Paul Gosselaar, Ali Larter, Mark Consuelos, Dan Lauria, Mo McRae, Tim Jo
Produced by:
Dan Fogelman, Rick Singer, Paris Barclay, Kevin Falls, Tony Bill, Helen Bartlett, Jesse Rosenthal
By ED BARK
@unclebarkycom on Twitter
Television is still pitching a no-hitter with series built around baseball.
There have been only a handful of plate appearances, beginning with
Ball Four
, a 1976 CBS comedy adapted from the same-named Jim Bouton bestseller. It lasted five weeks. Add
Bay City Blues, Hardball, Back In the Game
and small-screen versions of two feature film hits,
The Bad News Bears
and
A League of Their Own
. All were big ratings flops. And no, series about slovenly, washed-up ex-ballplayers don't count. So discount HBO's
Eastbound & Down
, which had a four-season run on HBO, with Danny McBride as a middle school phy ed teacher.
Based on a very strong opening episode, it's hoped that
Pitch
will break this long losing streak. It's on a network, Fox, that previously made broadcast network history by turning
Empire
not only into a smash hit, but the first predominantly African-American drama series to survive beyond a single season.
Pitch
has the full cooperation of Major League Baseball and the San Diego Padres. So you won't see an embarrassingly fake big league team like the Pioneers from Fox's 1994
Hardball
series.The baseball action is convincingly staged and the premise isn't all that surreal anymore. Ginny Baker (Kylie Bunbury) has been called up from the minors to the Padres to be the first woman ever to pitch in a major league game. The director of the episode, accomplished Paris Barclay (
NYPD Blue, The West Wing, In Treatment
and numerous other high quality series), terms it "a true story that happens tomorrow." He's probably right about that. It's just a matter of time.
We begin with Ginny awakening in a hotel room strewn with fruit and flower arrangements. Supportive signed cards from Ellen DeGeneres and Hillary Clinton are shown in closeup, with the Democratic presidential nominee enthusing, "Bill and I couldn't be rooting for you more! And, of course, on a more personal level, I'm a little partial to someone trying to be the first woman to do something."
Clinton won't approve a following message, though. Ginny's brusque and protective agent, Amelia Slater (Ali Larter), describes her prized new client as "Hillary Clinton with sex appeal. She is a Kardashian with a skill set. She's the most important woman on the planet right now."
Let's get back to the playing field, where many might not recognize Mark-Paul Gosselaar at first glance. He's in full beard as ring-wise All-Star catcher Mike Lawson, who clearly is modeled after Kevin Costner's "Crash" Davis from
Bull Durham
. Lawson already has excelled in "The Show," though, and is the Padres' team leader and captain. He's also an "ass-slapper," to which Ginny takes immediate offense when she's on the receiving end. But Lawson quickly disarms the rookie before reaming her out. Gosselaar's got his latest TV character by the balls, and is something of a revelation as equal parts father figure and out-of-uniform ladies' man.
Ginny, firmly and impressively played by Bunbury, has been schooled by her taskmaster father, Bill Baker (guest star Michael Beach), who taught her the screwball as a "secret weapon" that just might get her to the Bigs. Her transformation is captured in flashbacks, with dad never satisfied. His mantra: "We ain't done nothin' yet."
Other characters conform to stereotype. Dan Lauria is the Padres' grizzled old school manager, Al Luongo, who welcomes Ginny as best he can under circumstances he can't control. There's also resentful pitcher Tommy Miller (Ryan Dorsey) and a former minor league teammate of Ginny's named Blip Sanders (Mo McRae). Now a Padres outfielder, he serves as her buffer and defender.
Redoubtable Bob Balaban plays team owner Frank Reid and Mark Consuelos is general manager Oscar Arguella, who's more than unusually hunky for that particular profession. But
Pitch
apparently feels the need to have someone to hit on Larter's Slater in anticipation of future off-field activities and "drama."
The series also deploys a roster of real-life Fox sports talent, including Colin Cowherd (ugh),
Garbage Time
host Katie Nolan and the baseball announcing team of Joe Buck and John Smoltz. The latter two bring more than a little to this party as announcers for Ginny's first two starts. Not to give too much away, but it initially doesn't go very well for her.
"I'm gonna go home. Can I just go home?" Smoltz says at one point.
"You have to stay here," Buck insists. "Don't leave me alone for this."
What happens on the field has the feel of a major league game, with no one involved looking as though they've discovered a ball, bat and glove for the first time.
Pitch
also does a terrific job of building the drama and bringing them home. The inevitable bonding between Lawson and Ginny, during an emergency mound conference, goes from cringe-worthy and cliche-ridden to salvageable via his parting line.
Pitch
throws a surprise curveball at episode's end, as did NBC's
new This Is Us
earlier this week. Inventive, non-telegraphed twists are increasingly difficult to pull off, but in both cases they fooled me -- and perhaps you as well.
The producers of
Pitch
of course say that it's a character-driven drama with baseball action in the mix but not a focal point of each weekly episode. Episode One, however, is appealingly diamond-centric, with Ginny's travails and resolve (plus some well-chosen mood music) providing more than enough tension to engage even hardcore non-sports fans. Metaphorically or not, it's now "Game on." Let's see what
Pitch
has got after its first episode lands somewhere between a triple and a home run.
GRADE:
B+
Email comments or questions to:
unclebarky@verizon.net