Here comes a Stern test of NBC's Talent
05/10/12 05:39 PM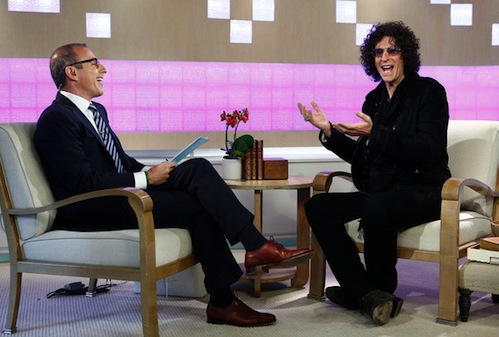 Howard Stern regales Matt Lauer on Thursday's Today. NBC photo
By ED BARK
@unclebarkycom
Entering to the strains of "Hail to the Chief," Howard Stern considered it his due.
"I'm the big star of the show. You'll see," he told a media gathering Thursday in New York, with the proceedings also piped out to interested out-of-town TV writers.
The show is NBC's
America's Got Talent
, which launches Season 7 on Monday, May 14th with Stern replacing Piers Morgan and joining holdover judges Howie Mandel and Sharon Osbourne.
Stern, 58, and now a self-described "elder statesman" of broadcasting, insists that he'll behave himself in the interests of preserving and protecting "a show that I love."
"I think my audience (on Sirius XM radio) is excited by this," he said. "They understand it's a different arena . . . It's an experiment. If it doesn't work, I'll crawl back into my hole at Sirius radio and sit there."
NBC has relocated the show from Los Angeles to studios in nearby Newark, NJ to make it possible for Stern to bring his own unique perspectives to the cavalcade of would-be stars parading before him.
"We have had to move mountains in order to make this happen," said Paul Telegdy, NBC's president of alternative and late night programming. But Stern is worth it, he said, because "he's unpredictable, he's authentic and he's an innovator."
Stern praised Mandel and Osbourne as hard-working show business pros who understand that he's the new king of their realm. During a recent late night session of talent-winnowing, Stern said he grew tired of debating who should go and who should stay. So in his recollection -- which may or may not be true -- he told his two fellow judges, "I am a superstar. I make 500,000 times more money than you do."
Stern then supposedly got his way.
Morgan, a charter judge on
Talent
, left after six seasons to concentrate more on his CNN prime-time talk show.
"In all seriousness, I think Piers is a hard act to replace," Stern said. "I don't know that I'm any better than him. OK, I am."
He obviously won't be a namby-pamby judge, which he says is the current problem with Fox's
American Idol
and with reports that Britney Spears will be a new judge on that network's
The X Factor
next season.
"I think we have the best judging panel out there," he said. With Spears and
Idol
judge Jennifer Lopez alongside him, "I'd be like a ventriloquist with two dummies."
Spears, by the way, "still thinks the world is flat." But Stern said he'd tune in
X Factor
anyway "to see what kind of train wreck she is. Absolutely."
On ABC's
Dancing with the Stars
, "I fast-forward through everyone but Len (Goodman)," Stern said, because the show's other two judges say nothing that interests him.
"I'm that judge (whose opinions) you care about," he said. "You watch
American Idol
, you could throw up."
Stern said he'll tell contestants if they stink in the interests of helping them to get out of show business.
"We've gotta be honest, we've gotta be direct and we've gotta help the talent," he said, also noting that "I'm at the point of my life where I'd like to mentor people. And I mean this."
In early audition rounds, Stern said he took a liking to a guy who invited host Nick Cannon to "kick him in the balls." That same contestant also had a helpmate roll a bowling ball into his privates.
"You don't get that kind of talent on just any show," he said.
The conservative
Parents Television Council
has already protested his hiring and wants advertisers to boycott the show, which amuses Stern.
"You can't complain about a show until you see it," he said. "I don't think there's more than 25 people in this thing. It sounds like a money-raising racket."
Stern volunteered that he's "been disrespecting family values for years. So none of it made any sense to me," he said of NBC's pursuit of him as a
Talent
judge.
"I think it was a very bold move on their part," he said. "I do want to do a good job for NBC. I don't want to alienate their audience."
Whatever happens in the early going, the live shows won't kick in until summertime. And those will be the litmus tests of Stern's tongue.
"I didn't need the money, I didn't need more fame," he said. "I just love the show . . . and I think there's all types of ways to fit in."