Friday Night Lights returns to brighten NBC for a fifth and final season
04/14/11 05:21 PM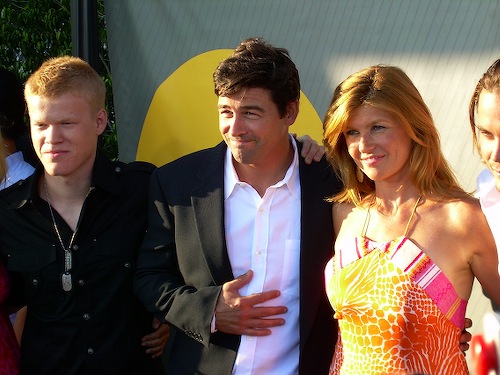 Friday Night Lights stars Jesse Plemons, Kyle Chandler, Connie Britton are aglow at NBC's 2007 summer "press tour." Photo: Ed Bark
By ED BARK
NBC's best drama series of the last five seasons begins taking its final bows this week.
And you know something? Those lowly Friday night ratings for
Friday Night Lights
are going to be looking better and better on a down-and-out network that averaged just 5.1 million viewers in last week's national prime-time Nielsens.
FNL
should be able to draw that many viewers without breaking a sweat. Or maybe not. We'll see.
The fifth and final season already has played out on DirecTV. But for most of us, its Friday, April 15th arrival on NBC (
7 p.m. central
) will mark its long-awaited return. NBC plans to air all 13 episodes on successive Fridays, ending with the bedraggled but battle-tested East Dillon Lions ready to play the game of their lives in an episode subtitled "Always."
Most of the charter cast has moved on, at least player- and girlfriend-wise. But the last season's opening episode still includes two former high school players. Landry Clarke (Jesse Plemons) is getting ready to go off to college while Tim Riggins (Taylor Kitsch) continues to serve jail time after taking a rap for his older brother, Billy (Derek Phillips).
What really matters, though, is that
FNL
mainstays Eric and Tammi Taylor (Emmy nominees Kyle Chandler and Connie Britton) remain in their usual fine form for the duration of Season 5. Coach Taylor is getting his Lions ready to play a Texas football power in August's pre-season Whataburger Football Classic while his wife segues to a guidance counselor position at East Dillon.
"Seven a.m. and I'm already sweatin' like a whore in church," a radio announcer says in prepping listeners for a game in which the previous season's 2-8 Lions are expected to have little chance to win. We've been there before.
One more Season 1 holdover, the Taylors' oldest daughter, Julie (Aimee Teegarden), also is getting ready to leave for her first year in college. But she'll be a recurring presence in this climactic season, as will Kitsch's Tim Riggins.
Filmed in Austin with occasional side trips to other Texas locales,
FNL
continues to excel at presenting a non-stereotypical look at a much-stereotyped state. The series has won a prestigious Peabody Award and is even seen as smart and intelligent by
The New York Times
, which regularly sings its praises.
Dallas
and its Ewings, returning for a re-do on cable's TNT, may have been 10 times as popular in their day as little old
FNL
. But the Taylors are far more upstanding standardbearers for a state that's already had its prime-time TV fill of crooked bidnessmen in 10-gallon hats as well as an assortment of standard issue drawling dummies.
The five-season run of
FNL
already must seem like an eternity for four young cast members who have gone to other series.
Adrianne Palicki, who played Tyra Collette, saw Fox's
Lone Star
go thataway after just two episodes.
Zach Gilford (quarterback Matt Saracen) is hoping against hope that ABC's
Off the Map
gets a second season, which doesn't seem very likely at this point.
Matt Lauria (still very much a part of this final
FNL
season as linebacker Luke Cafferty), is waiting to hear whether Fox's ratings-challenged
The Chicago Code
will return next fall.
And Jurnee Smollett, likewise a regular this season as Jess Merriweather, knows that the odds aren't good for a second season of CBS'
The Defenders
.
All four owe their co-starring roles in those dramas to the time they spent getting noticed on some of NBC's finest hours in the last five years.
So when it's finally time to officially turn out the lights,
FNL
will resonate for seasons to come as a stellar series about coming of age in a scrappy small town that just happened to be located in Texas. Yeah, Dillon's harbored a yahoo or two. But that was never ever the point.