Warburton's forte gets a nice workout in NBC's Crowded
03/14/16 03:32 PM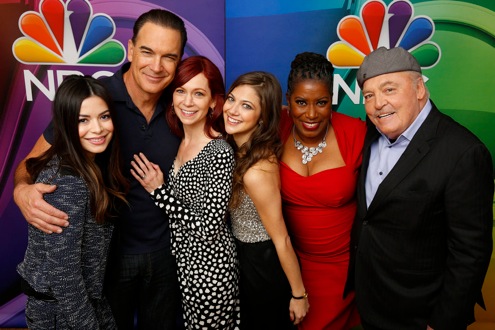 All together now: The cast of Crowded crowds in. NBC photo
Premiering:
Tuesday, March 15th at 9 p.m. (central) with back-to-back episodes before moving to regular Sunday, 8:30 p.m. slot.
Starring:
Patrick Warburton, Carrie Preston, Miranda Cosgrove, Mia Serafino, Stacy Keach, Carlease Burke
Produced by:
Suzanne Martin, Sean Hayes, Todd Milliner, James Burrows
By Ed Bark
@unclebarkycom on Twitter
Watching and listening to Patrick Warburton snap off deadpan one-liners can be a saving grace of any not-so-great sitcom.
It also helps to have talented Carrie Preston in the house as Warburton's newest TV wife. Together they put a fair amount of zing into NBC's New York City-set
Crowded
, which otherwise has a thoroughly shopworn premise and an increasingly outdated laugh track.
Mike and Martina Moore (Warburton, Preston) are first seen sequentially sending their two daughters off to college. "Men are like basketball players," she warns the first. "They dribble before they shoot."
Thud, that's not a promising start. But the parents' newfound and much-enjoyed freedom is jolted "Four Years Later" when both intellectual Shea (Miranda Cosgrove) and comparatively dim Stella (Mia Serafino) plead poverty and announce they're moving back in. This for some reason also waylays the plans of Mike's prototypically conservative/cantankerous dad and his second wife to relocate to Florida. So like Marie and Frank Barone in
Everybody Loves Raymond
, Bob and Alice Moore (Stacy Keach, Carlease Burke) continue to live in very close proximity, the better for them to barge in. Yeah, it's all kind of . . . crowded.
Warburton, who also can be seen swaggering through those oft-aired National Car Rental commercials, has a knack for summing up situations with a modicum of words. "Don't you get it? The fun is over," he tells Martina in Tuesday's first of two "sneak preview" episodes. Much of what Warburton says isn't particularly funny on paper. But in the context of situations, it regularly rings the bell. You wait for him to close the sale with a hangdog lament.
A third episode sent for review -- although it's not scheduled to air in that order -- has the added bonus of Betty White and Jane Leeves as guest stars. At age 94, White can still summon a funny riff or two, this time as a lousy mom to Leeves' character but as a comforting, surrogate one to Mike, who has a cold.
Beyond Warburton and future guest stars,
Crowded
is well-cast and easy enough to imbibe. Giving Keach's character a saucy African-American wife satisfies any demands for diversity. And making Stella bisexual covers another base. But despite all the polarization infecting the ongoing presidential campaign, we're not in the era of
All in the Family
anymore. So neither Stella's sexuality nor Bob's interracial marriage is a hot-button issue in
Crowded
. The show simply goes with those flows while also showing Mike and Martina smoking pot.
After Tuesday pair of sneak-preview episodes,
Crowded
will be paired with
The Carmichael Show
on Sunday nights. Both are "traditional" in their three-camera presentations before live studio audiences whose laughter is "sweetened" in the editing room. But there's also some bite and solid comedic performances amid those old-school trappings. Both viewers and NBC could do much worse.
GRADE:
B-minus
Email comments or questions to:
unclebarky@verizon.net