HBO's Girls still a gift in plain wrapping
01/10/13 01:36 PM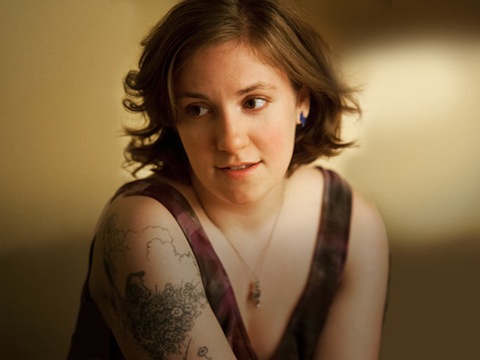 Lena Dunham's Hannah Horvath heads the Girls cast. HBO photo
By ED BARK
@unclebarkycom
The misery index is basically off the charts in Season 2's first four episodes of HBO's
Girls
And so is creator/producer/star/head writer Lena Dunham in her willingness to present herself in a wide variety of unflattering lights. Which is pretty much intended as a compliment to her.
Returning on
Sunday, Jan. 13th at 8 p.m. central
,
Girls
continues to be what
Sex and the City
never was. Its NYC foursome, paced by bedraggled Hannah Horvath (Dunham), has a decided glam deficiency.
Manolo Blahnik-addicted Carrie Bradshaw wouldn't be caught dead or alive in aspiring writer Hannah's plainly appointed apartment. Or in a single item of her eyesore wardrobe. The young women of
Girls
don't date any Don Juans. And Hannah's boyfriend in particular, the coarse and borderline loathsome Adam Sackler (Adam Driver), would give Carrie a serious rash at 20 paces.
Adam, hit by a car in the Season 1 finale, is on the mend with a leg-length cast in Sunday's opener. Hannah still guiltily administers to him while striving to move on. Her new boyfriend is named Sandy (Donald Glover). He's a young black Republican who also happens to be sensitive.
So if even hapless Lena is too good for Adam, is Sandy too good for her? Frankly, this new relationship seems more like a tacked-on rebuttal to criticisms that
Girls
lacked diversity in its first season. Whatever the case, don't get too used to it.
However you see
Girls
, Dunham is demonstrably not guilty of air-brushing her lead character. Hannah is in turns pathetic, willful, self-centered and even a bit she-devilish in these first four episodes. Dunham also doesn't seem to care if anyone finds her more than a bit off-putting physically. She's still aggressively topless, fearlessly or foolishly showcasing a body that could use some body work and an abundance of unfortunate tattoos.
For a good part of Episode 3, Hannah sports a horrid, see-through yellow mesh tank top that finds its way onto her during a cocaine-fueled wardrobe swap at a hyperkinetic dance club. It's to Dunham's full credit, I guess, that she's playing this character with no regard at all as to how she looks. Many an actress or actor is incapable of this, but Dunham is all in.
The first three half-hours rely heavily on Hannah and Marnie Michaels (Allison Williams, daughter of NBC news anchor Brian Williams). Dunham's abandon is in stark contrast to Williams' reticence during sex scenes. Her arms are always strategically placed, as they also would be in a Lifetime movie. Brian Williams surely is breathing at least some sighs of relief that daddy's little girl still has something to hide.
Meanwhile, Shoshanna Shapiro (Zosia Mamet) is neurotic as ever in the company of her new boyfriend, Ray Ploshansky (Alex Karpovsky). And hard-knocks Jessa Johansson (Jemima Kirke) is still in the relatively bllissful early stages of her impromptu marriage to rich venture capitalist Thomas-John (Chris O'Dowd). Both co-starring women are relatively little-seen until Episode 4, which centers on two disparate but combustible group dinners.
Also of note: Hannah has a new roommate, Elijah Krantz (Andrew Rannells of NBC's
The New Normal
). Formerly her college boyfriend, he's now openly gay. And Marnie's onetime live-in boyfriend, Charlie Dattolo (Chris Abbott), is trying to strike up a new relationship while constantly crossing paths with her.
Whatever their statuses, the young women of
Girls
remain glaringly unfilled. However long it runs, this almost assuredly won't be a series of happily ever afters. No Mr. Bigs to at long last sweep Hannah off her feet.
Sex and the City
was replete with creature comforts and glamorous parties.
Girls
above all is about uncomfortable creatures. That can be a helluva thing to watch at times. But still very see-worthy.
GRADE:
A-minus
unclebarky@verizon.net