Working without the net? Fallon's Web-footed Late Night wouldn't think of it
03/02/09 12:24 PM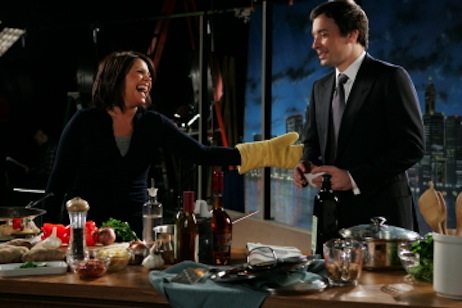 Always on the menu: Rachael Ray, Jimmy Fallon in cooking segment on Late Night test show. It all starts for real on Monday, March 2nd.
By ED BARK
Jimmy Fallon fully intends to blog, tweet and
video-cast
his ass off.
And in case you're interested, he'll also be doing a little television show on the side, beginning Monday at 11:35 p.m. (central) on NBC's
Late Night with Jimmy Fallon
.
"We're younger, we're into like text stuff, gadget phones, video games," Fallon, 34, says of his generation during a recent teleconference with media types. "We're not going to hide from the fact that people are on the Internet all day. We're going to try to be as interactive as possible with our fans."
Fallon, who came to prominence on
Saturday Night Live
, will be just the third host of
Late Night
, which started with David Letterman on Feb. 2, 1982 and continued with Conan O'Brien from Sept. 13, 1993 until Feb. 20th.
Letterman barely even had to combat cable when he signed on. And O'Brien succeeded him in times when the Web still mostly belonged to Charlotte. Fallon's walkup to
Late Night
began on Dec. 8th with muscle-toning video-casts on NBC's dime.
At the end of
the first one
, Fallon introduced the show's house band, The Roots. He also put out the word: "Send me a video, send me an email. Send me a question, complaint, concern, anything."
He'll find out how many people are paying attention after Monday's first actual television outing finds Fallon in the company of Robert De Niro, Justin Timberlake and musical guest Van Morrison, of whom he says, "I can almost guarantee you he has no idea of who I am."
Few knew anything about O'Brien when he assumed the
Late Night
position en route to at last getting
The Tonight Show
gig on June 1 of this year.
"I mean, that poor guy went through the ringer. There wasn't anybody that liked him at first," Fallon says.
For better or worse, Fallon instantly will have a better grasp of what people think of him, courtesy of his show's own cradle-to-grave Web site.
He plans to be "more interactive than anyone has before . . . The goal is to just give my fans (and detractors) other ways in which to enjoy
Late Night
." To that end, the show has hired three permanent bloggers in addition to himself, Fallon says.
Conventional Nielsen ratings will still matter to NBC when Fallon goes head-to-head with Craig Ferguson on CBS and Jimmy Kimmel on ABC. But the network also will be monitoring Web traffic in hopes of turning the
Late Night
site into perhaps at least a modest profit center. In today's media world, that's not inconceivable. Or inconsequential.
Fallon's
Late Night
will originate out of the same NBC Studio 6B that housed Jack Paar's and Johnny Carson's
Tonight Show
before the latter went West in May 1972. Now as O'Brien heads to California, Fallon re-roots in Manhattan under the guidance of his old
SNL
mentor, Lorne Michaels, who's executive producer of
Late Night
.
"I gave it my shot in the movies. That really wasn't happening that well for me," Fallon says. Then Michaels called and eventually cajoled him into taking the
Late Night
reins.
"Hopefully it all just hits good, but you never know," Fallon says. "I'm not nervous anymore. I'm anxious and excited and I'm ready to have fun."