FALL TV PREVIEW: New series -- Bionic Woman (NBC)
09/26/07 08:37 AM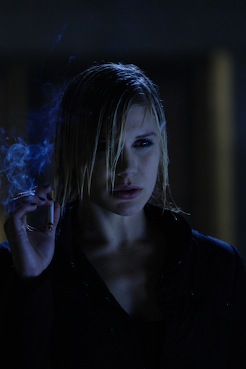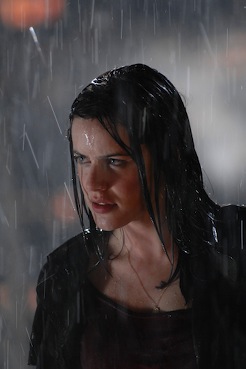 Battle of the bionics: Vet Sarah Corvus vs. rookie Jaime Sommers.
Premiering:
Wednesday, Sept. 26 at 8 p.m. (central) on NBC
Starring:
Michelle Ryan, Chris Bowers, Miguel Ferrer, Will Yun Lee, Molly Price, Lucy Kate Hale, Katee Sackhoff, Mark Sheppard
Produced by:
David Eick, Jason Smilovic
By ED BARK
Actually there are two of them. So make that
Bionic Women
-- at least for now.
NBC's long-hyped remake of the 1976 original comes crashing into view Wednesday with a deft and decidedly dark premiere starring Britisher Michelle Ryan in the role made famously campy by Lindsay Wagner.
There's no day-glo comic book pop-fizz here, although the dialogue occasionally goes droll. As when a high-tech matriarch introduces herself to the new hardware-infused Jaimie.
"I'm Ruth," she says.
"I'm pissed."
"Good."
We begin three years earlier in a blood-soaked tunnel. It's where the first bionic woman, Sarah Corvus (Katee Sackhoff), started to lose it.
"I didn't want to. I'm not in control," she wails before "specialized operations leader" Jae (Will Yun Lee) lets loose with a point-blank pistol shot.
Bionic women aren't into dying, though. That's a good thing for this first episode, which is greatly energized by a stormy night catfight between stalker Sarah and game Jaime, who's still testing her abilities to run like the wind, leap tall buildings in a single bound and use her fists as sledgehammers.
Supporting players include top-secret technology overlord Jonas (inevitably played by the always grim-faced Miguel Ferrer) and Jaime's biotech boyfriend, Will Anthros, (Chris Bowers), who operates on her after a near-fatal car accident. Jaime also has a snippy, resentful kid sister named Becca (Lucy Kate Hale).
Ryan's star-making performance makes all of this intrigue worthwhile. She brings high-voltage intensity to the role, summoning a new and furious resolve after initially wishing herself dead. Outfitted with two new legs, an arm, an eye and an ear, she's ready to be the full sum of all these parts. You go, girl.
Grade:
B+