Jerry's Palace anointed anew on truTV's NFL Full Contact
02/15/10 11:24 AM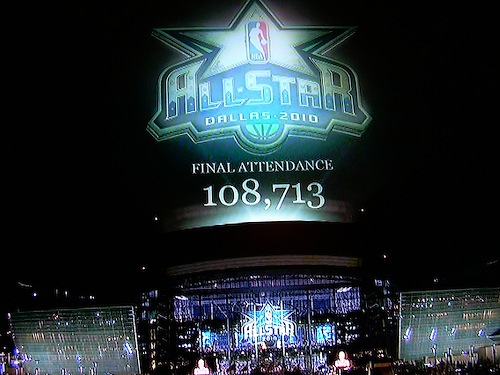 The NBA All-Stars packed 'em in at Cowboys Stadium. Photo: Ed Bark
By ED BARK
It seems like only yesterday -- and in fact it was -- that Cowboys Stadium had a national platform as "the most glossy home ever to welcome the wonders of the game."
TNT used that hyperbole for Sunday night's 59th annual NBA All-Star game, which drew a world record basketball crowd of 108,713 fans.
Those who aren't satiated with Jerry's Palace yet can turn right around and relive the first regular season Cowboys game on the second episode of truTV's
NFL Full Contact
(
Monday, Feb. 15th at 9 p.m. central
).
"What the Roman Colosseum was to the first century is what Cowboys Stadium is to the 21st century," NBC
Sunday Night Football
announcer Al Michaels said by way of introduction to the team's eventual 33-31 loss to the New York Giants before an NFL record crowd of 105,121 on Sept. 20th.
Like last Monday's
premiere hour
, this second of six
Full Contacts
is over-stuffed with drama that's not that dramatic and characters who quickly grow tiresome. Principal among them is veteran NFL Films cameraman Bob Angelo, who makes a return appearance as a self-important, short-tempered jerk who carps that a Sunday night game "really screws up my schedule." Forget about having any empathy for him.
It's also tough to feel too bad about the plight of the Dallas Cowboys Cheerleaders, whose game-exiting bus is temporarily stuck in a traffic jam before a police escort comes to the rescue.
Full Contact
treats this as a full-blown calamity. Cheerleader maestro Kelli Finglass also is vexed when a band is late in arriving for a pre-game performance with her girls. But somehow the "final fluff 'n' puff" comes off without a hitch before the Cheerleaders eventually take the field.
Full Contact
is visually first-rate, as was the first episode. But there's otherwise little to work with in terms of anything resembling a compelling storyline.
Entirely glossed over is the pre-game mess in which thousands of fans were turned away after the Cowboys sold too many $29 standing room only "party passes." Instead we get a drunken lout with a digitized face urging security captain David Trevino to "C'mon, assault me." He's refused admittance and staggers off in the company of an irked female companion.
Viewers also will meet "Miss Price" of Lancaster, the team's self-proclaimed "No. 1 fan." Her histrionics get old in a hurry, but the players all seem to know her.
Another featured player is comely blonde Lyndsey Jensen, a luxury suite server who doesn't know whether her tips will be enough to make a 16-hour shift worthwhile.
"I knew I was going to serve wealthy people. I didn't know this wealthy," she says after eying one of the complimentary, commemorative bottles of Dom Perignon left as special gifts by Cowboys owner Jerry Jones.
Jensen later makes it known that "I have definitely been hit on a number of times, and alcohol is a major factor in that."
But she comes off as more than a bit flirty in some of her brushes with well-oiled suite patrons. And we never find out whether her tips made it all worth it.
Jones is glimpsed on occasion, most notably when a live picture of the owner and NFL commissioner Roger Goodell is beamed up on the stadium's gargantuan video screen.
"I always like to be on these with someone uglier than me," Jones tells Goodell, who for some reason laughs hugely.
Cowboys Stadium now is likely to fade from national view -- for a few weeks at least. But a double dose of the NBA All-Star game followed by Monday's
NFL Full Contact
no doubt has Jones brimming with renewed joy as the master of his massive, much-glorified domain.