Rescued Chilean miner Edison Pena on Letterman: watch for the big finish
11/05/10 08:51 AM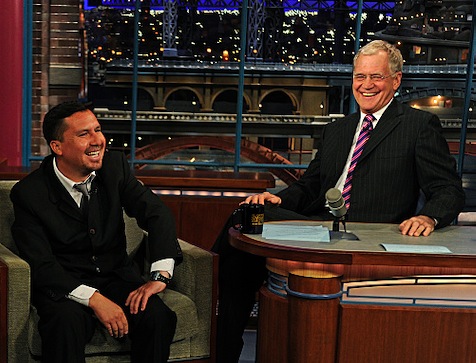 Edison Pena was in good company with David Letterman. CBS photo
By ED BARK
Rescued Chilean miner Edison Pena has big plans for the weekend. He'll be trying to complete the New York City Marathon after spending 69 days underground before re-emerging in mid-October.
First though, Pena visited Thursday's
Late Show with David Letterman
. It was the first "in-studio interview" given by any of the rescuees, CBS says. And in the company of a delightful translator named Cassandra, Pena and Letterman laid down one of the more memorable TV interviews of this or any season.
It was all capped by Pena's apparently spontaneous rendition of "Suspicious Minds" after Letterman said he'd heard that some of the miners passed the time by singing Elvis Presley songs together.
"Actually, I like to sing by myself," Pena said before haltingly breaking into Presley's last big hit. Paul Shaffer and the band chimed in and that was all Pena needed. The rest, at the end of the clip below, is pure TV gold. So is Cassandra's joyful reaction.