Ten takeaways from Mad Men's Episode 5, Season 7
05/12/14 03:41 PM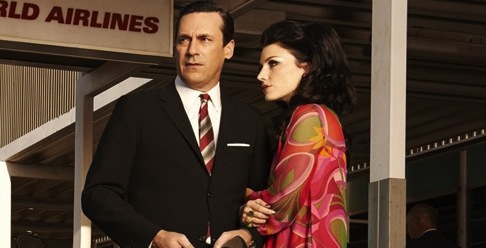 Don & Megan -- & Amy (& Carol & Ted & Alice?). AMC photo
By ED BARK
@unclebarkycom on Twitter
Presenting our weekly 10 takeaways from
Mad Men
's two-tiered, 14-episode final season. Sunday's hour was subtitled "The Runaways."
1.
Bizarre? Yes. Satisfying? Not so much. From this perspective, "The Runaways" was the new season's weakest episode to date until its final scene got the core storyline churning again.
2.
A reluctant Don Draper (Jon Hamm) finally found himself in the middle of a three-way after last month's "spring finale" of
Dallas
beat
Mad Men
to it with considerably more sizzle. At wife Megan's (Jessica Pare) urging, he found himself stiffly in the sack without really being up for it. The post-party, marijuana-stoked threesome also included Megan's new friend, "Amy from Delaware" (guest star Jenny Wade). "This is the best place to be right now," Megan assured Don, who pretty much looked as though he'd rather be in Kansas but slowly warmed to the task.
The
Dallas
tryst featured a more interested John Ross Ewing and two dressed-alike knockouts with whom he'd already been intimate -- wife Pamela and mistress Emma. "Break On Through (to the Other Side") by The Doors provided their mood music before Pamela suddenly began gasping for air under the apparent influence of a pill overdose. Nothing of that sort happened on
Mad Men
, although Don seemed a little hung over with guilt the next morning before Megan angrily snuffed out her cigarette when he went off to shower and head back to New York.
3.
The hour's other oddity was even odder. Michael Ginsberg (Ben Feldman) became completely whacked out by the presence of Sterling, Cooper and Partners' giant new computer. "That's the computer's plan -- turn us all homo,' he told Peggy Olson (Elisabeth Moss) at her apartment before she strongly rebuffed his sexual advances in the interests of breeding.
Ginsberg had only just begun, showing up the next morning in Peggy's office with a box containing the nipple he had severed in order to create an escape valve for all the pent-up pressure he was feeling. His last words, "Get out while you can!", came while he was being wheeled off in a hospital cart.
Feldman, the actor who plays Ginsberg, has landed a spot on NBC's new fall schedule as the co-star of the new sitcom
A to Z
. So this was quite a way to be written out, assuming we've seen the last of his
Mad Men
character.
James Wolk, who so winningly played conniving ad man Bob Benson on last season's
Mad Men
, similarly has hit the cutting room floor after he signed to co-star this season with Robin Williams and Sarah Michelle Gellar in the CBS comedy
The Crazy Ones
. But its recent cancellation opens the door for a return next year in
Mad Men
's final seven-episode arc. So far he's been referenced a few times but never seen during the first five episodes.
4.
The Ginsberg exit episode went lamentably way over the top. But it at least perked interest, which the other side trip decidedly didn't. Yes, we're talking about the increasingly fractious relationship between Betty Draper (January Jones) and her second husband, politician Henry Francis (Christopher Stanley). She turns out to be a hawk on the Vietnam War in addition to remaining the clubhouse leader in prime-time TV's "World's Worst Mother" sweepstakes.
A brief appearance by daughter Sally Draper (Kiernan Shipka) wasn't worth the price of spending too much time with Betty. Shipka's stellar performance in Episode 2, subtitled "A Day's Work," came in a series of sharp scenes with dad Don. In "The Runaways," she very reluctantly returned home from boarding school after suffering facial injuries from sword fighting with golf clubs. A few nasty cracks at mom were pretty much all she wrote.
"It's a nose job, not an abortion," Sally sniped.
"I'm going to break your arm next," Betty vowed.
Despite many early detractors, Megan Draper has become an interesting, evolving, growingly independent woman of substance while trying to make it as an actress in L.A.
Betty's just a drudge and it's long past time to cut bait.
5.
Including Betty in this case meant entirely excluding Roger Sterling (John Slattery), Joan Harris (Christina Hendricks) and Pete Campbell (Vincent Kartheiser). All three of them missing in action within a single episode should never happen on
Mad Men
. And as noted previously, Joan has been woefully underwritten so far this season.
6.
Another less then galvanizing subplot charted the return of vagabond flower child Stephanie Horton (Caity Lotz). Seven-months pregnant and in need of hard cash, she's the niece of Anna Draper, who was the real Don Draper's wife before Dick Whitman (Hamm) stole his identity after he was killed in the Korean War. It's complicated, so
here's more background
.
The second Don remains a soft touch for Stephanie. So he asked Megan to take her in until he could get back out to California. "I know all his secrets," Stephanie told Megan off-handedly. This cued her to write Stephanie a check for $1,000. "I guess I got what I came for," she said, leaving before Don's arrival. None of this really jelled.
7.
Of far more import in the here and now, in-and-out ad man Harry Crane (Rich Sommer) made a surprise appearance at a kooky party for Megan's acting class. An uneasy, out of place Don, looking very square in a plaid jacket, quickly persuaded Harry to join him for drinks at a nearby bar. Harry and Don haven't been fast friends. But he nonetheless decided to inform his sometime antagonist that the new Sterling Cooper string-pullers, Lou Avery (Allan Havey) and Jim Cutler (Harry Hamlin), have been plotting to at last rid themselves of Don by wooing Philip Morris as a client. This would make Don toxic, given his previous
New York Times
op ed piece in which he said Sterling Cooper no longer would devise ad campaigns for cigarette companies.
"The Runaways" then ended on a high note with Don busting in on a secret meeting with Philip Morris reps at The Algonquin. He tried to convince them of his worth as a man who knows how to beat the cigarette industry's opponents. But Cutler, with Hamlin again excelling in the role of a suave cutthroat, told him smugly at episode's end, "You think this is going to save you, don't you?" Better to fade out with fighting words, particularly in an uneven episode such as this one.
8.
This week's play-off music was Waylon Jennings' "Only Daddy That'll Walk the Line." Lyric that resonated: "Everybody knows you've been steppin' on my toes, and I'm gettin' pretty tired of it."
9.
The principal track at Megan's eventful party was Blood, Sweat & Tears' "You've Made Me So Very Happy." Its original version, by Brenda Holloway, came out in 1967 on the Tamla label. It hit No. 39 on the charts, but BS&T took it to No. 2 two years later.
10.
There are now just two more episodes to go before
Mad Men
completes the first half of its final season. The final seven hours won't fire up until spring 2015. I'm expecting the death of a major principal before this ongoing seven-episode arc winds up. It's not based on intel, just on intuition.
Email comments or questions to:
unclebarky@verizon.net