Couric closes shop with ode to self and no mention of successor
05/20/11 10:45 AM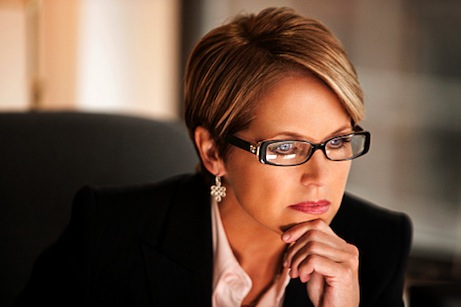 Katie Couric struck a thoughtful pose for publicity shot. CBS photo
By ED BARK
Katie Couric, the trailblazing first woman ever to anchor a network evening newscast by herself, left her desk Thursday without any visible shows of emotion or statements of purpose.
Instead she signed off with a matter-of-fact "Thank you so much for coming along with me on this incredible journey. That's the
CBS Evening News
for tonight. I'm Katie Couric. Good night."
Those sentiments, such as they were, followed what Couric called "Five years in five minutes." She had duly noted the "real honor" of working with "so many talented people here at CBS News." But the compilation clip of "some of the history-making people and events we've covered" pretty much subtracted the "we" and showed Couric in a wide variety of settings ranging from the White Houses of George W. Bush and Barack Obama to Iraq to the mass shootings at Virginia Tech to the recent royal wedding.
The closing video blips, played to The Beatles' "In My Life," showed the lighter sides that Couric apparently will be pursuing more intently in her post-
Evening News
life as a probable talk show host. At the end she coaxed Clint Eastwood into telling her, "Go ahead, make my day."
Couric certainly had some interviews of import during her five years at CBS News, including the sit-down with a fumbling Sarah Palin and New York Yankees star Alex Rodriguez lying to her about never using steroids, which he later recanted. Despite its $15 million annual investment in her, though, the
Evening News
never climbed out of third place in its ratings battle with the front-running
NBC Nightly News
and ABC's
World News
.
Earlier in her final
Evening News
telecast, Couric had an impromptu exchange with veteran correspondent Anthony Mason, whom she had referred to as "The Grim Reaper" in a 2008 edition for his continued gloomy reports on Wall Street.
This time Mason was upbeat about a story on the huge initial public stock offering for LinkedIn. During the report, an interviewee told him that being on LinkedIn and Facebook is mandatory to be "relevant" in the social media age.
"Some analysts say LinkedIn's success now could mean the sky is the limit for Facebook," Mason concluded. Couric then asked him, "And that means we're not relevant, too, right?"
"Speak for yourself," Mason said, laughing but perhaps delivering a deeper message.
Couric, 54, will strive to remain relevant in the coming years. And with Oprah Winfrey's talk show coming to a grandiose end next week, she's seemingly primed to exploit what could be an opening in the daytime talk universe.
Her
Evening News
closeout Thursday was hardly Oprah-esque, although it certainly included elements of self-congratulation. Couric also signed off without mentioning her successor, former KXAS/WFAA reporter Scott Pelley. That's not particularly good form.
Pelley, who will begin anchoring the
Evening News
on June 6th, is a native of San Antonio and in sync with a Texas-tied trio of predecessors -- Walter Cronkite, Dan Rather and Bob Schieffer.
Couric, born in Arlington, VA, broke that mold as well as the gender barrier. Now she's gone, and no one seems to be outwardly upset or emotional about it. Including Katie Couric herself.