PBS' Pioneers of Television: See-worthy but not must-see
01/02/08 10:25 AM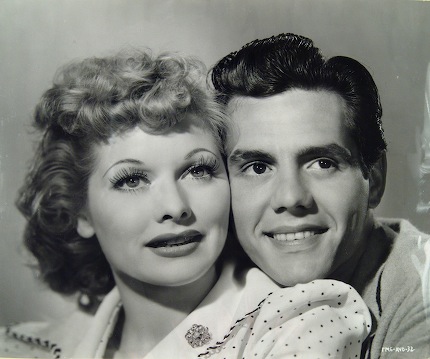 Lucille Ball and Desi Arnaz in full flower during TV's budding years.
By ED BARK
All hail TV's visionaries. Unfortunately, PBS'
Pioneers of Television
is something of a hail storm.
Its critical lens is seldom in focus, leaving viewers with the overall impression that these royal subjects walked on water when not floating on high. Reverential narration and uncritical remembrances are the paths of least resistance, beginning with Wednesday's one-hour look at vintage sitcoms (7 p.m. central in D-FW on Ch. 13).
Typical is Joyce Randolph's less than revealing comment on Jackie Gleason, who was nothing if not bombastic and self-centered.
"I guess I heard him yell a few times -- but not at
Honeymooners
people," she says. (For a notably different take on Gleason, see unclebarky.com's account of a
January press conference
attended by five of the series' participants.)
Randolph is the lone surviving cast member of
The Honeymooners
, which also starred Gleason, Art Carney and Audrey Meadows.
Pioneers
' first of four weekly chapters also looks back fondly upon
I Love Lucy, Make Room For Daddy, The Andy Griffith Show
and
The Dick Van Dyke Show
.
The retrospective includes new interviews with stars Dick Van Dyke, Andy Griffith, Mary Tyler Moore, Rose Marie and Jim Nabors. Their reminiscences are chopped into mostly parsley-sized sound bites.
I Love Lucy
, all of whose principals are deceased, is bequeathed to Barbara Eden, who guest-starred as an ingenue.
"They were perfect together," she says of Lucille Ball and Desi Arnaz, whose on-screen chemistry masked a volatile real-life marriage.
Next Wednesday's chapter, "Late Night," chronicles the achievements of
Tonight Show
hosts Steve Allen, Jack Paar and Johnny Carson, all of whom are deceased.
The three of them "looked into the dark -- and saw the light," according to the oft over-cooked narration.
Jay Leno gracelessly never mentioned Carson in his first
Tonight Show
monologue as its new host. He's since regretted that omission and now is more than willing to act as
Tonight
's historian
du jour
.
"He never wanted to be the fanciest, the flashiest," Leno says of Carson. "Ya know, he was always the classiest."
That's about as deep as it gets.
Current-day interviewees also include Ed McMahon, Doc Severinsen, Jonathan Winters, Dick Cavett, Phyllis Diller, Regis Philbin and Arsenio Hall, who says, "I didn't want Johnny's audience. I wanted the children of his audience."
Cavett, who likewise competed against Carson, still sees Paar as "the most interesting personality the screen has ever seen."
Pioneers of Television
also will relive the formative years of variety hours (Jan. 16) and game shows (Jan. 23).
The series is interesting as a last roundup of old-timers who had first-hand experiences with shows that shaped an infant medium. There's little depth or probing, though. We're left with an archaeological dig, but in a sandbox.
Grade:
B-minus