ABC announces new fall lineup
05/15/07 07:53 AM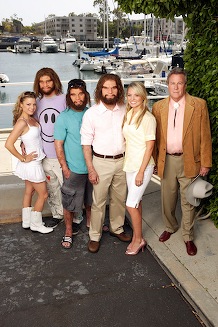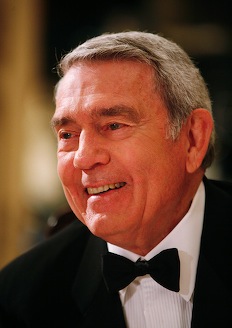 Yikes, ABC is building a new sitcom around Geico's cavemen. And dinosaur Dan Rather will guest-star in the premiere episode of Dirty Sexy Money, which moves into Lost's Wednesday slot this fall.
By ED BARK
Third-place ABC will make a wealth of changes to its fall lineup, including a new sitcom drawn from Geico's "So easy a caveman can do it" car insurance commercials.
The network also is saving
Lost
for midseason, replacing it on an all-new Wednesday night with the provocatively titled
Dirty Sexy Money
.
All told, five new dramas and three freshman comedies will join ABC's fall lineup, with another four newcomers ready to step in for ratings failures. Besides
Lost
, the network is holding returnees
Wife Swap, Supernanny, October Road
and
Notes From the Underbelly
until later next season.
Dumped are longrunning comedies
According to Jim
and
George Lopez
. They join
What About Brian, Big Day
and
The Knights of Prosperity
, which reportedly almost received an 11th hour reprieve with Ray Romano on board as the show's would-be celebrity robbery victim.
Here are ABC's eight new fall series:
***
Cavemen
(comedy) -- Three "ultimate outsiders" strive to find their place in the world in this must-be-seen-to-be-believed outing. Housed in the "suburban South" are prehistoric brothers Joel, Jamie and Nick (newcomers Bill English, Dash Mihok, Nick Kroll), who yearn to be "treated like ordinary thirty-something guys." Veteran John Heard, killed this past season on
Prison Break
, somehow has gotten into this, too.
***
Carpoolers
(comedy) -- Four disparate guys whine about their everyday existences while commuting together to work. Jerry O'Connell from the canceled
Crossing Jordan
is one of them, and Faith Ford plays a wife.
***
Sam I Am
(comedy) -- Sitcom vet Christina Applegate (
Married...With Children, Jesse
) comes out of an eight-day coma with amnesia. Piecing together her previous life is problematic when Sam learns she was "self-involved, narcissistic and devoid of real relationships -- essentially a bitch." Jean Smart co-stars.
***
Dirty Sexy Money
(drama) -- Peter Krause (
Six Feet Under
) segues from cable back to broadcast TV as an idealistic lawyer whose father's suspicious death leads him to an alliance with New York's powerful, sinister Darling family. Donald Sutherland plays the family potentate, named Tripp, and William Baldwin is his senator son Patrick. The real-life Dan Rather dons a tux to guest-star in the pilot episode.
***
Women's Murder Club
(drama) -- Nice. A San Francisco detective, district attorney, medical examiner and reporter join forces to solve crimes in this adaptation of James Patterson's bestselling novels. Seasoned Angie Harmon heads a cast that also includes relative unknowns Paula Newsome, Aubrey Dollar and Tyrees Allen.
***
Big Shots
(drama) -- Four "competitive but dysfunctional" CEOs are splayed between boardrooms and bedrooms in this hard-living, hard-driving potboiler. Cast members include Dylan McDermott, former star of
The Practice
, Michael Vartan (
Alias
) and Christopher Titus (the Fox sitcom
Titus
).
***
Pushing Daisies
(drama) -- This "forensic fairytale" stars newcomer Lee Pace as a crime investigator with the modest ability to bring people and things back to life, whether it's a shriveled apple or a mottled corpse. Oops, it gets complicated when he resurrects his childhood sweetheart, "Chuck" (Anna Friel). The "cruel twist?" If he ever touches her, she'll return to the dead. Vets Chi McBride, Swoosie Kurtz and Kristin Chenoweth co-star, with narration from Harry Potter audio book reader Jim Dale.
***
Private Practice
(drama) -- Test-driven earlier this month to a lukewarm reception from many fans and critics, the
Grey's Anatomy
spinoff sends skitsy Addison Forbes Montgomery (Kate Walsh) to Los Angeles after failed relationships with both ex-husband "McDreamy" and ex-lover "McSteamy." Co-starring are Tim Daly, Taye Diggs, Amy Brenneman and Paul Adelstein.
Earmarked for midseason berths are Oprah Winfrey's previously announced
Oprah's Big Give
and these three scripted series:
***
Cashmere Mafia
(drama) -- Lucy Liu heads another quartet of single-minded women who also are sexy. They create their own "boys club" in order to "protect each other and discuss their ups and downs as they try to have it all."
***
Eli Stone
(drama) -- A San Fran lawyer intent on "screwing over the little guy" has an epiphany after experiencing a series of "odd halucinations." Now he wants to do good. Newcomer Jonny Lee Miller and evergreen Victor Garber (
Alias, Justice
) head the cast.
***
Miss/Guided
(comedy) -- A young woman returns to her high school alma mater as a guidance counselor. She's got the hots for Spanish teacher Tim but is still bedeviled by former HS cheerleader and nemesis Lisa, who's now teaching English. Dallasite Brooke Burns plays bad girl Lisa, with Judy Geer (
Two and a Half Men
) starring as Becky Freely.
Here's ABC's complete fall 2007 lineup (all times central):
MONDAY
7 p.m. --
Dancing with the Stars
8:30 p.m. --
Sam I Am
9 p.m. --
The Bachelor
TUESDAY
7 p.m. --
Cavemen
7:30 p.m. ---
Carpoolers
8 p.m. --
Dancing with the Stars
9 p.m. --
Boston Legal
WEDNESDAY
7 p.m. --
Pushing Daisies
8 p.m. --
Private Practice
9 p.m. --
Dirty Sexy Money
THURSDAY
7 p.m. --
Ugly Betty
8 p.m. --
Grey's Anatomy
9 p.m. --
Big Shots
FRIDAY
7 p.m. --
Men in Trees
8 p.m. --
Women's Murder Club
9 p.m. --
20/20
SATURDAY
7 p.m. --
Saturday Night College Football
SUNDAY
6 p.m. --
America's Funniest Home Videos
7 p.m. --
Extreme Makeover: Home Edition
8 p.m. --
Desperate Housewives
9 p.m. --
Brothers & Sisters