The Glades turns out to be an air-freshener for A&E
07/09/10 12:28 PM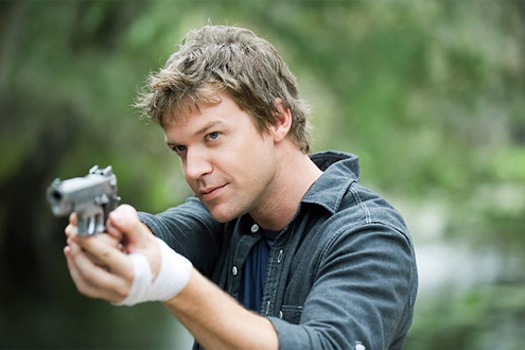 Jaunty Jim Longworth would rather be sinking putts. A&E photo
Premiering:
Sunday, July 11th at 9 p.m. (central) on A&E
Starring:
Matt Passmore, Kiele Sanchez, Carlos Gomez, Uriah Shelton, Jordan Wall
Produced by:
Clifton Campbell, Gary A. Randall
By ED BARK
We may have a TV first here -- a fish out of water who gets his hand bitten by an alligator.
On the receiving end is transplanted Chicago homicide detective Jim Longworth (Matt Passmore), who's come to fictional Palm Glade, FL to play golf, crack wise and of course reluctantly solve crimes.
His venue is A&E's
The Glades
, a nice 'n' easy new cop series that also marks a rare venture into scripted territory for the purveyor of "Real Life. Drama."
Usually that means "reality" hours on the order of
Billy the Exterminator, Dog the Bounty Hunter, Gene Simmons' Family Jewels, Intervention, Hoarders
and
Criss Angel: Mindfreak
. But here we have actors and their roles, complete with some decent cinematography and a fun screenplay by executive producer Clifton Campbell, who also created
The Glades
.
Sunday's premiere begins with an impressive panoramic view of the local swampland, where bad things are bound to happen and soon do. In this case it's the discovery of a decapitated woman's corpse by a young dude who begins puking at length while his one-night stand remains asleep in her undies in an SUV.
Meanwhile, on the golf course, Longworth is "four holes away from breaking 80 for the first time in my life" when he's rudely summoned to investigate. His steady stream of banter irritates the hell out of pretty much everyone, particularly medical examiner Carlos Sanchez (Carlos Gomez) and world-weary partner/supervisor Mike Ogletree (John Carroll Lynch).
Viewers also might find themselves yearning for a glib-ectomy before the hour is out. Still, Longworth's devil-may-care demeanor and disdain for "procedure" are what makes
The Glades
tick more often than it tanks.
Also in the mix is comely nurse Callie Cargill (Kiele Sanchez), who's working her way through med school while also tending to a 12-year-old son after her no-account husband was sent to prison. The inquisitive Longworth's bottomless cup of one-liners irks her at first. But give them time.
The opening whodunit otherwise includes an alligator shooting, an alligator autopsy and a twist that's pretty well hidden until justice is served with a side order of breezy asides from our gabby golfing cop.
Future episodes will include a boss lady named Colleen McManus (Michelle Hurd), whom publicity materials say has a "quick mind and an even sharper tongue, making her the perfect foil for Longworth's dry wit and self-serving humor."
Which probably means that
The Glades'
biggest challenge will be to avoid laying it on too thick.
GRADE:
B